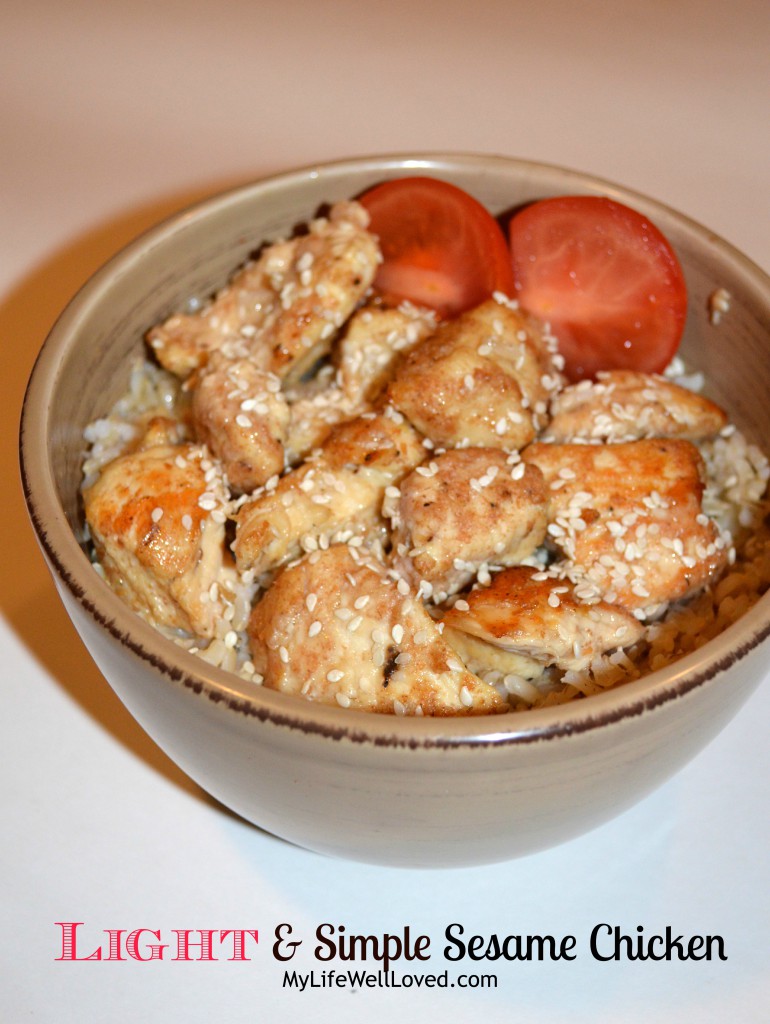 Mmmmm, mmmmm, mmmmm this lightened up baked sesame chicken recipe was yummy!
I was craving some Chinese food the other night but didn't want to totally blow out my calorie intake for the day AND I wanted to know what was going in my food. This recipe would be clean eating but since it uses brown sugar and I was too much of a chicken to try it without it, I call this "kind of" clean eating. 😉 And honestly, it's what most of my recipes turn out being. For the most part, they're whole, real foods but may have 1 or 2 ingredients that are a stretch.
*For your reference, you could substitute a clean eating approved sweetener like stevia or raw honey.
As always, I believe moderation is key. It's way better that I eat as close to clean eating as possible than just eating whatever, whenever. And, the real deal is that this is a certified, grade A quick meal, which you guys know I love! This baked sesame chicken recipe comes together quickly and easily AND because of this reason alone, it will probably start making it in the regular dinner rotation at the Brown household.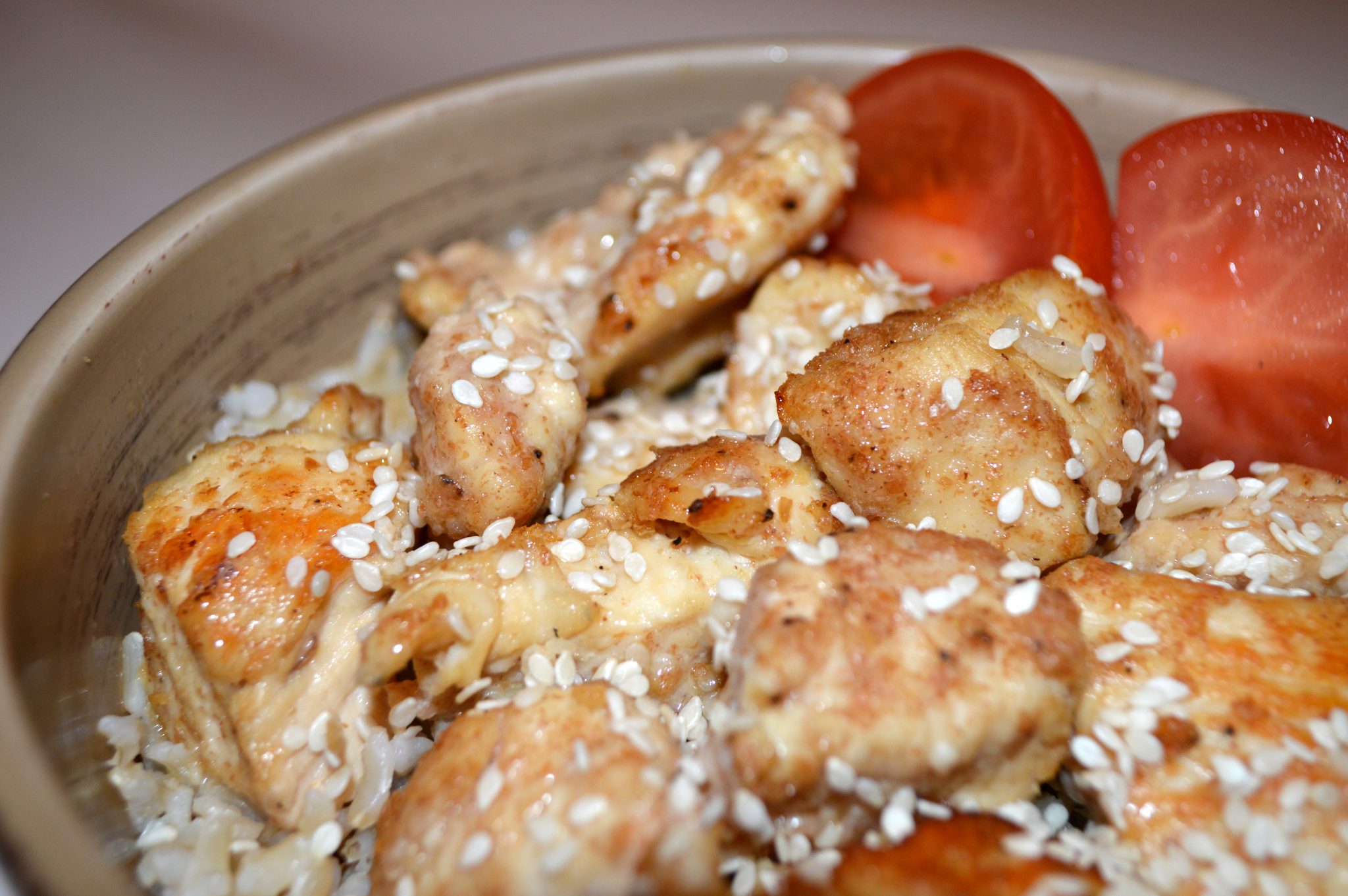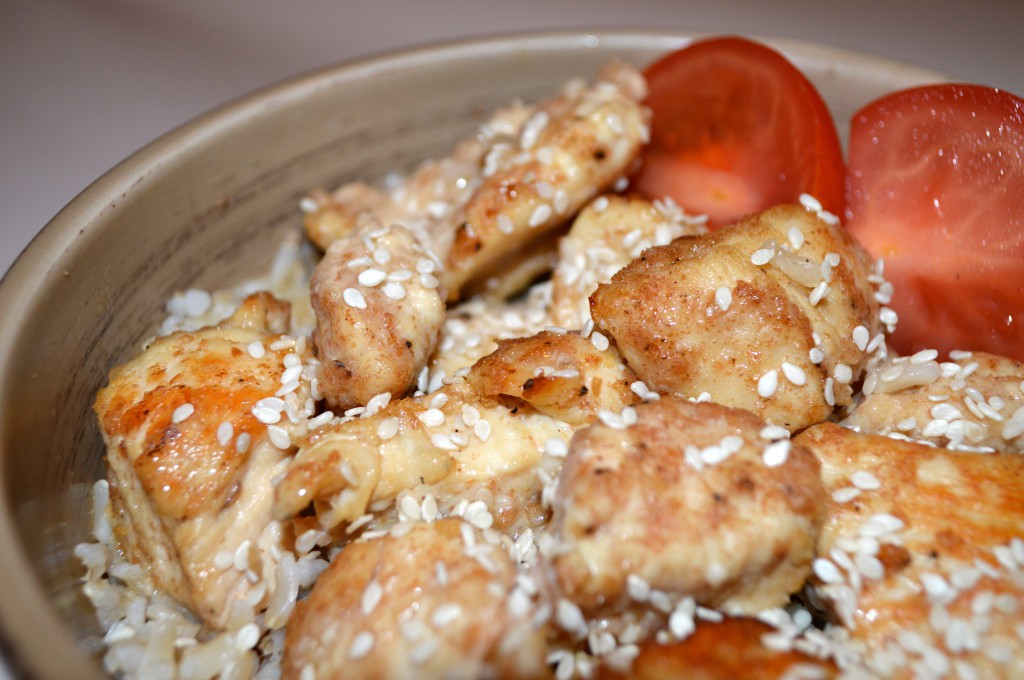 Mmmm, don't those little sesame seeds make you want to dive in and just devour that chicken? It's making me hungry again as I type up this post at 11:40 pm, ha!

Baked Sesame Chicken Recipe
Ingredients
1.75 pounds boneless, skinless chicken breasts, cut into pieces
¼ tsp salt
¼ tsp pepper
1 tbsp whole wheat flour
1 tbsp sesame oil
½ tablespoon olive oil
1½ teaspoons minced garlic
1 tbsp low-sodium soy sauce
1 tbsp brown sugar
1 tbsp white vinegar
½ cup low-sodium chicken broth
2 tbsp sesame seeds
Instructions
Preheat the oven to 400 degrees.
In a small bowl, whisk chicken broth, brown sugar, sesame oil, garlic, soy sauce, and white vinegar together.
In another bowl, toss the chicken with salt, pepper, and flour.
In a large oven-safe pan, heat the olive oil over medium heat.
Once hot, add the chicken in one layer.
Cook for three minutes on each side until seared to your liking.
Turn off the heat and pour the chicken broth mixture over the chicken, stirring to combine.
Place the entire pan in the oven and cook for 20 minutes.
Then toss the chicken with sesame seeds and serve with veggies or brown rice.
Nutrition Information
Serving size:
5
Calories:
180
Thanks to How Sweet Eats for this fab baked sesame chicken recipe! I found it via Pinterest, of course and was excited to see it's only worth 5 Weight Watchers Plus points!
Now, it's your turn to make this. Let me know what you think in the comments below! *