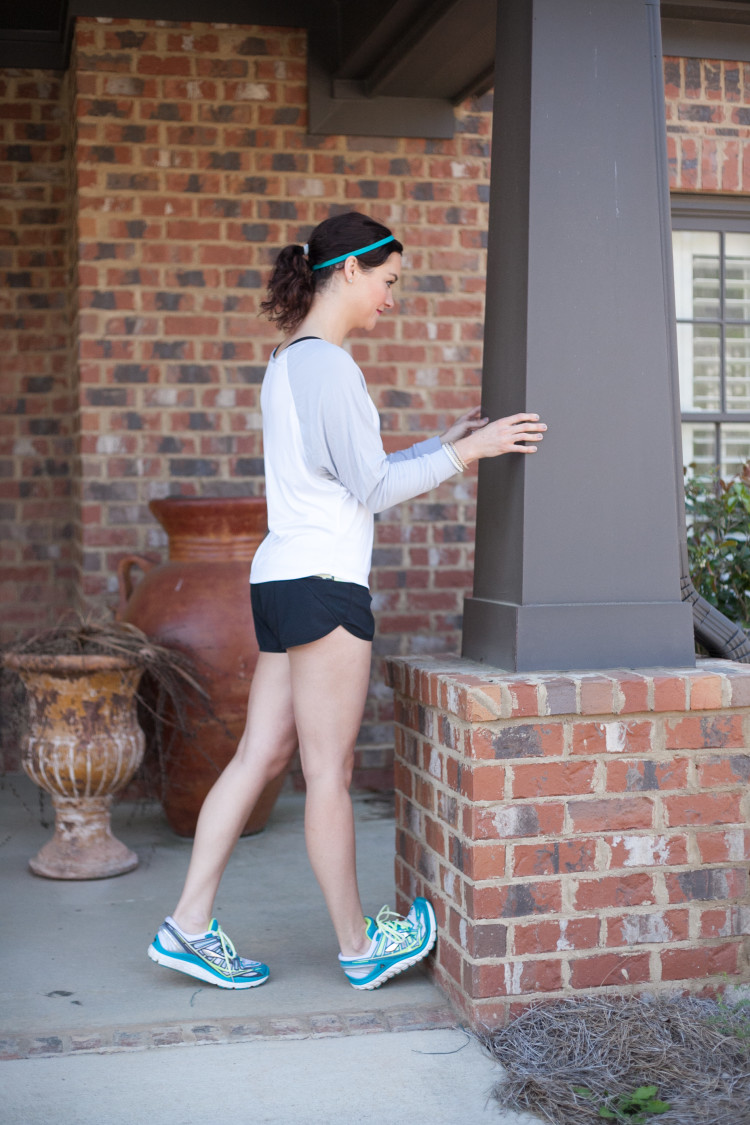 Welcome to Day 4 of the 7 Day Legs Challenge! In case you need to catch up, here's Day 1, Day 2, & Day 3! Although yesterday I talked about eating healthier during the challenge, today I splurged a little because the hubs and I had a date night after Bible Study. And there were muffin tops from Magic Muffin at the office that I just couldn't resist!
For my meals yesterday I had:
Breakfast: Banana, Healthy Lactation Cookie and Coffee
Lunch: Leftover Chilled Southwestern Quinoa & Grilled Chicken
Snack: Muffin Top from Magic Muffins & Madagascar Vanilla Icebox Coffee
2nd snack to tide me over until after Bible Study for our late dinner: Plenti Vanilla yogurt with Pumpkin & Flax Seeds (so good!)
Dinner: Pizza and Beer Date Night with the hubs at Brixx Pizza. They typically have great drink specials (esp Thursday night for a $5 glass of Meiomi wine!) This may sound weird but we ALWAYS split the BRIXX salad with salmon and it is one of my favorite salads in all of Birmingham! I ask for extra goat cheese and it comes with pistachios and a house made balsamic vinaigrette, that is SO yummy.
I fully believe that life is worth celebrating! I work hard, work out hard and eat well most of the time so I can splurge on nights like last night with Eric. It's important to invest in our marriage and kick back and I'm so glad we had the chance to do so last night.
Time for day 4's leg challenge activity from Home Fit!
Day 4 – Rest and Stretch
(30 seconds each)
Standing Quad Stretch
Standing Hamstring Stretch
Knee Raise/Hip Stretch
Standing Wall-Calf Stretch
…any additional stretches preferred
Don't forget to shave and moisturize!
Stretching is so important! Check out some of the many benefits of stretching below. Make sure your muscles are loosened up or warm before you stretch. You can stretch immediately after a warm shower if you aren't doing a workout and still want or need to stretch.
Benefits of Stretching

-Provides ability to move naturally through a full range of motion during exercise

-Prevents against joint and muscle injury

-Relieves low-back pain, and some knee pain

-Increases movement performance

-Lengthens muscle tone

-Helps in detoxifying the body

-Increases core temperature

-Feels great
Shop the Look:
Top: Old Splits59 (similar here and here) || Tank: Old Lululemon (Power Y Tank) || FAVORITE Shorts, get them cheap at Thred Up: Lululemon || Shoes: Brooks || Headband: || Perfect Bar sent me this one but I found some on sale at Kohl's
Thanks so much to Casey Marie Photography for these photos! If you are local, I highly recommend her for your family photos.
Heather Brown helps busy mamas of young littles who are caught in the hustle to find encouragement in their journey to true health, from the inside out, starting with the heart. Read her journey of learning to live a life well-loved
HERE!