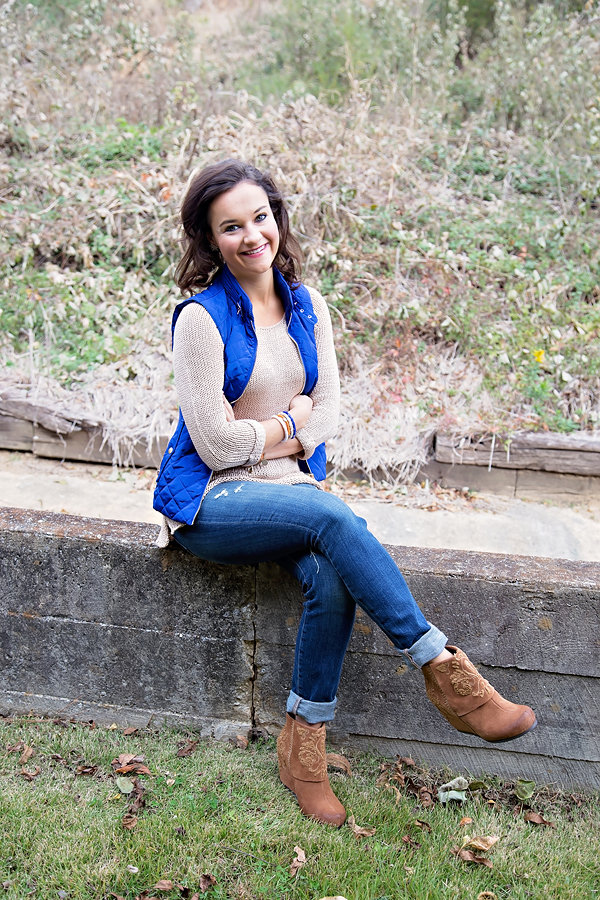 If you live in the state of Alabama, you know it's Iron Bowl Week! And that means The Style Gathering and I are back and ready to style you in all things Orange and Blue & Crimson and White. It's time to find your warm and fashionably chic gameday gear to kick your look up for a perfect evening of tailgating, chanting War Eagle, and enjoying a hopefully great game!
I went back to The Pants Store again before the Auburn/Samford game and picked out this outfit to wear to the game. The only difference? I accidentally left off the necklace in the photo shoot with Magen that I wore to the game and in the last Auburn game day post I did…shoot!
I wanted something warm, understated and items I'd wear day in and day out, gameday or not! This outfit has become a staple in my fall/winter wardrobe. I love the vibrant blue of that vest and the sweater is so comfy and loose. I threw on a few orange details in the Lily & Laura bracelets and the Target special bangle and called it a day.
I have become a believer in The Pants Store. I don't know why I had never been before this fall, but I am incredibly glad I've found this affordable option for everything from accessories to vests to jeans. You can find The Pants Store at several locations around the state: Leeds, Mountain Brook, Trussville, and Tuscaloosa. If you don't live near one of their locations, you can always shop online though!
There's no need to overthink your game day outfit! My only word of caution? Unless you're 6 foot 4, 20, and tee-niny, skip the white printed leggings with game day colors. It's just too much. I so wanted them to work but after I saw them on girl after girl in Auburn, I'm convinced it's a tough look to pull off. If you've got the confidence to do it, by all means, go girl, but that's one trend I'll have to skip.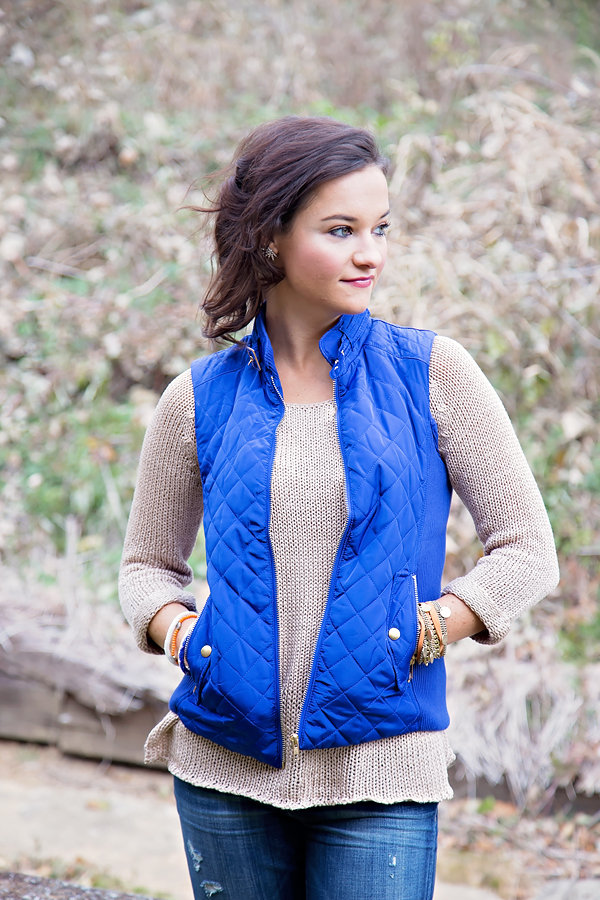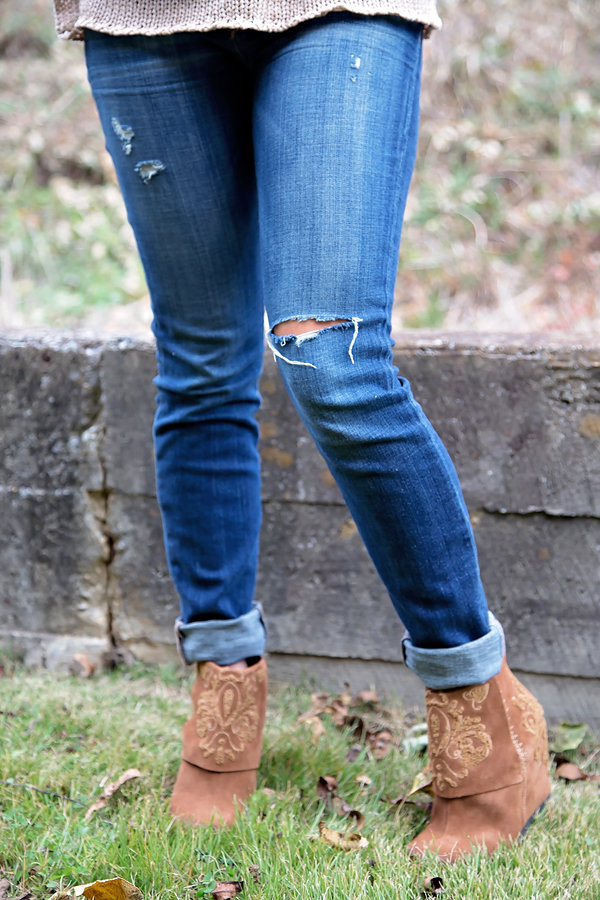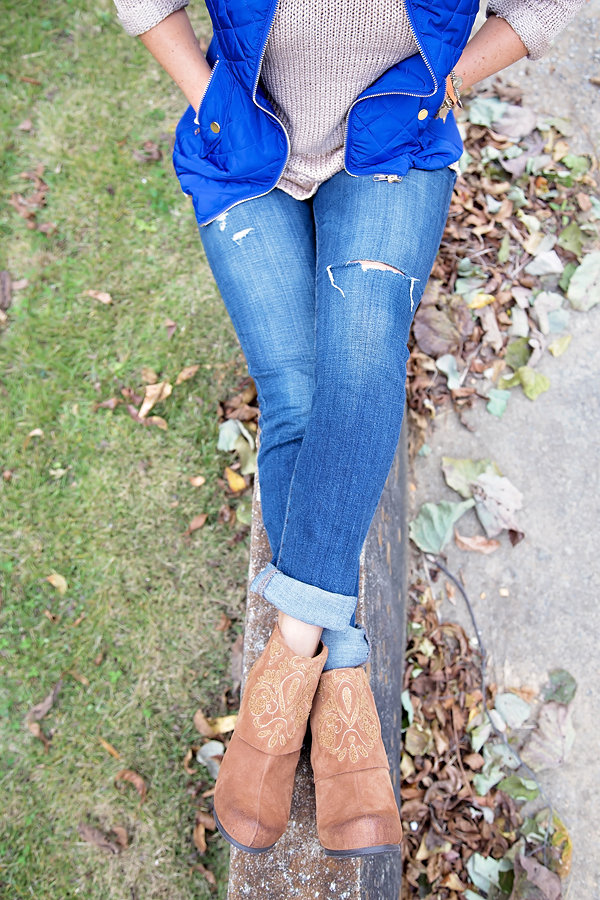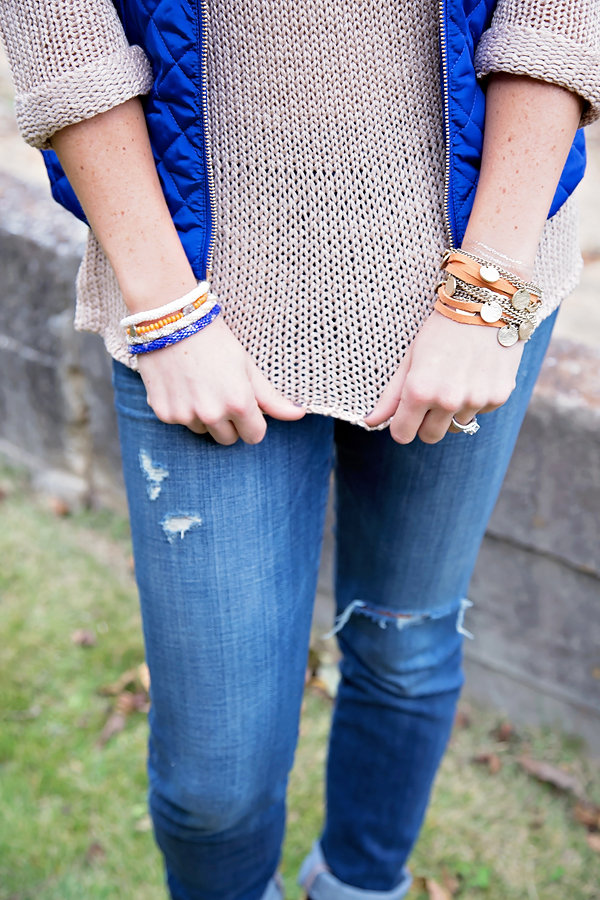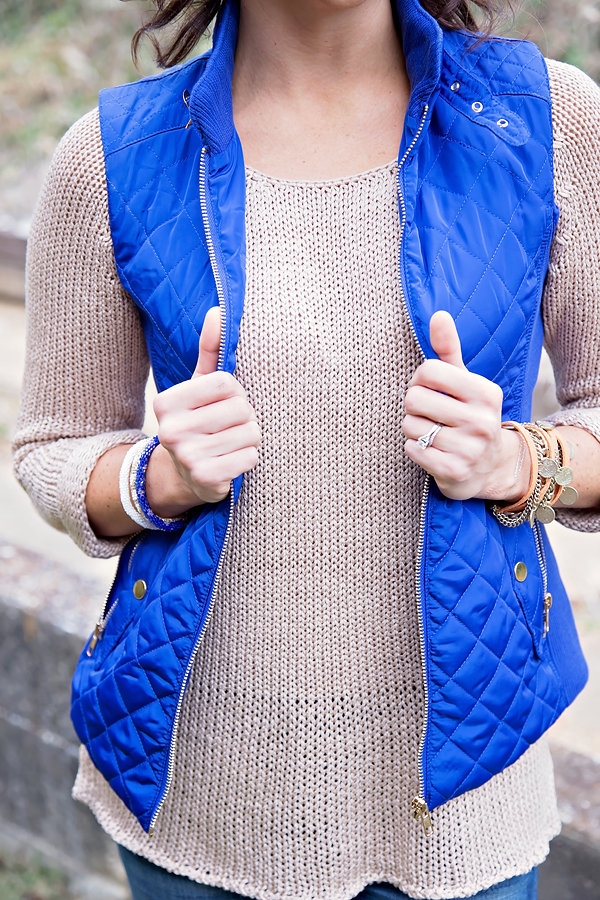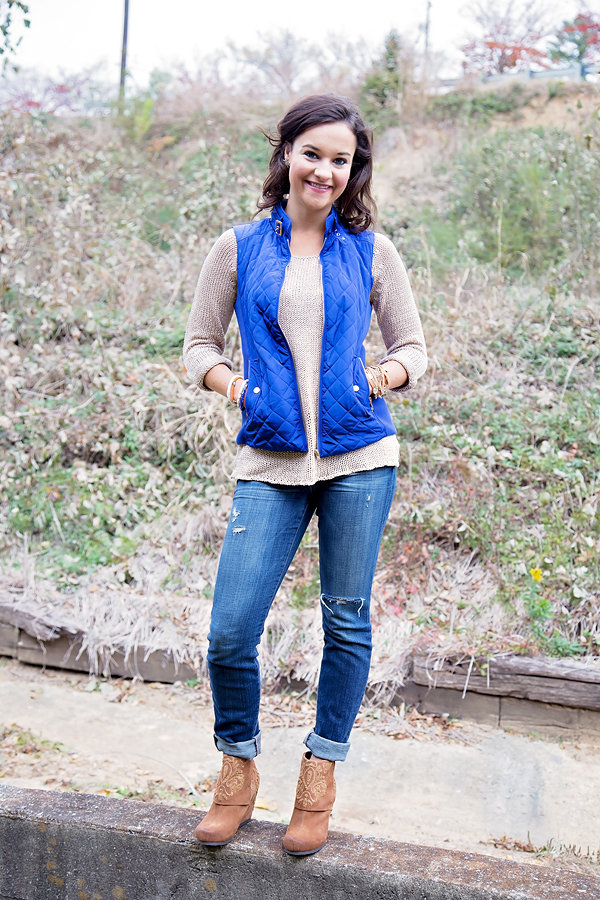 Shop the Look: Booties: OTBT (Pants Store) // Jeans: Joe's Vintage Reserve 1971 The Skinny (Pants Store) // Sweater: Pants Store Label (similar) // Vest: Swoon brand at Pants Store  (similar) // Earrings: J Crew // Bracelets: Lily & Laura from Pants Store & Target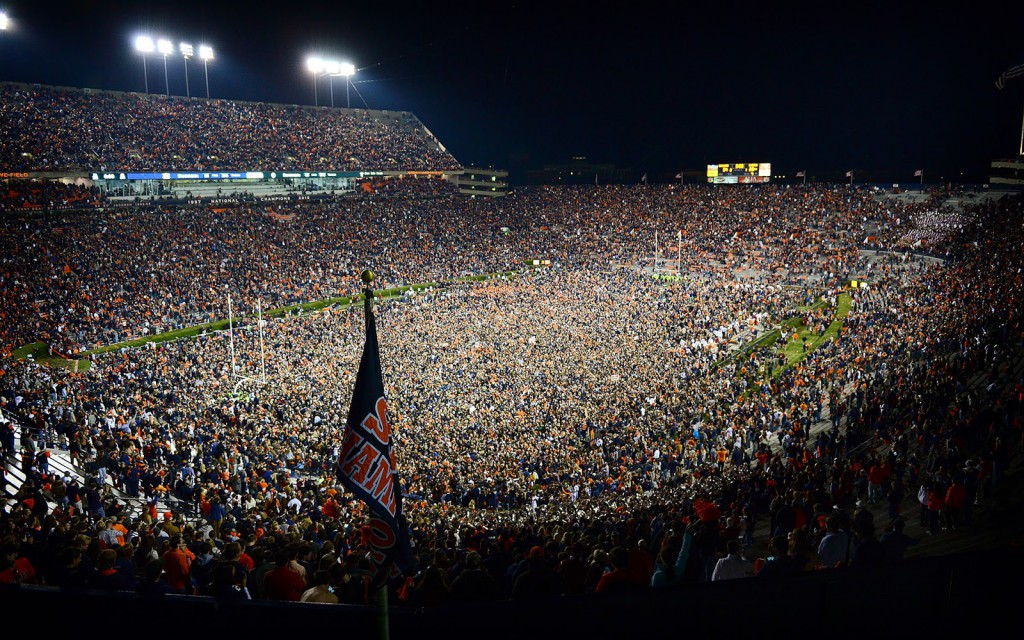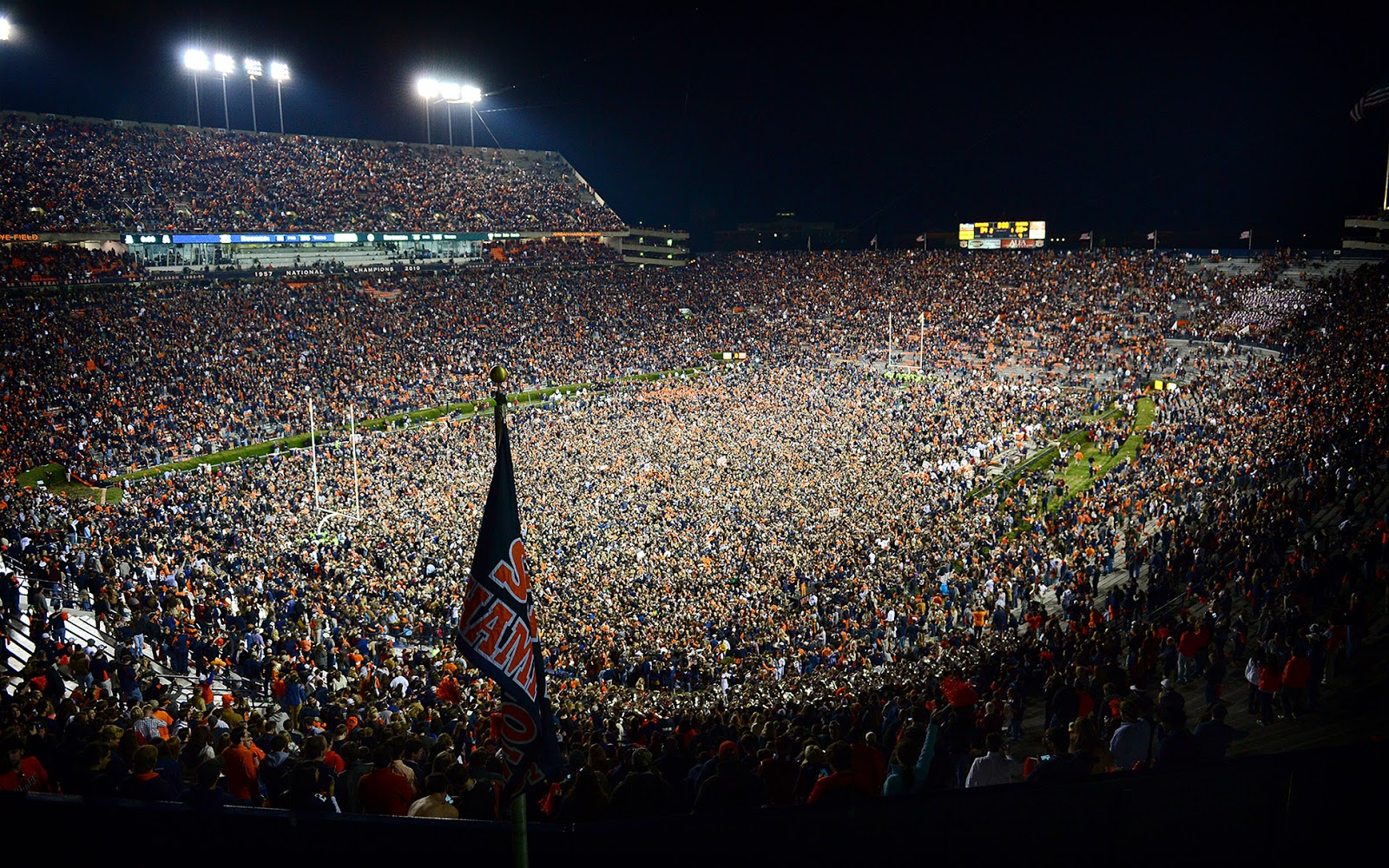 Now, let's hope that this game ends up like the last time Auburn went up against #1 Alabama! (:01 of glory is all we need) "They're not gonna keep them off the field tonight!" (image: ESPN)
In case you missed our last Auburn/Alabama game day ideas, make sure you check that out here! *All photos via Magen Davis Photography.
So, who are you rooting for? Auburn or Alabama?
Heather Brown helps busy mamas of young littles who are caught in the hustle to find encouragement in their journey to true health, from the inside out, starting with the heart. Read her journey of learning to live a life well-loved
HERE!