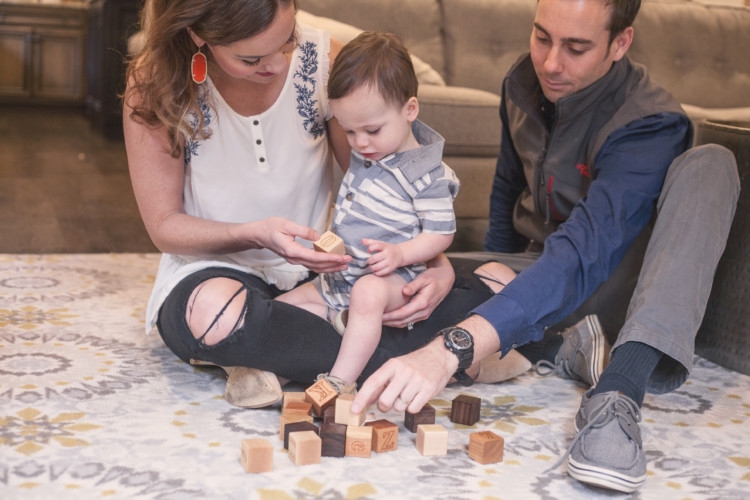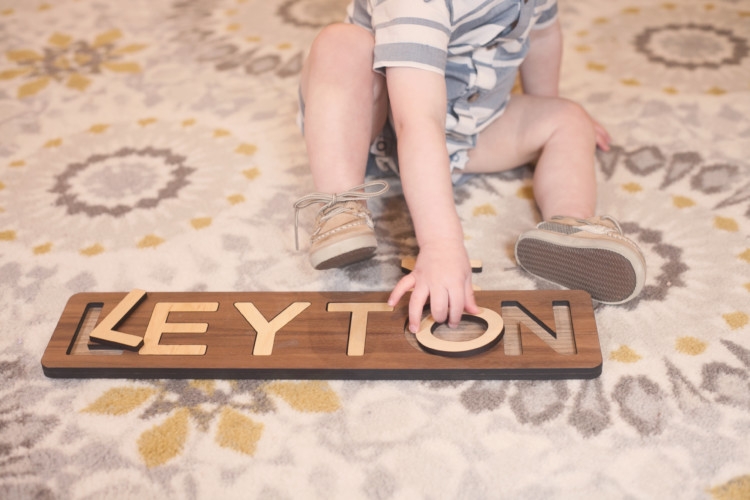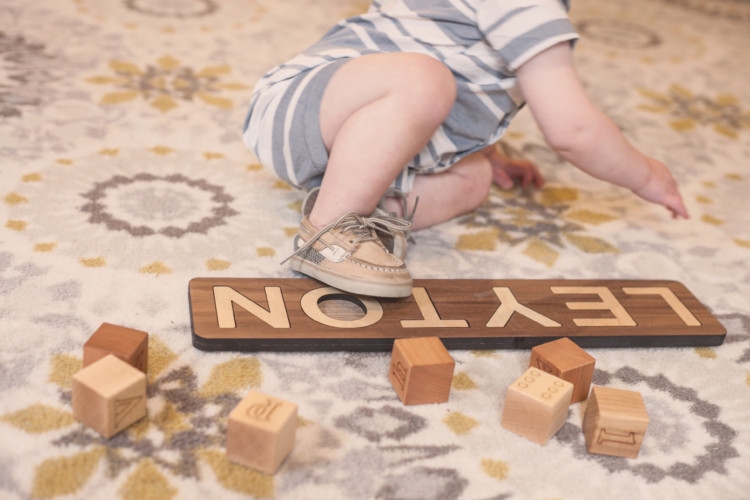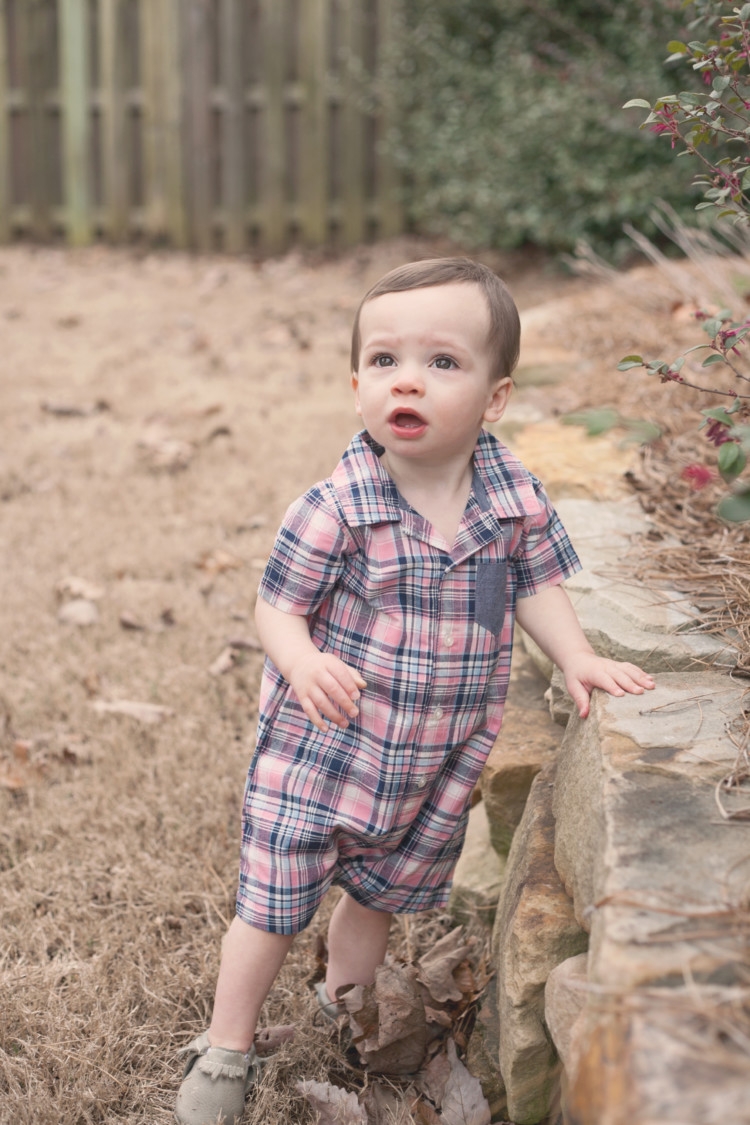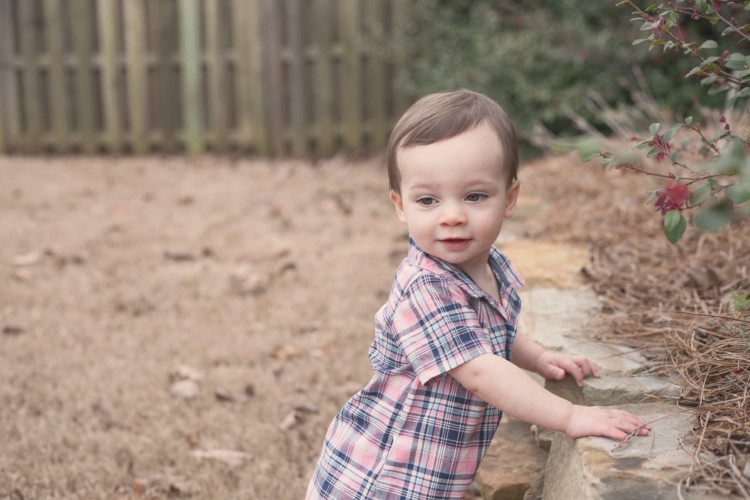 This post is sponsored by Kohl's. I was paid for this post and received the included Carter's clothing as compensation.
One of the things I learned recently in my reader survey is that you guys like to hear about some family stuff and several of you have kids around Leyton's age so you wanted more information around this age and stage in life. Some of you even specifically mentioned wanting to know games to play with a toddler, ideas for family activities, and other similar things. Due to this, I started thinking about some of the questions I hear most often from my friends and neighbors centered around toddlers. One of those questions is, "What do you do with Leyton when you're home all day with him?"
I'm lucky that on Tuesdays and Fridays I do get to be at home all day with my little man. But, sometimes those days can be a little challenging to keep him entertained and to get everything done that needs to be caught up on around here. Not to mention, nap times are vital for getting in blog and social media work. I find that I most commonly get asked this question by other stay at home moms who are looking for some new ideas and by full-time working moms when day care is closed for an extended amount of time for a holiday or something. We've all been there…where we sit staring at a bored and destructive toddler and start thinking, "What can we do next?!"
I'm just as perplexed as you on that question sometimes, but here's some of our go to's to keep Leyton entertained. 🙂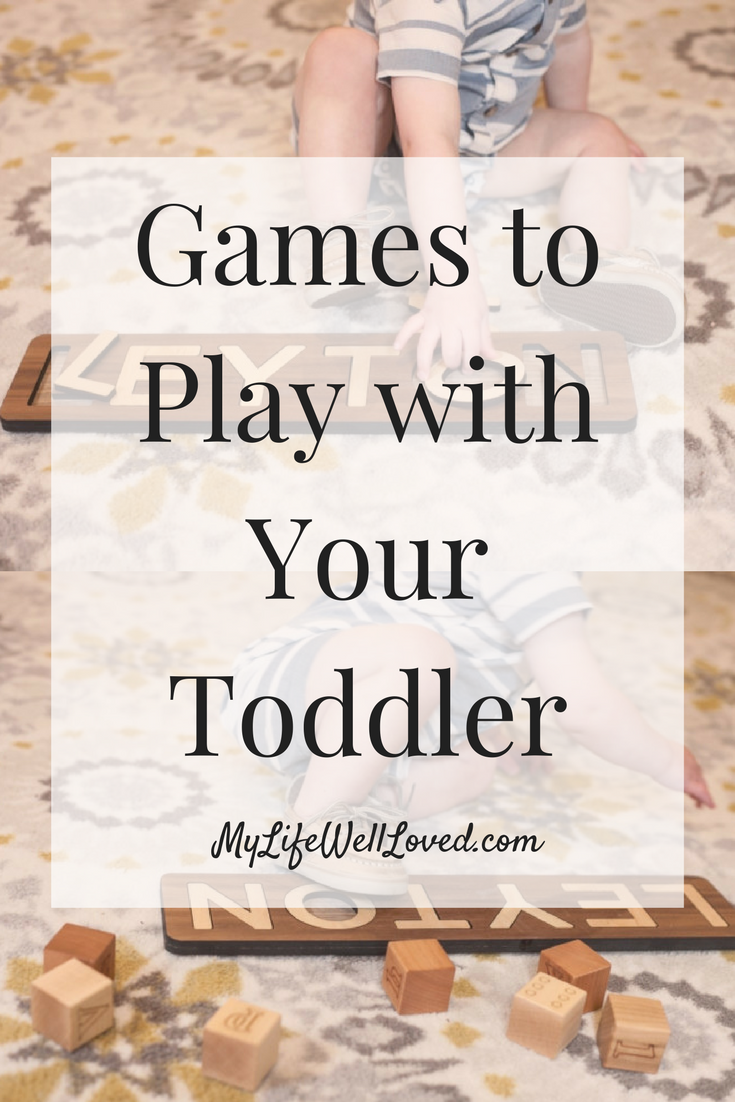 Games to Play with a Toddler:
Read a Book: Leyton loves to read his "choo choo" book, any animal sounds books, and the book with the race car wheels and push-button sounds.
Kitchen Helper: A lot of times whether I'm cooking or just trying to come up with something for us to do, we'll sit in the floor and play with the whisk in the measuring cup, pull out a container and see what all bowls and cutlery will fit in said tupperware.
Grocery Cart Dash: Leyton loves to run around doing laps with his grocery cart right now, so we'll narrate his journey and talk about all the yummy things he should get at the store.
Patty Cake: Leyton likes a lot of claps, high fives, and patty cake. I'll either sit him facing me or in my lap and sing and act out patty cake, clapping his hands for him when needed.
Peek-a-Boo: Always a winner!
Car Watching: One of Leyton's first words was car, so we sit outside on the front porch swing and watch for cars to go by. We talk about the color, how fast or slow they are going and anything else that pops to mind.
Wind Chimes: Leyton LOVES the wind chimes. If he's ever acting fussy, I can walk outside and hit those babies, and they usually put him right at ease.
Catch: Leyton's second word after Da-Da was ball. He LOVES to chase them around, play catch, roll them across the floor and throw them. He also loves watching da da practice his golf swing and happily retrieves the balls.
Dance Clean Up: We love dancing with Leyton to music! Many times you can find me dancing around the house, baby on hip while I detail to Leyton everything that we are cleaning and putting away.
Workout: I really enjoy incorporating Leyton into my workouts as evidenced by this 15-minute mom & baby workout! We go on walks together with the stroller talking about all the birds and dogs and cars. You can also do a workout in the house together where your toddler is the weight…or the entertainment on the side. 😉
Make the Bed: This may sound silly but one of Leyton's favorite times of day is making our bed. We play first, rolling around all over, hiding under the sheets, and bouncing and then I start to make the bed up with Leyton under the covers. I playfully ask, "Where's Leyton?' which usually gets lots of giggles and silly time started all over again.
Sing along songs: Leyton loves to sing and listen to Jesus Loves Me, The Itsy Bitsy Spider, and even The Doxology which we sing every week at church.
Blocks & Puzzles: Eric recently read an article that said that blocks are an important part of pre-school play, providing good problem solving skills. We love to play with Leyton's blocks and puzzles sitting on the floor with him.
Leyton's style is laid back and a little bit modern. As a baby, whenever people would see Leyton even for the first time, they'd say, "He seems so content." He is a very content little boy most the time but as all toddlers do, he's starting to be a little more strong-willed these days. We think his style fits his personality well…laid back, but sometimes a little edgy and always a charmer. 😉
What I specifically love about the Carter's clothes we have pictured are that they are dressy but also a one-piece item. We live by the mantra, SIMPLIFY as you may remember from my January posts. I love how simple it is to put him in a button down onesie like this collared pink plaid outfit or the classic gray and white stripes to go to church or a party. I am dying over the little gray pocket on the pink collared onesie. So stinking cute! We also got this mint striped pocket onesie, the whale onesie, whale footed PJ's, shortalls set,  and a fire truck romper.
Shop Leyton's Look:
Outfits: Carter's at Kohl's: Gray Onesie // wooden blocks: Smiling Tree Toys // wooden name puzzle: Smiling Tree Toys // Shoes
Shop Mine & Eric's Looks: Top // Earrings// Jeans // Shoes // Men's Vest // Men's pants // Men's Button-Up

I've teamed up with Carter's at Kohl's for this post and they have outfitted Leyton in all these cute little clothes have helped power his play. I am obsessed with his little new outfits and love how these pictures that Casey Marie Photography took turned out.
Promo code details: 3/17 – 4/2 $10 off a $40 purchase with promo code KIDSALE10
Do you have any games to play with a toddler that I overlooked? I'd love to hear how you play with your little one in the comments below for additional ideas!
My blog may contain links to other websites. I am not responsible for the privacy policies of those other websites. When you click on a link, your information may be collected by those websites so I encourage you to read their privacy policies. These affiliate links in this post are not associated with Kohl's.
Heather Brown helps busy mamas of young littles who are caught in the hustle to find encouragement in their journey to true health, from the inside out, starting with the heart. Read her journey of learning to live a life well-loved
HERE!