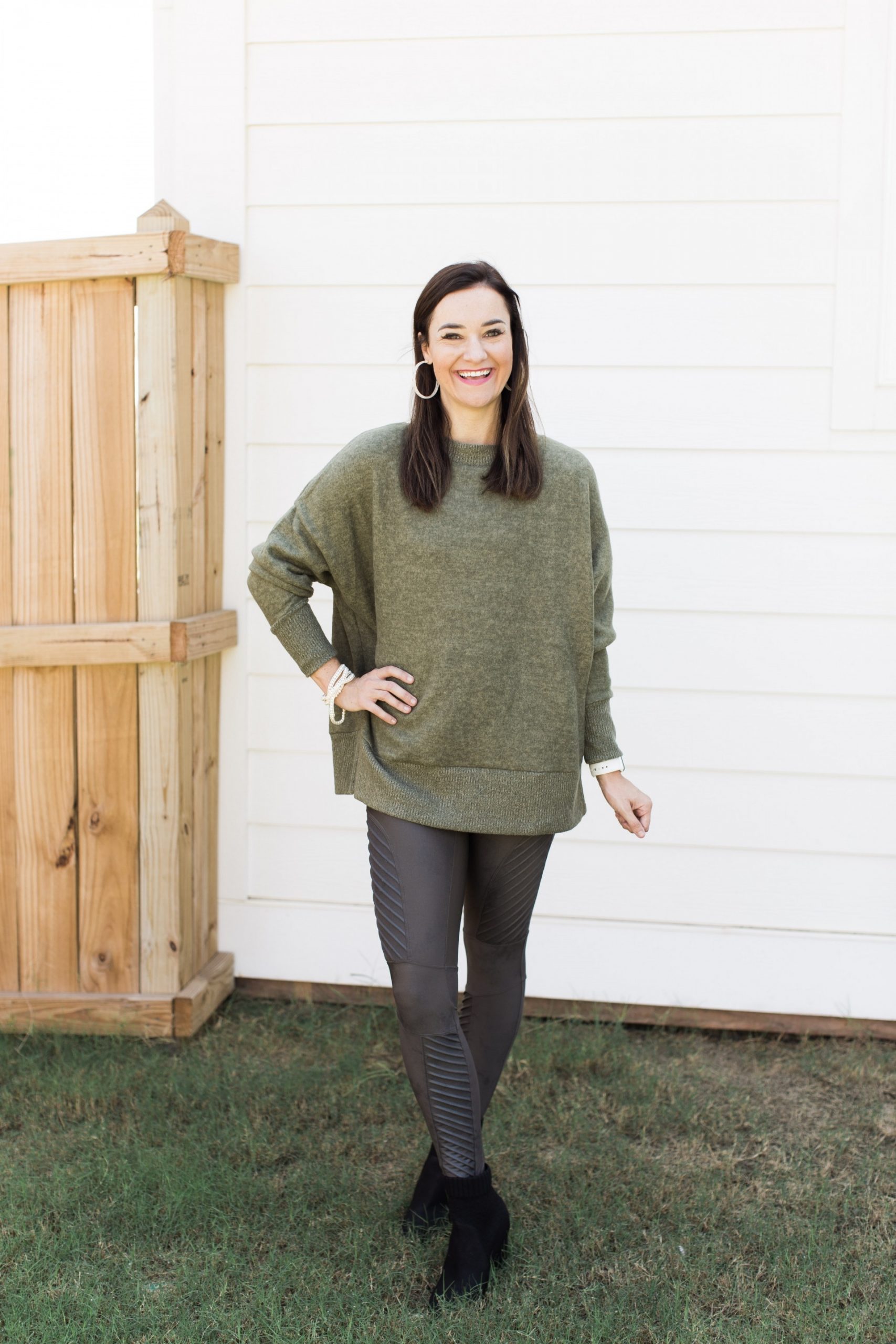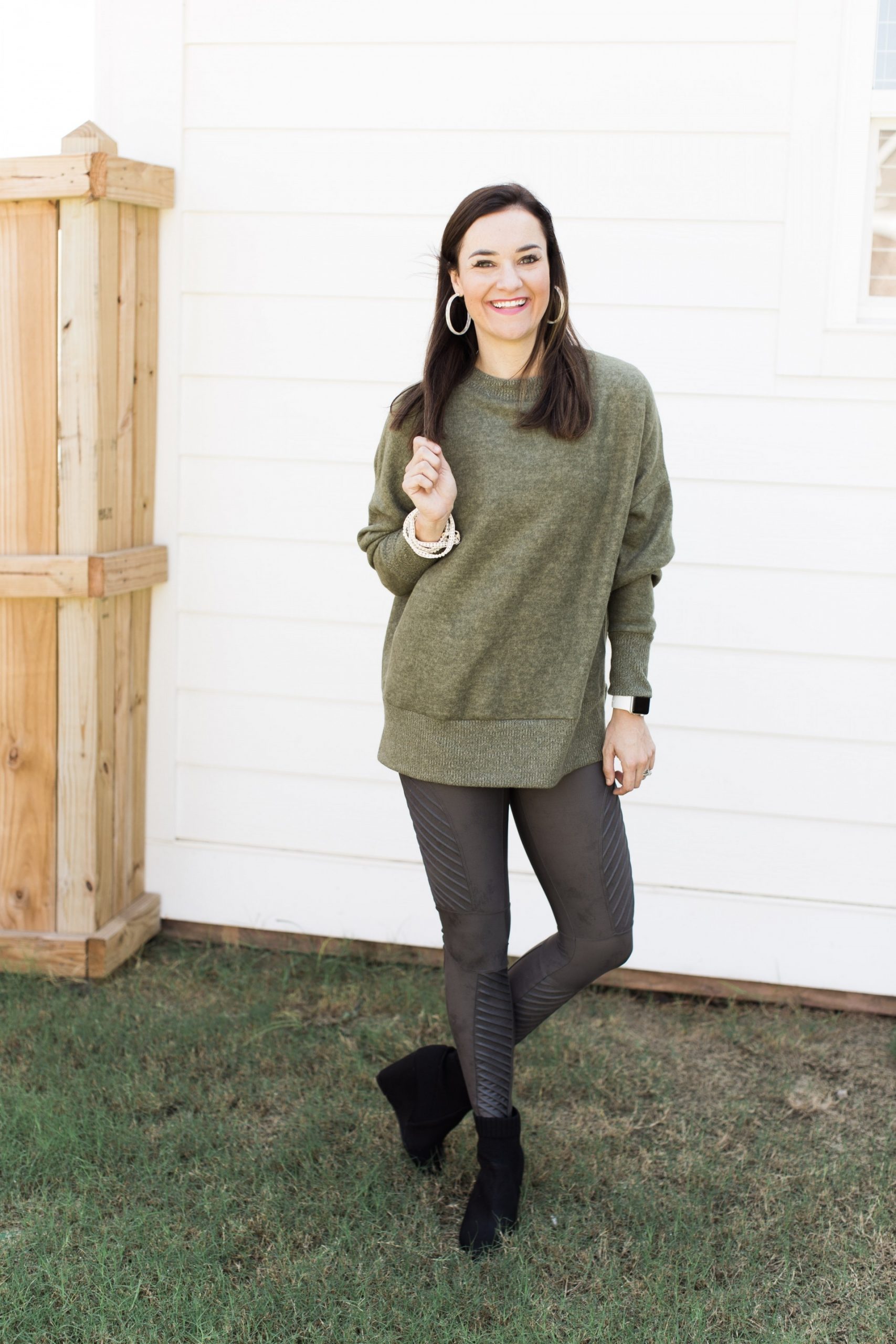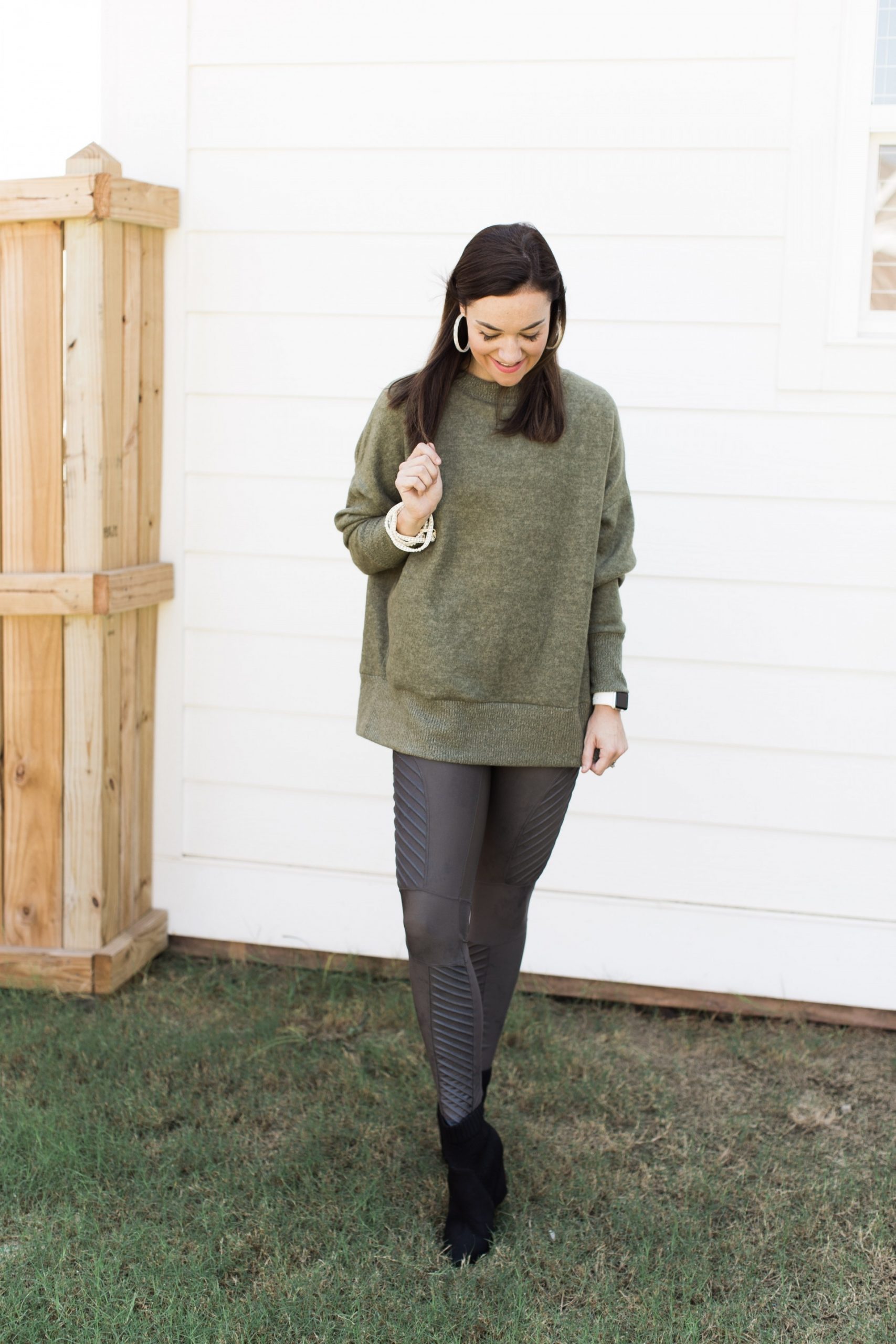 SHOP My Fun Ways To Beat The Winter Blues Photos HERE: Kendra Scott Hoop Earrings // Wedge Booties // Spanx Faux Leather Moto Leggings – Size up one if in between sizes, I am wearing a size small. Love Soma Vanishing Edge Undies to wear with leggings! // Amazon Lace Bralette // Victoria Emerson Wrap Bracelet // Red Dress Boutique Green Sweater -TTS, wearing a size small. // Apple Watch // My Under $10 Go To Lip Combo- NYX Butter Gloss Shade Creme Brulee and NYX Liquid Cream Lipstick in Suede
Photos by Magen Davis Photography
One of the questions I get asked by you guys, people on the street, and people at the gym is where all my energy comes from or why I'm so happy "all the time". First of all, that is very kind but I cannot say that is always true. Ask Eric and he will tell you that even I can shut down at times. But I definitely have one of those personality types where if I'm not upbeat, chatty, and full throttle, people ask me what's wrong. Sometimes it's difficult, but I have found fun ways to beat the winter blues.
As we've discussed some about the enneagram type 3 (the achiever), being a "go getter" can be my biggest strength and also my biggest weakness. I'm driven to a fault and sometimes that can cause me to throw myself too hard and too fast into work. However, especially since I've opened up about my postpartum depression journey and the winter blues that can tend to hit during this season, I wanted to share a few things that help me have joy despite my circumstances. And yes, there are fun ways to beat the winter blues!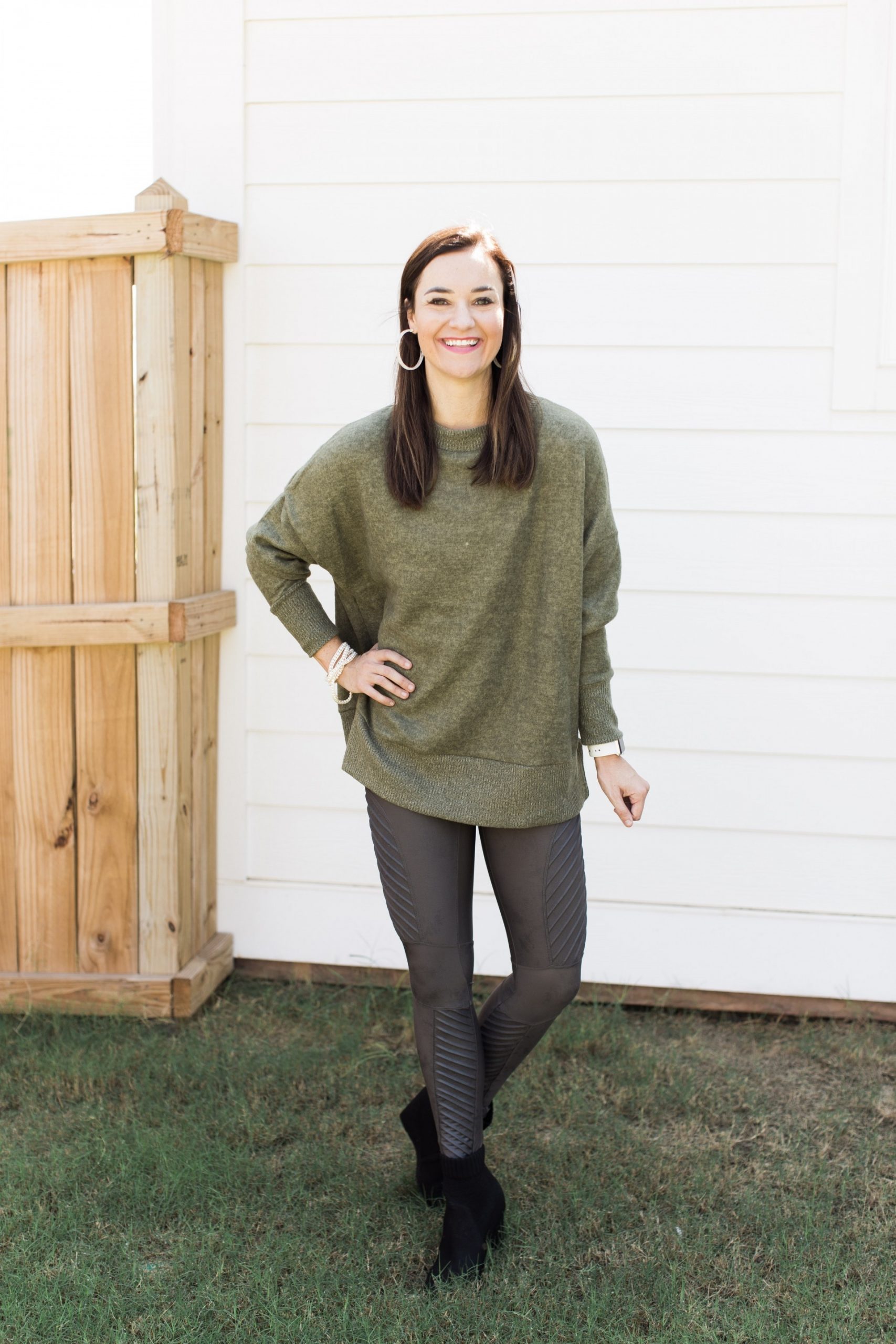 Choose JOY // Yes, bad circumstances can happen. Yes, we all have bad days, but for the most part (when the baby spills the milk as you're running late out the door or you get a flat tire, so on, and so forth), you can choose gratitude. If you've been around here for long, you've probably heard me say, "If this is the worst thing that happens to me today, I'm doing pretty great!" We get to choose to be grateful, and truly an attitude of gratitude can change everything! Instead of saying, "I have to change this poopy diaper," you can say, "I GET to change this dirty diaper" (because you have a strong capable body, a healthy baby, so on and so forth.) I think you'll be surprised by how practicing gratitude and shifting your attitude can become your new normal. Joy is so much deeper than happiness and I pray for God to remind me that He is GOOD ALL. THE. TIME, no matter the pain, confusion and hurt that we can experience here on earth.

Do something FUN

// This might sound silly but it's meant to be just that! The further outside your comfort zone and sillier it is – the better! Note to self: Your kids are probably really good at showing you how to embrace this. Whether it be dancing in the kitchen with them, playing hide and seek in your house with the lights off and flash lights, hosting a weekend brunch for your neighborhood friends, or going on a hike with your dog on a new trail… do something that sounds FUN to you! Eric and I encourage each other to go on girls nights or guys nights every now and again. For Eric that usually looks like a golf outing and for me that usually means a trip to Tre Luna or a spa night in at a girlfriend's house or even Bunco!
Date Nights // Eric and I have found that we need a date day or a date night once a week or at least every two weeks to break us out of the constant interruption cycle at home with two young boys. These date nights truly are a breath of fresh air and a reminder of who we are as a couple. It also keeps us at least somewhat young and fun. 😉
Trust in God's Provision // So many times our feelings of insecurity, want, and trying to fill an empty void comes from not bringing our worries to the God who gave His Son's life to rescue us. I've found on the days when I'm in a funk, it can be the hardest to want to get in the Word or listen to worship music. However usually when I do, I gain a better perspective about my purpose and find a way to step into my calling that day. Whether it be to choose joy, reach out to someone God lays on my heart, or even have more patience with my kids. Life isn't easy and there are a lot of things on the news and even in our own neighborhoods that can make us worry and steal our joy if we let them. I'm trying to keep my focus on God's provision and plan so that I realize I can LET SOME THINGS GO!

Exercise // Get those endorphins pumping! I had a "Burn sister" tell me the other day, "You're like the Energizer bunny! You don't stop!" And she's right! I always make a plan to be working out. Whether it be at home with a Youtube video or FWTFL workout or at Burn or Pure Barre at least 4x/week (but usually 5 days a week). Even on my rest days, I still play with my boys or go for a walk (weather permitting) so that I can get those feel good endorphins pumping through my body. After my hard recovery from Leyton's birth, I'll never take working out and being out of my house for granted again! I also make sure to fuel my body with healthy foods and good meal options. In fact, if you are looking for resources to help you stick to a healthy meal plan, be sure to check out my Meal Planning For The Busy Mom Ebook! You can snag a discount code HERE!
Vitamin D // When you see the sun shining, jet outside even if it's just for a quick 15 minute walk to soak up some Vitamin D. And if nothing else, take a supplement with it with your doctor's approval. The sun is your best source of Vitamin D and I love to even roll down my windows or moon roof a bit when it's shining bright.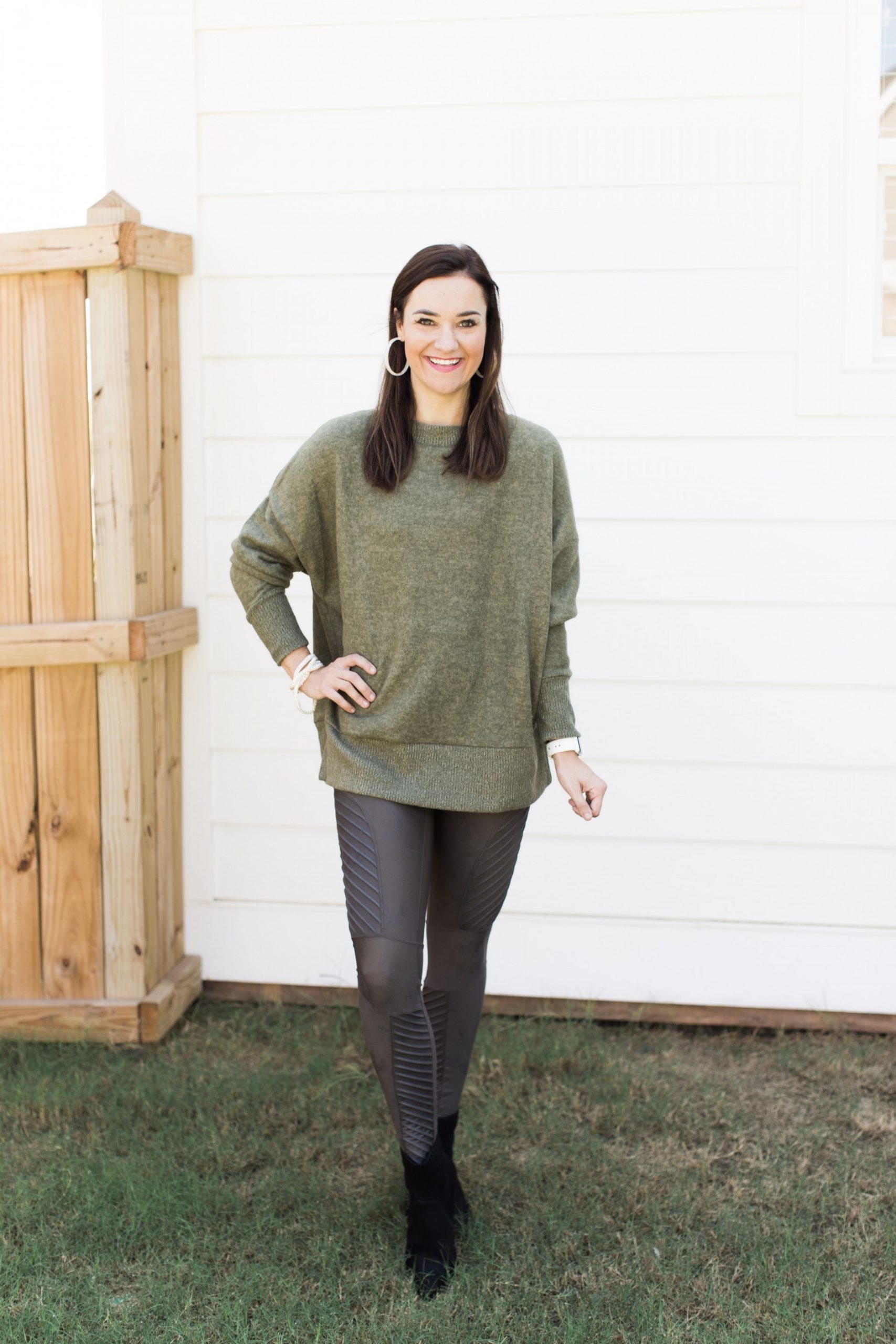 At the end of the day, I want you to know that my life is not perfect. I don't have it all together and I have to practice gratitude, fixing my attitude, and praying daily. I do strive to find joy in the every day… thus living a "life well loved." My heart behind this whole website is that it encourages you to do the same.
Although I love to be active, go all the time, and love hard, I have to remember sometimes I need to be still too. And that it's ok to not be keyed up at all times. Eric has helped me come along in this over the years, but I still have a long way to go. If you're struggling with the winter blues, postpartum depression, or anxiety, please don't hesitate to talk to someone and/or your doctor. There are resources and professionals who want to help.
I am truly honored you come here each day and love on me in my mess and I hope I can do the same by touching you in some way with the content like this I produce. Thanks for letting me share a piece of my heart with you today and I pray God brings each of us rest, peace, and JOY in Him during this winter season!
xoxo,
Heather
Check Out My Favorite Fitness Posts HERE:
SHOP Post HERE:

PIN The Fun Ways To Beat The Winter Blues Post For Later!