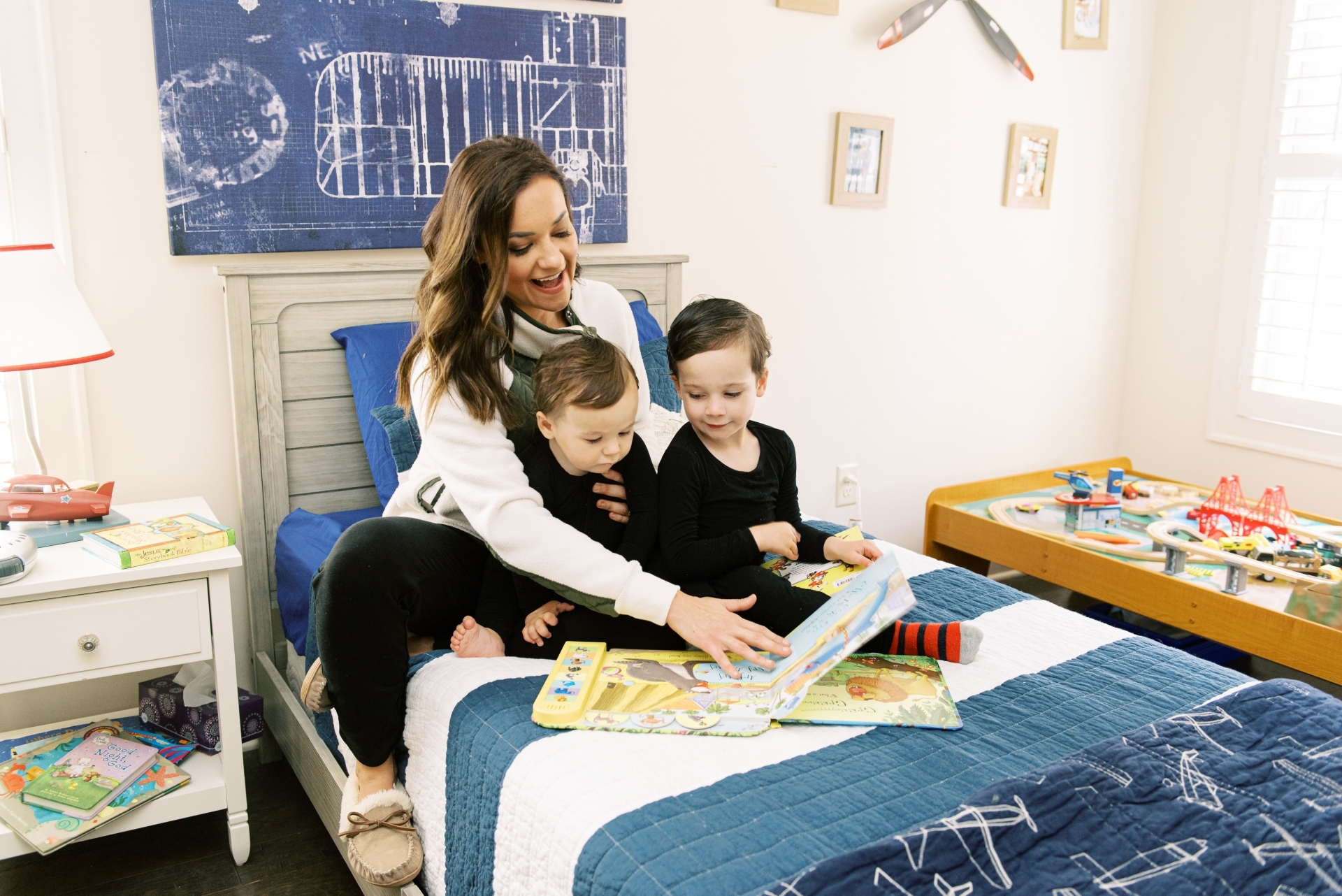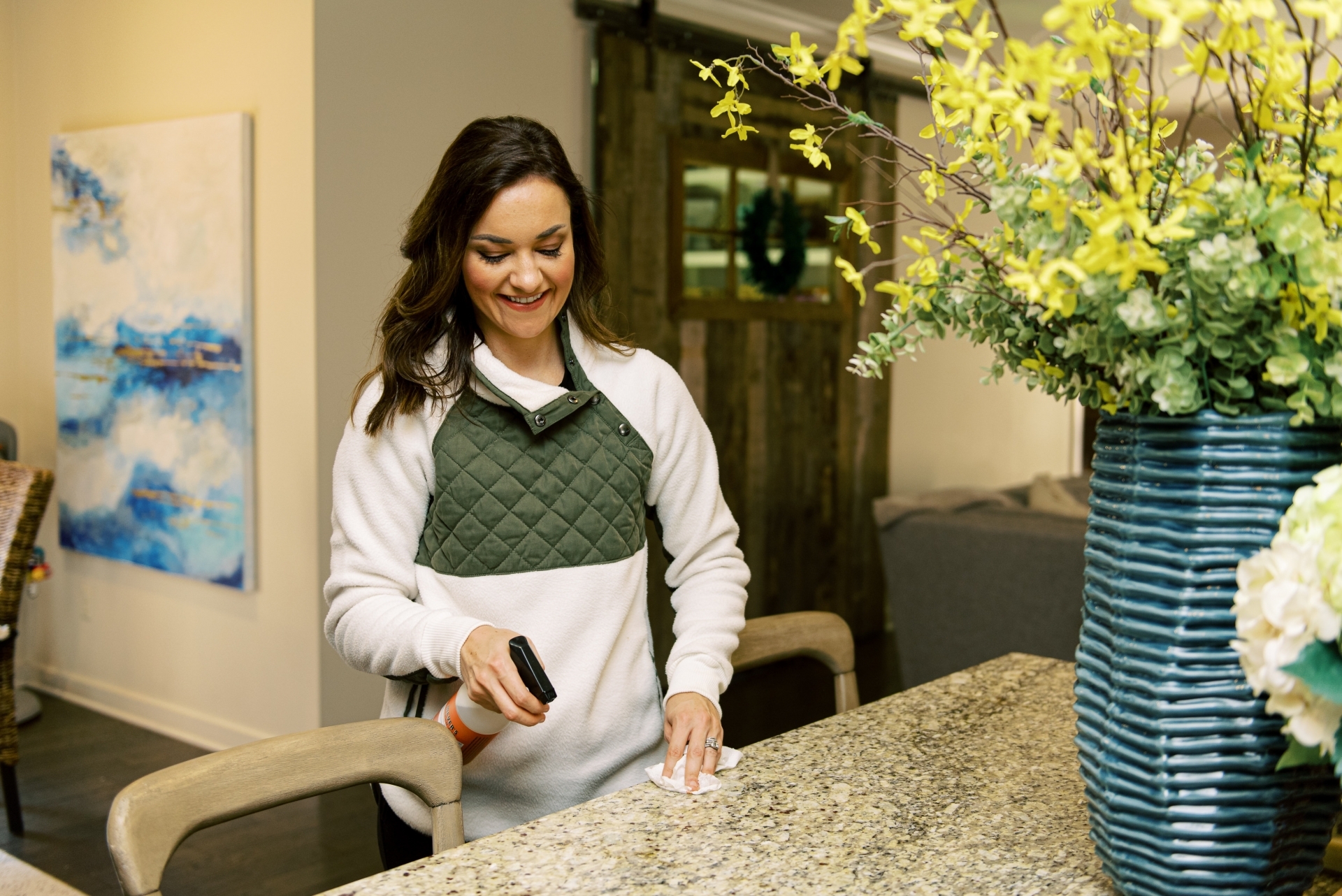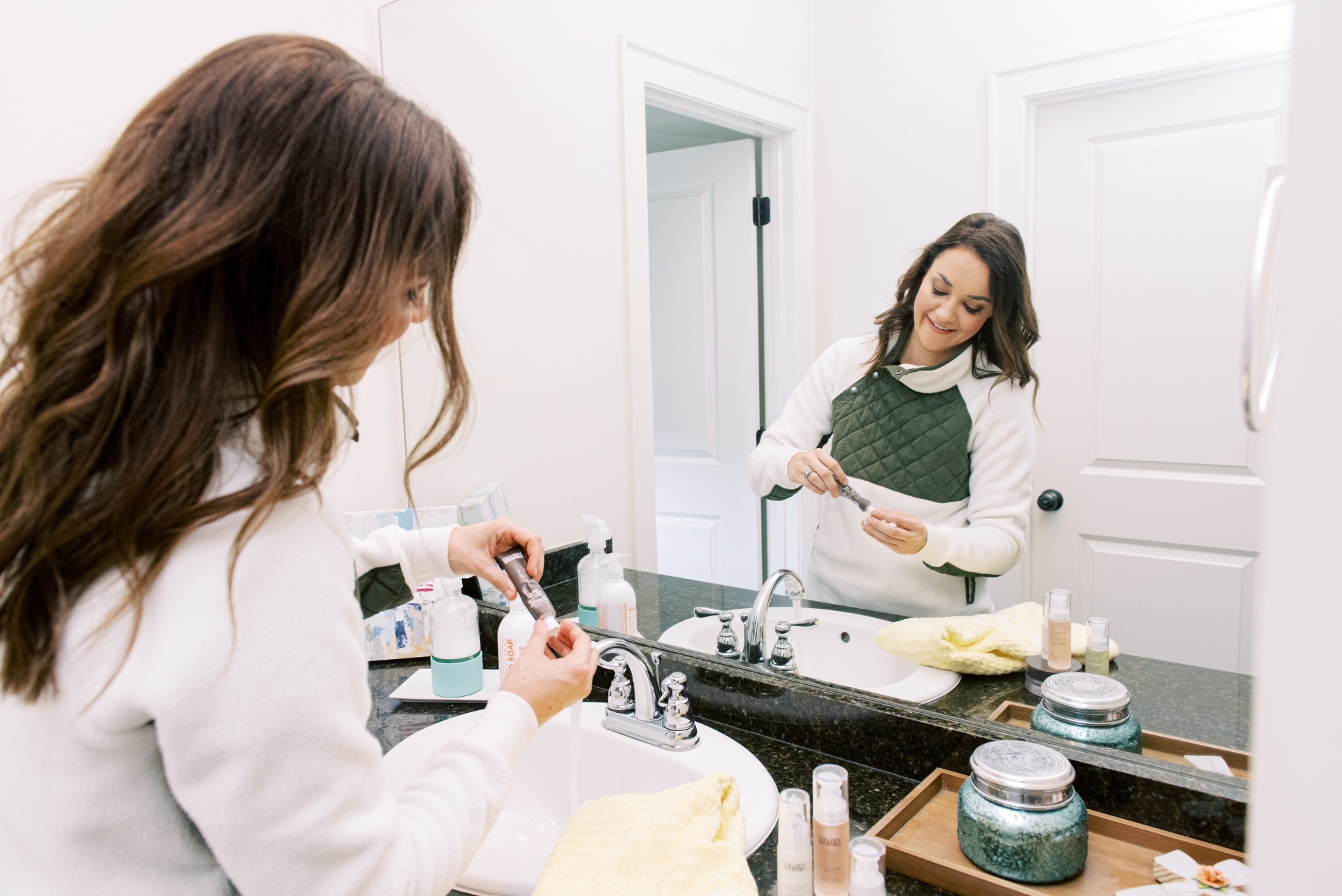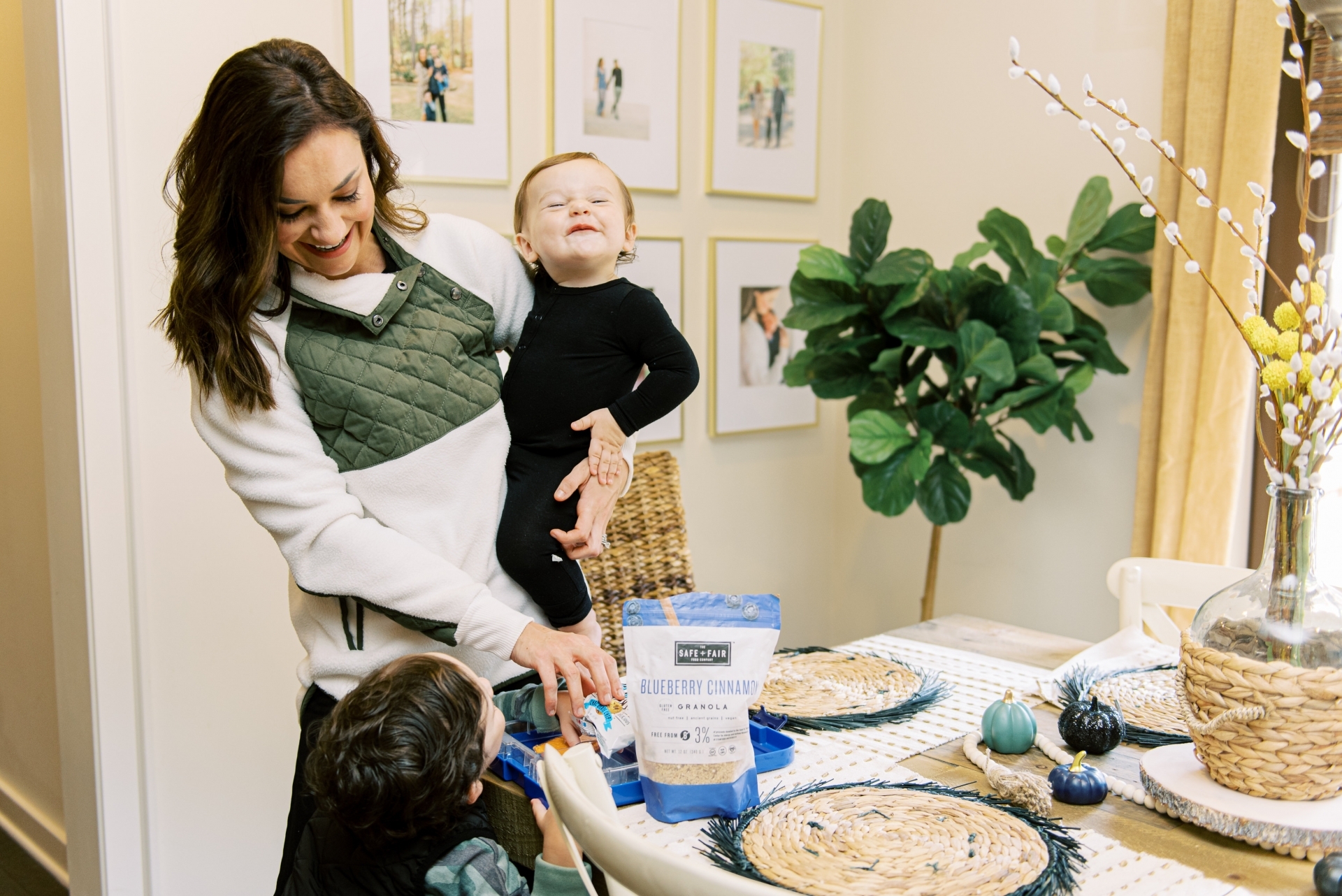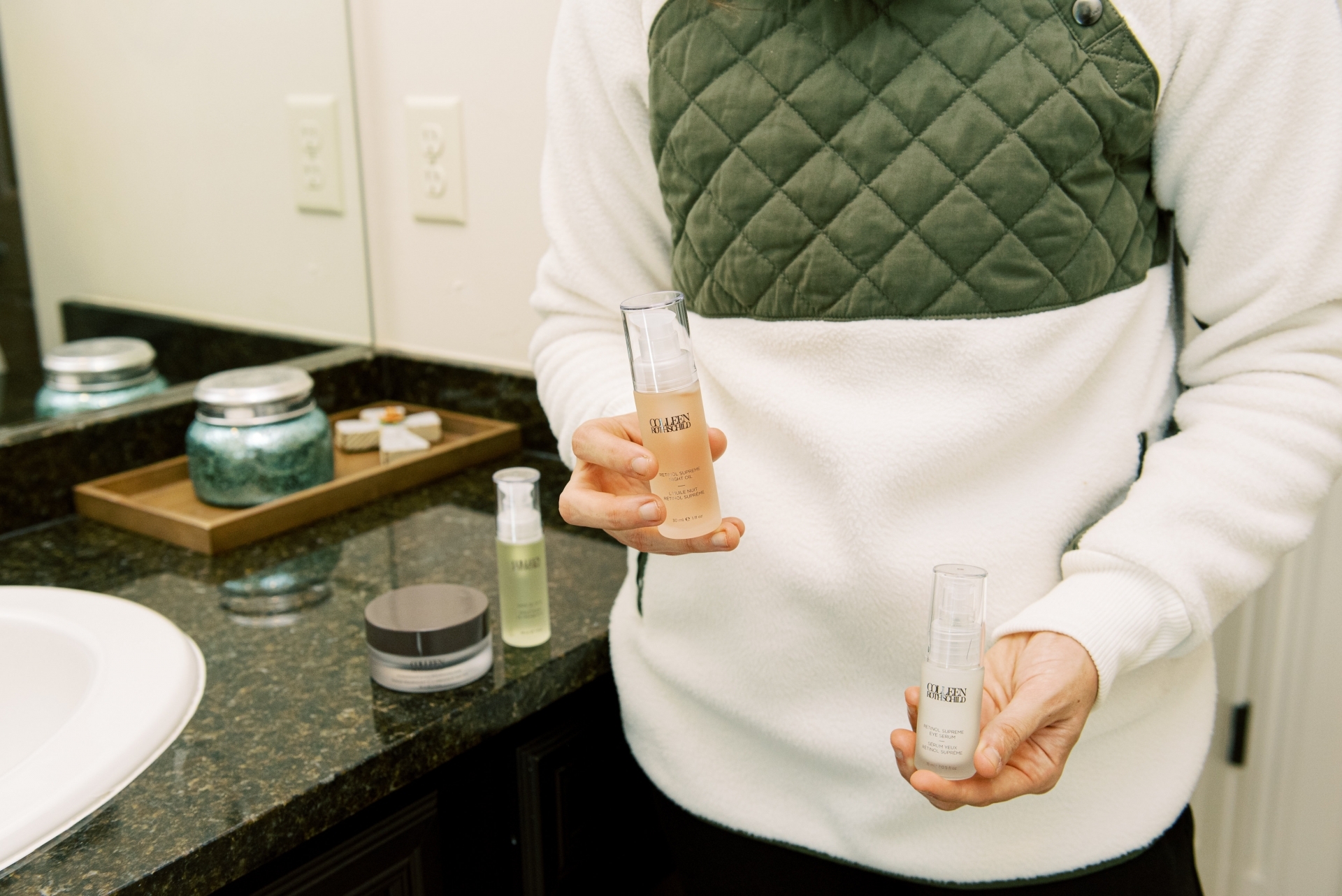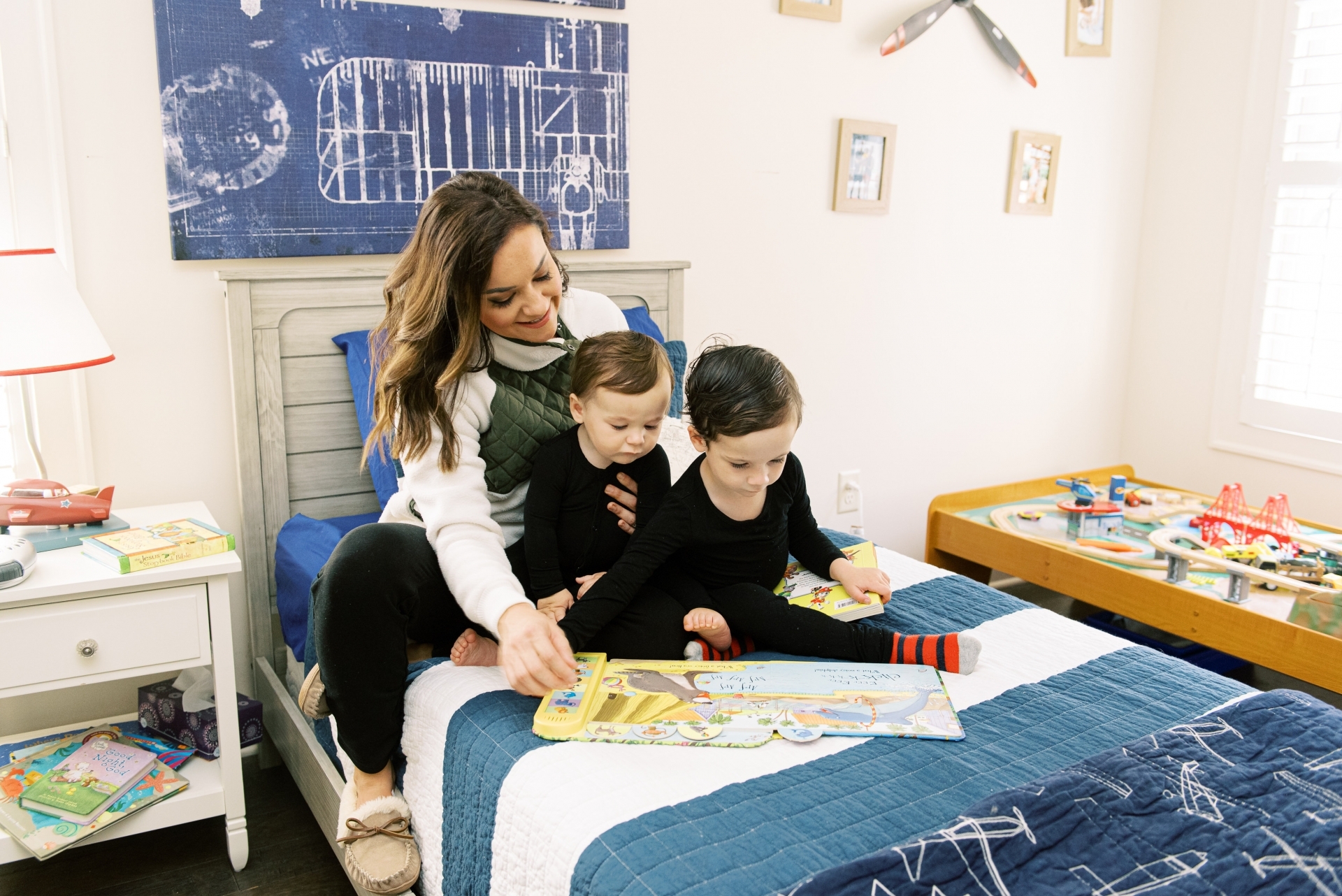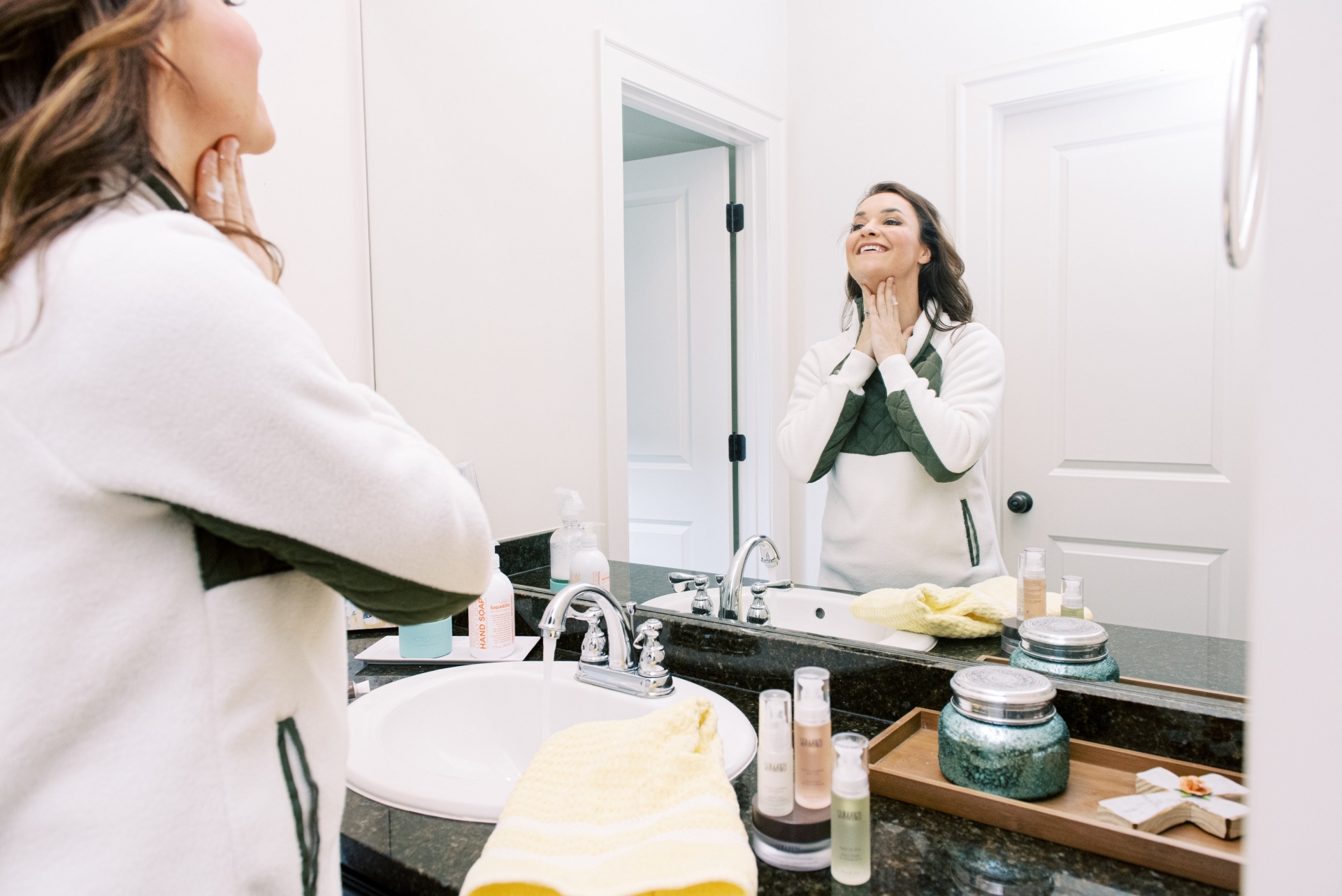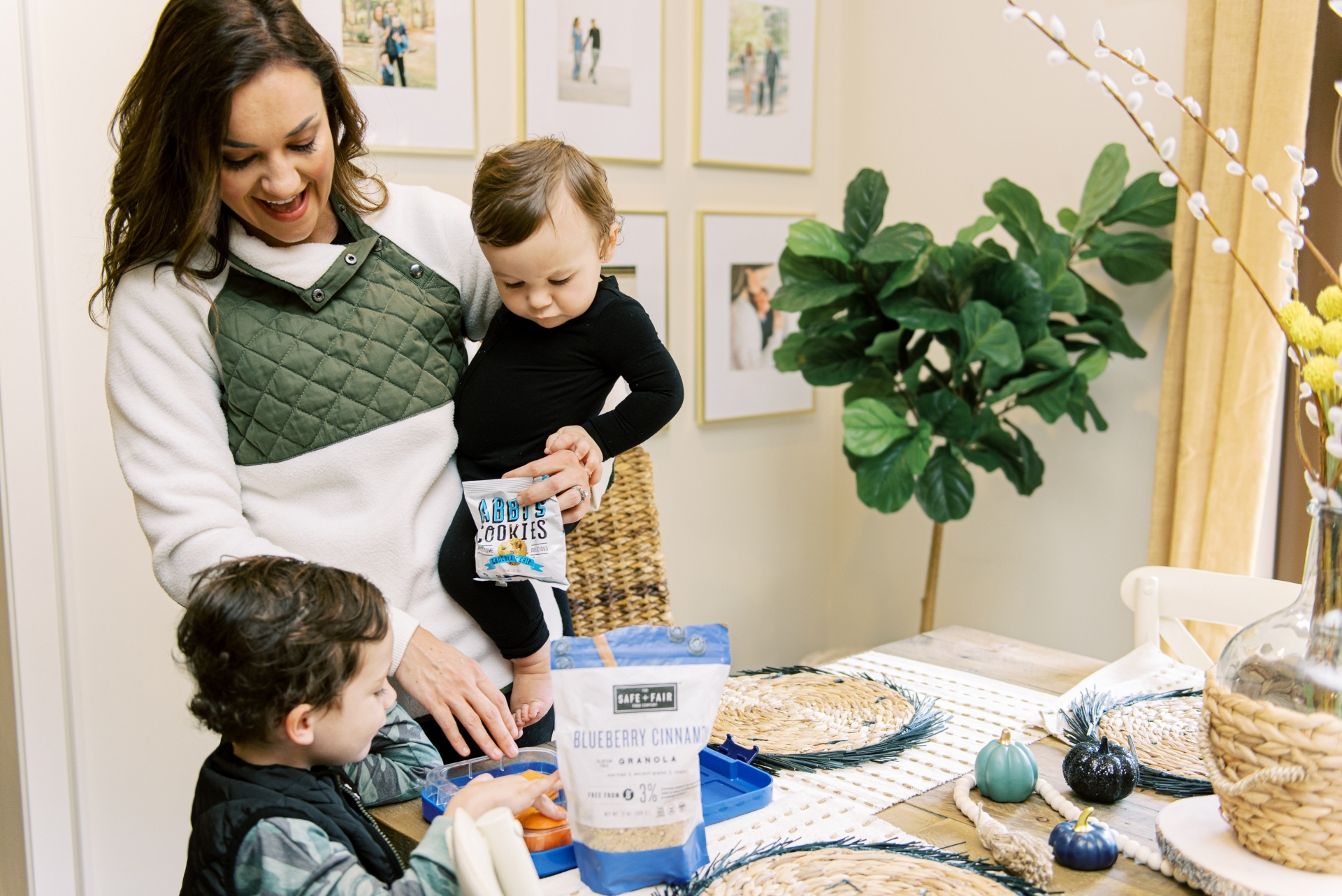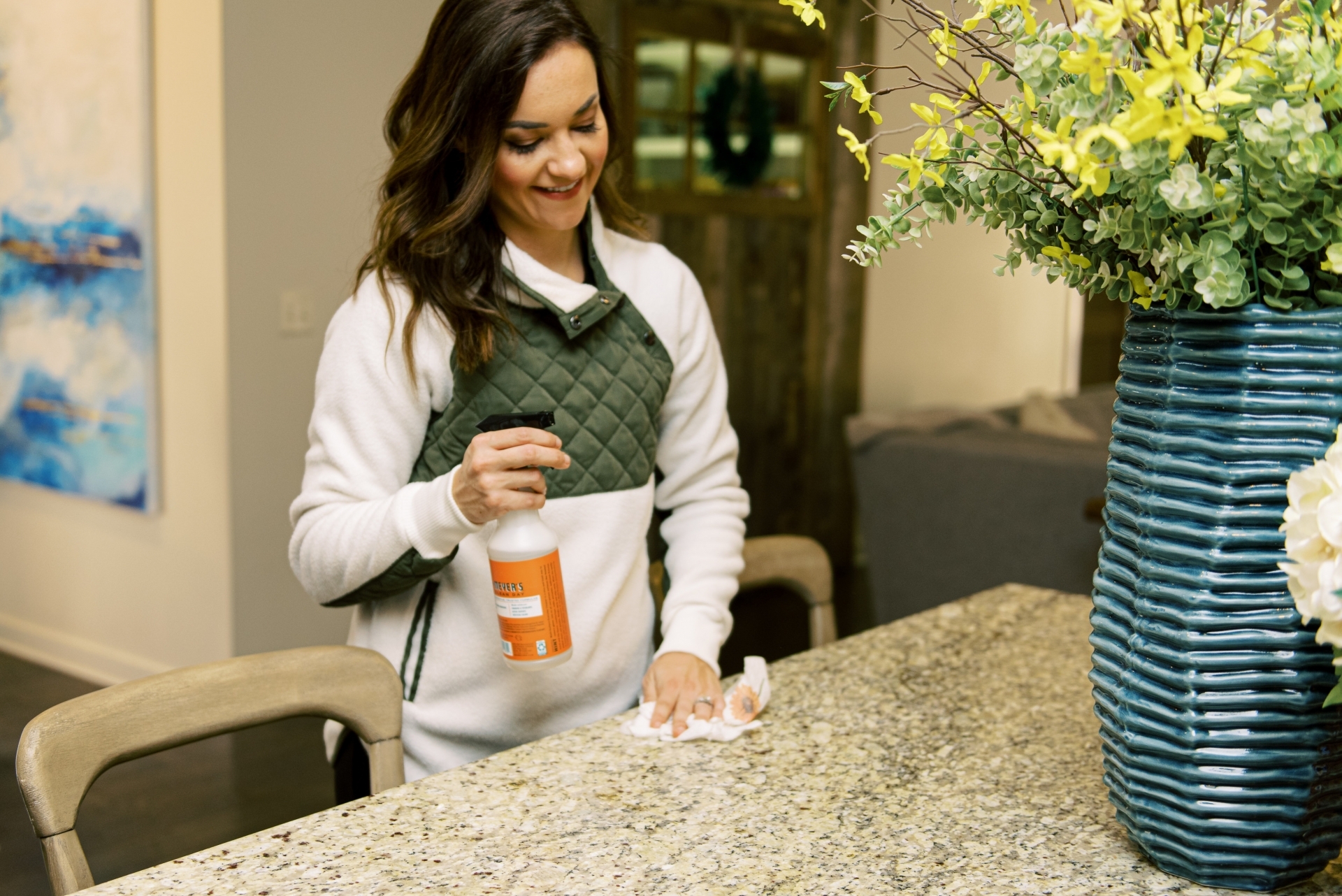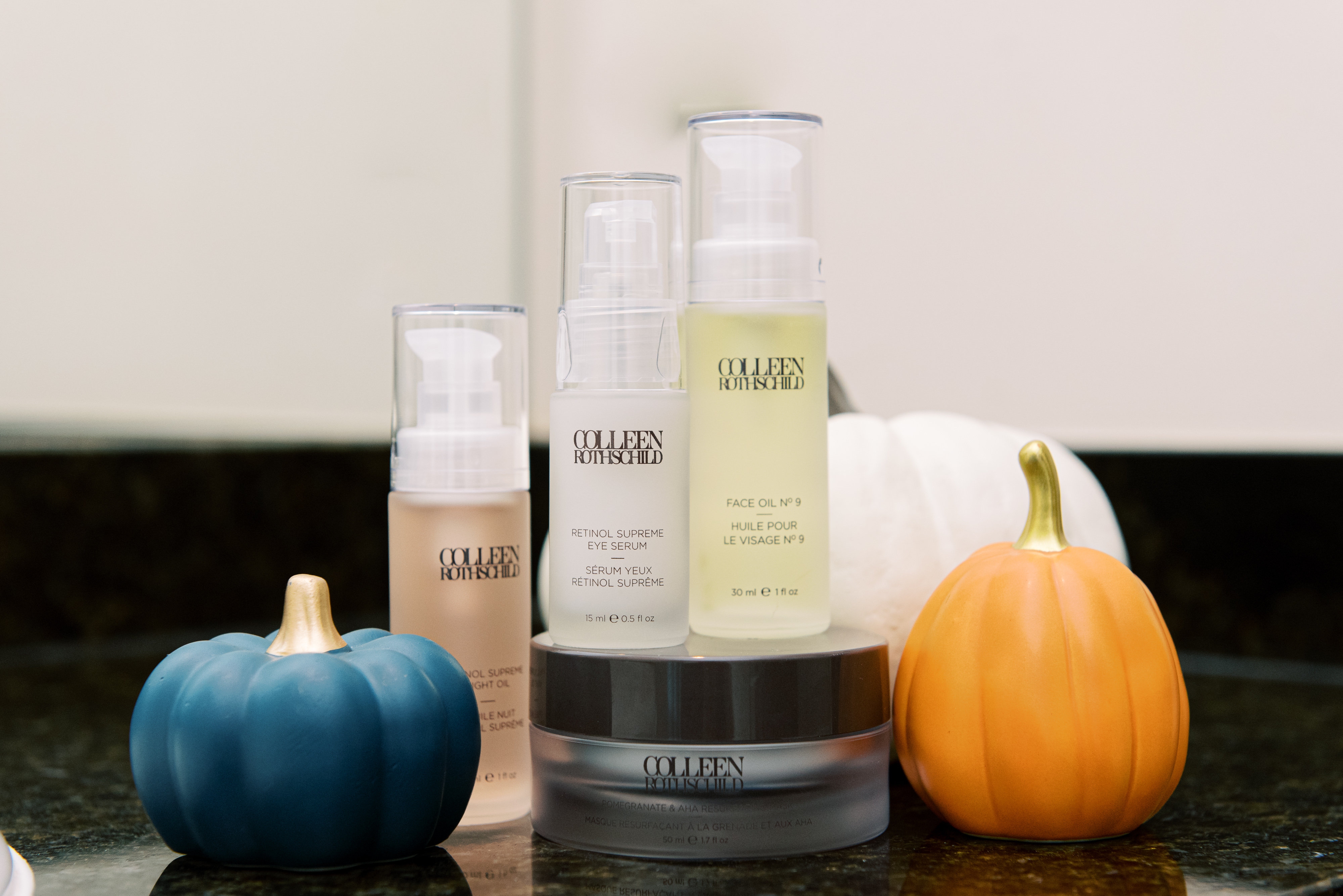 SHOP My Best Tips To Create Your Family Night Routine for Your Children + For You PHOTOS: Loft Butter Pants – BEST SELLER!!! // J. Crew Factory Slippers // Abercrombie Pullover // Leyton & Finn's Matching PJ's // Leyton's Room Details // Leyton's Train Table // Bedtime Story Book // My Pullover // Colleen Rothschild Products // Dining Table // Chargers // Placemats // Leyton's Vest // Leyton's Camo Tee // Baby Finn's Pajamas // Wooden Beads // Vase Wrapped in Rope // Mini Pumpkins // Safe + Fair Granola (USE CODE WELLLOVED10 for 10% OFF) // Dining Chairs // Fiddle Leaf Tree // Gold Frames // Lunch Box // Barstools // Target Pumpkins
Photos by Eric and Jamie Photo
Thank you to Colleen Rothschild for partnering with me on today's post! You can sign up for emails to get 20% off.
Finding a routine in any season of life takes time. Especially when you add in a new baby, a new job, or even when you just go through an inconsistent season with sickness – y'all know I'm talking about our current situation with 3+ months of flu, ear infections, upper respiratory infections, pink eye, stomach bug, all the things! However, amidst the changing seasons, we do strive to keep some things consistent with our routines as best we can.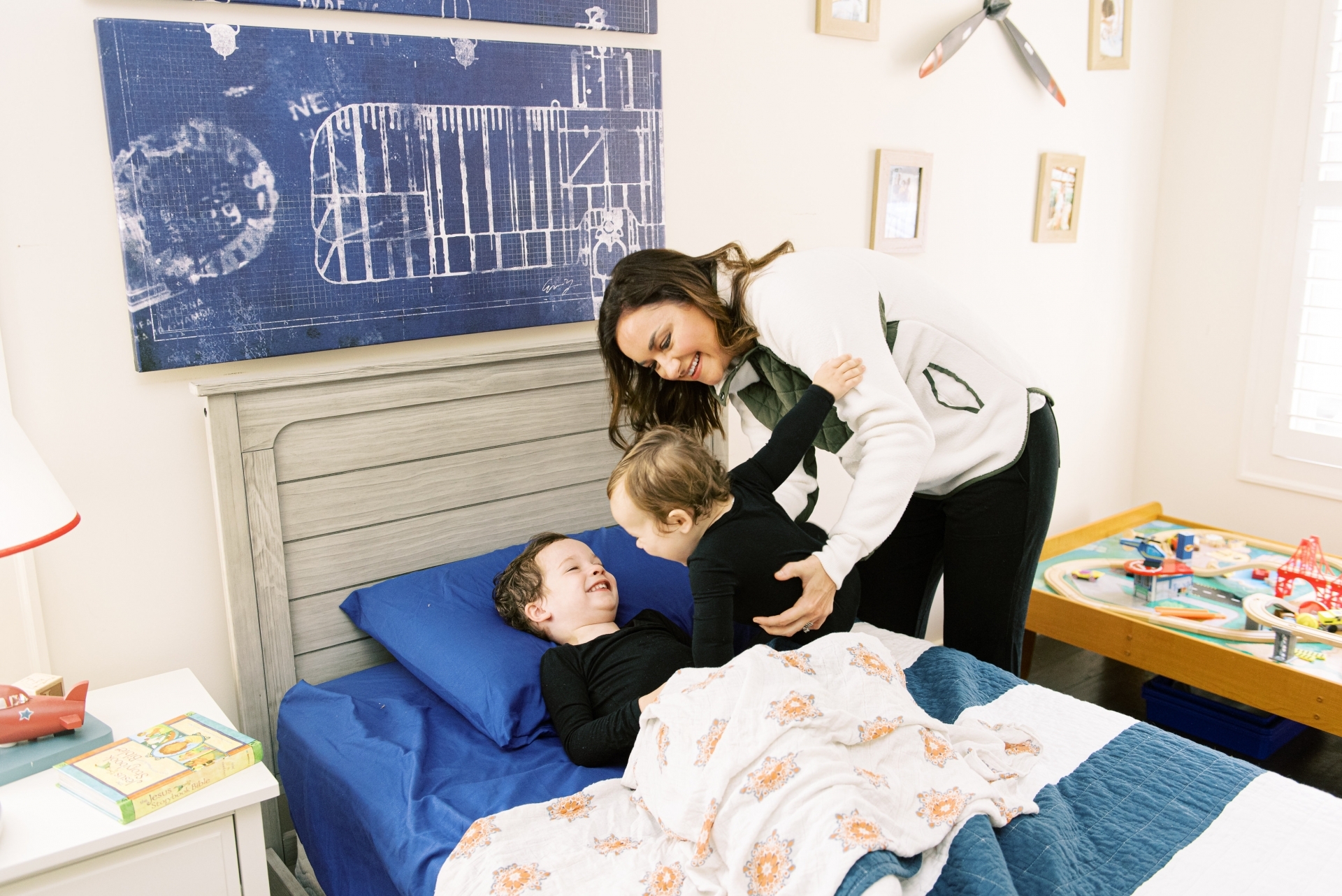 As I've mentioned before when I shared our
morning routine
, there is no special step A + step B + step C formula that will make those last few hours before bedtime perfectly magical. There will
still
be the occasional witching hour, the fight to finish dinner, and meltdowns of all sorts.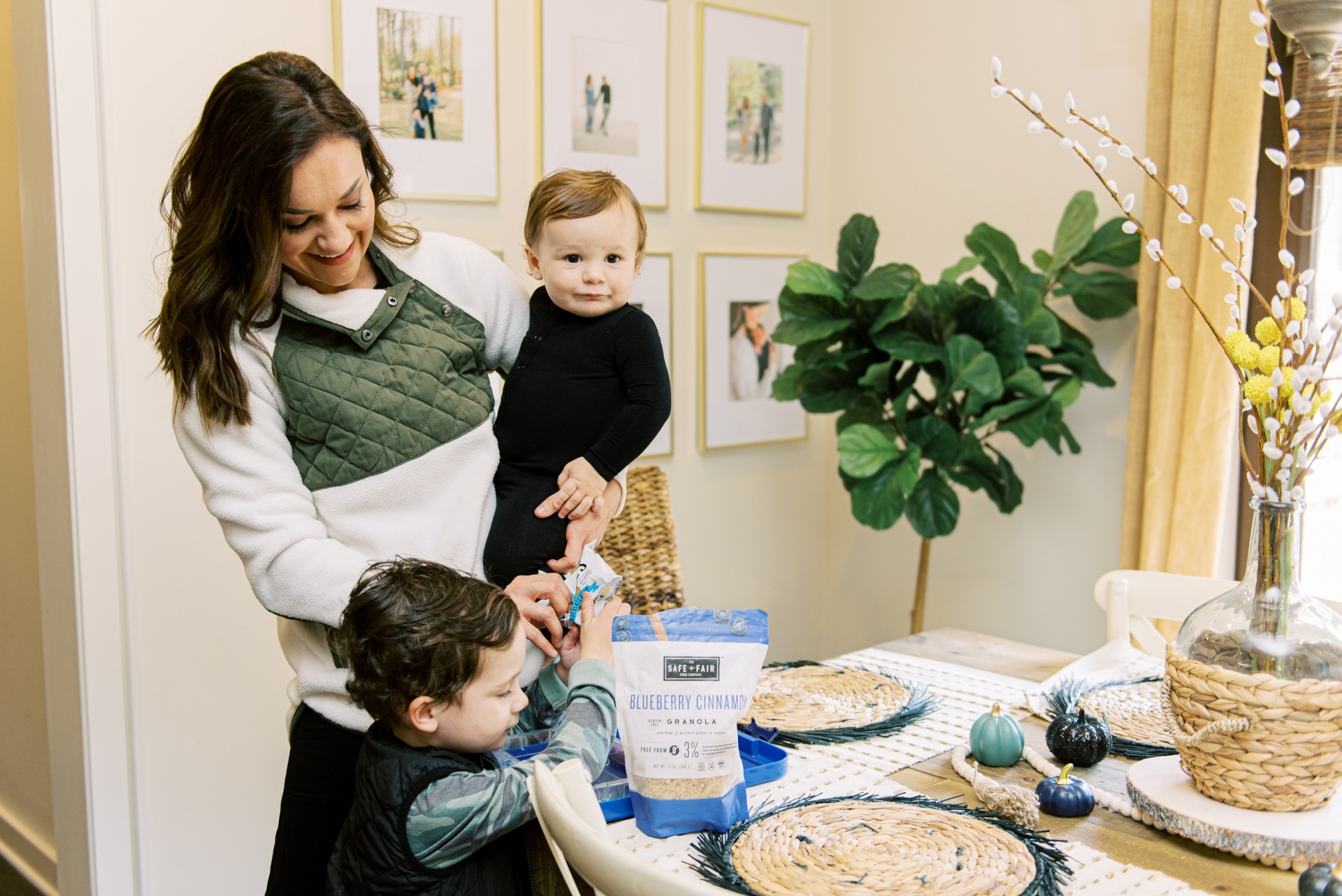 However, when y'all ask for me to share what works for us, I am always happy to do so! If anything, I hope you can take some of our bedtime routine tips and tricks and apply them to your routine with your family!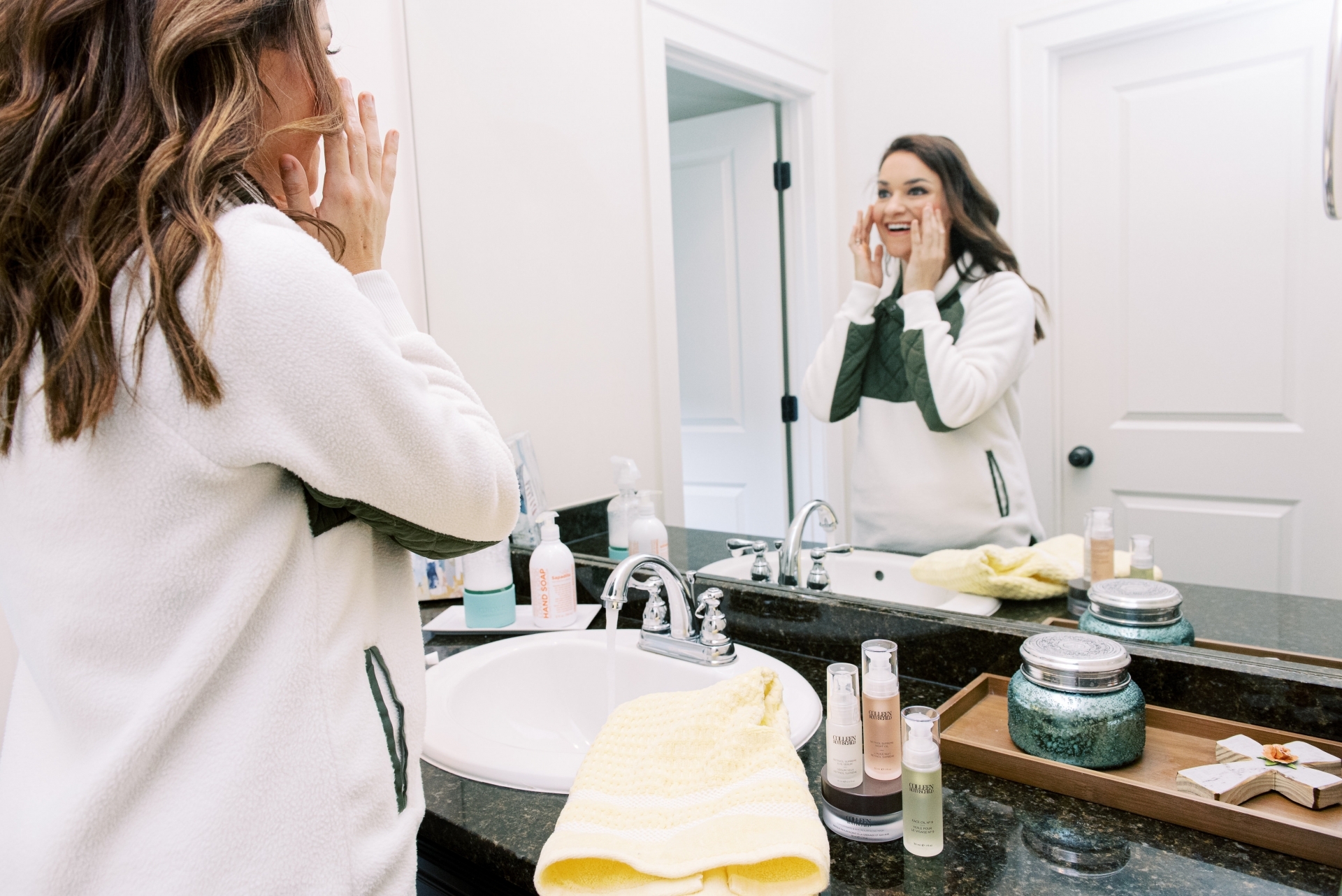 Our Family Night Routine
6:30 PM –
We typically eat dinner around this time and try to keep it as simple as possible with
Nourish Meals
(if you want to try them out, use my code
HEATHER20 to get $20 OFF your first order!
). They are super delicious and Eric and I both enjoy them!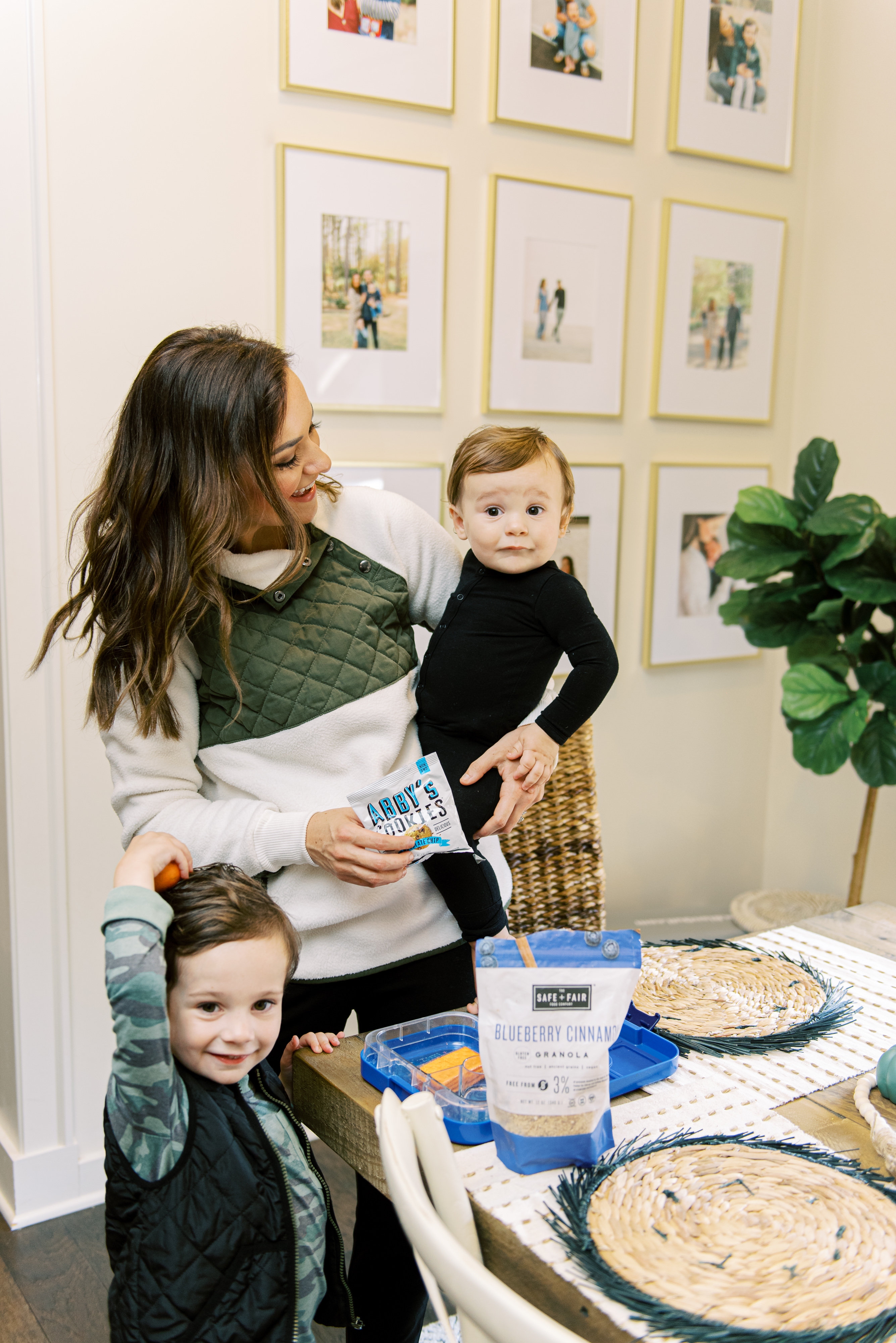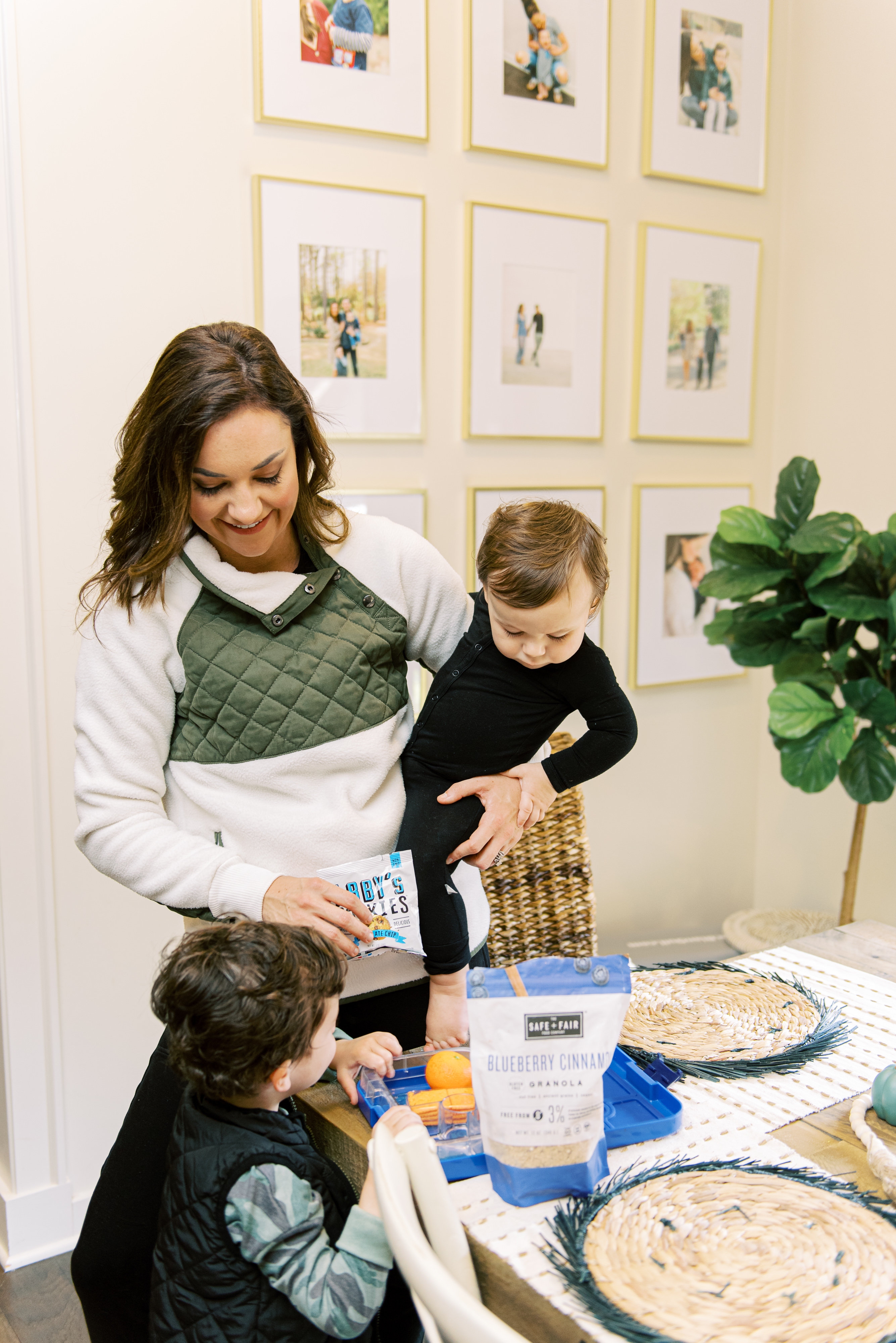 7:00 PM –
Leyton knows he's in charge of helping mommy pick out his outfit for school the next day and packing his
lunch box
+ any other school preparations that need to be done. This really helps alleviate stress in our
morning routine
!
7:15 PM – The kids don't take a bath every night but they love the nights that they do!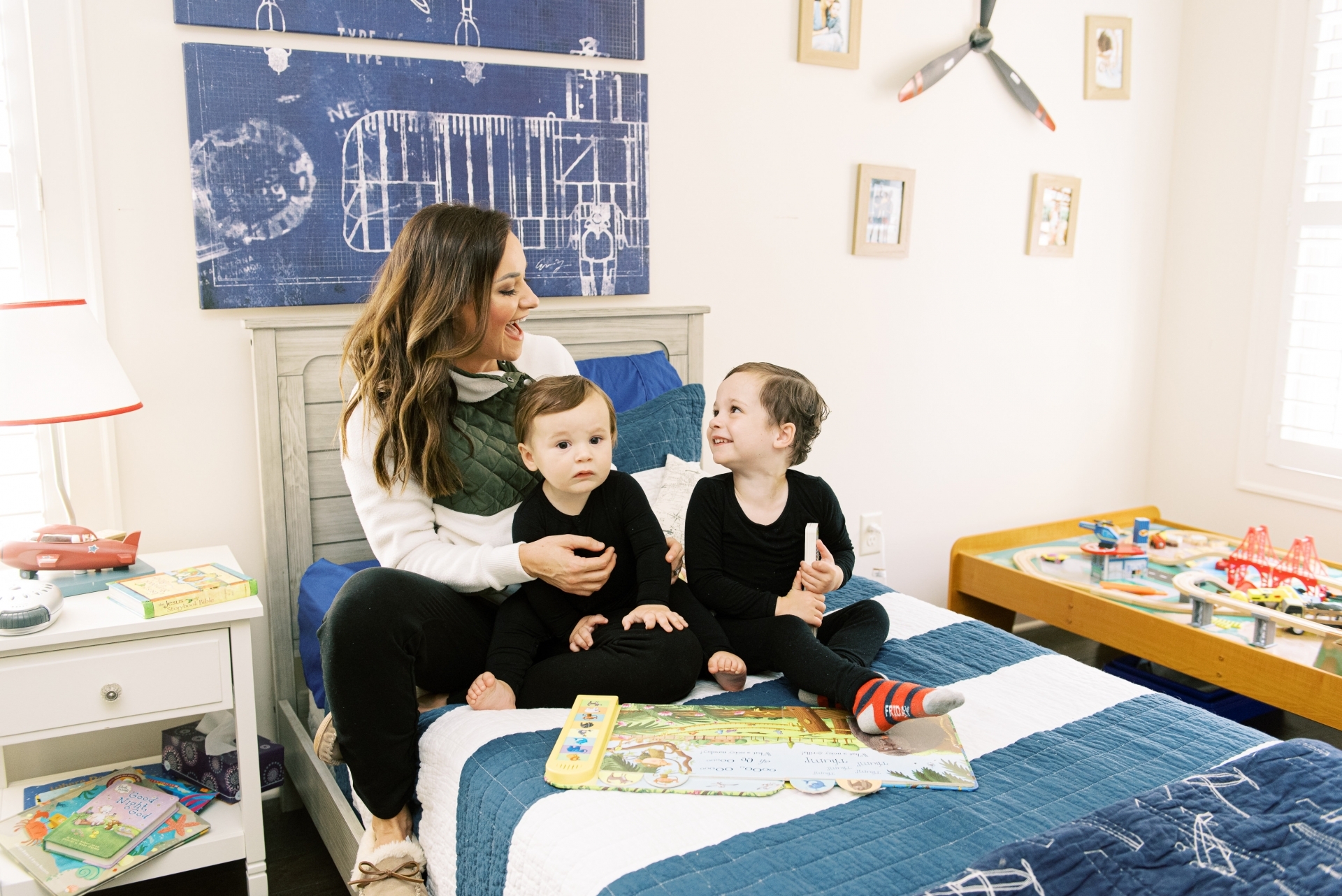 7:30 PM – Eric and I divide and conquer after bath to get the boys ready for bed! Eric will take Leyton and I'll take Finn or visa versa. We alternate every other night so the boys don't get too used to a specific parent putting them down for bed.
Leyton has a pretty set routine for bedtime. He prefers his Jack and Jill bathroom door slightly opened, his
sound machine
on, and his
NEW nightlight
turned on so he can see if he needs to get up to go
potty
. We keep his main bedroom door shut and he knows to stay in his room until morning, unless he is sick.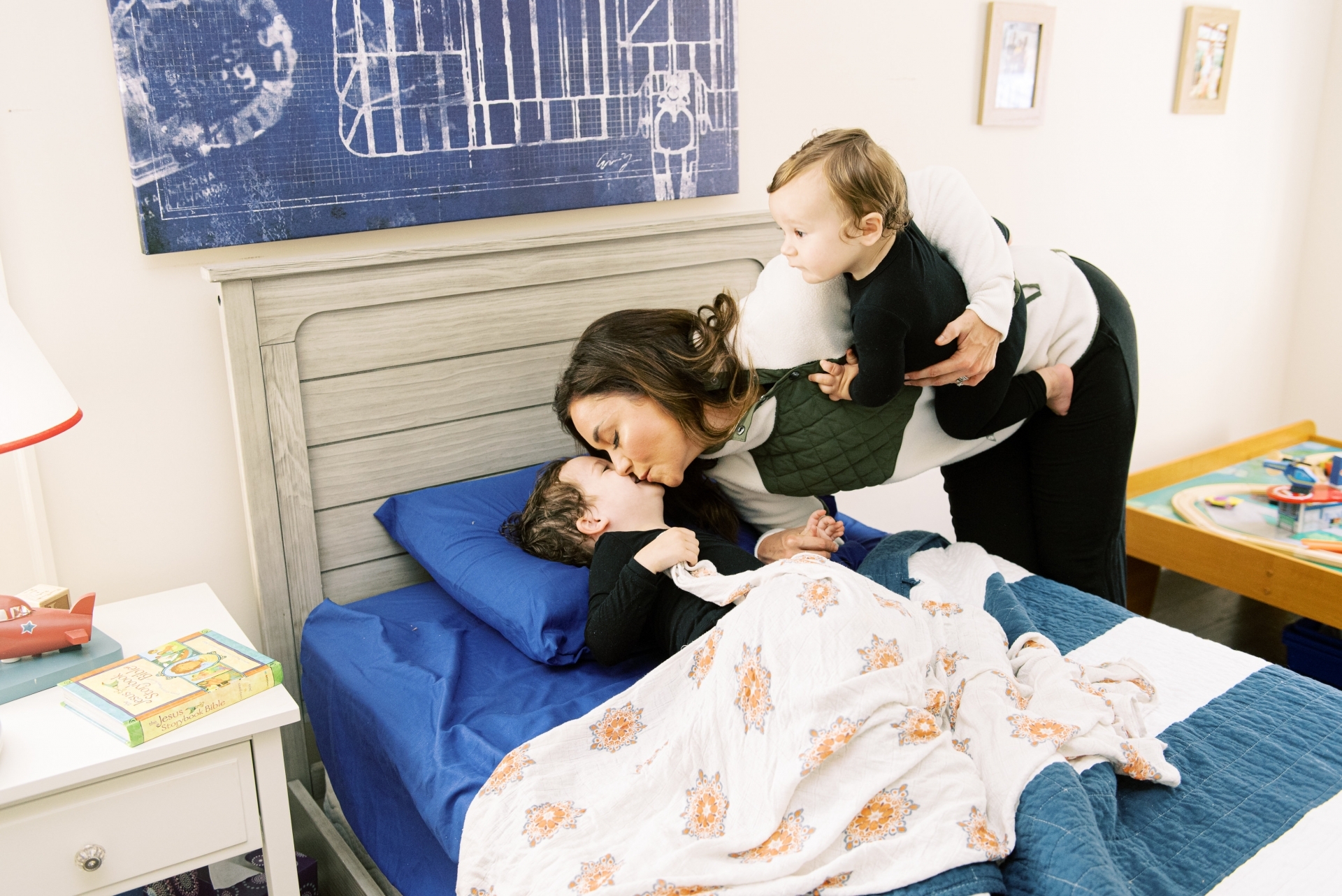 After we get
Leyton's room
all set, we sing Jesus Loves Me, the Doxology, and read 1-2 books. Leyton has to have his
"lay down kit"
and 2 corners of his
wrap kit
before he can be all set. He also loves to do butterfly kisses with mommy and cuddle for a few minutes before I leave his room.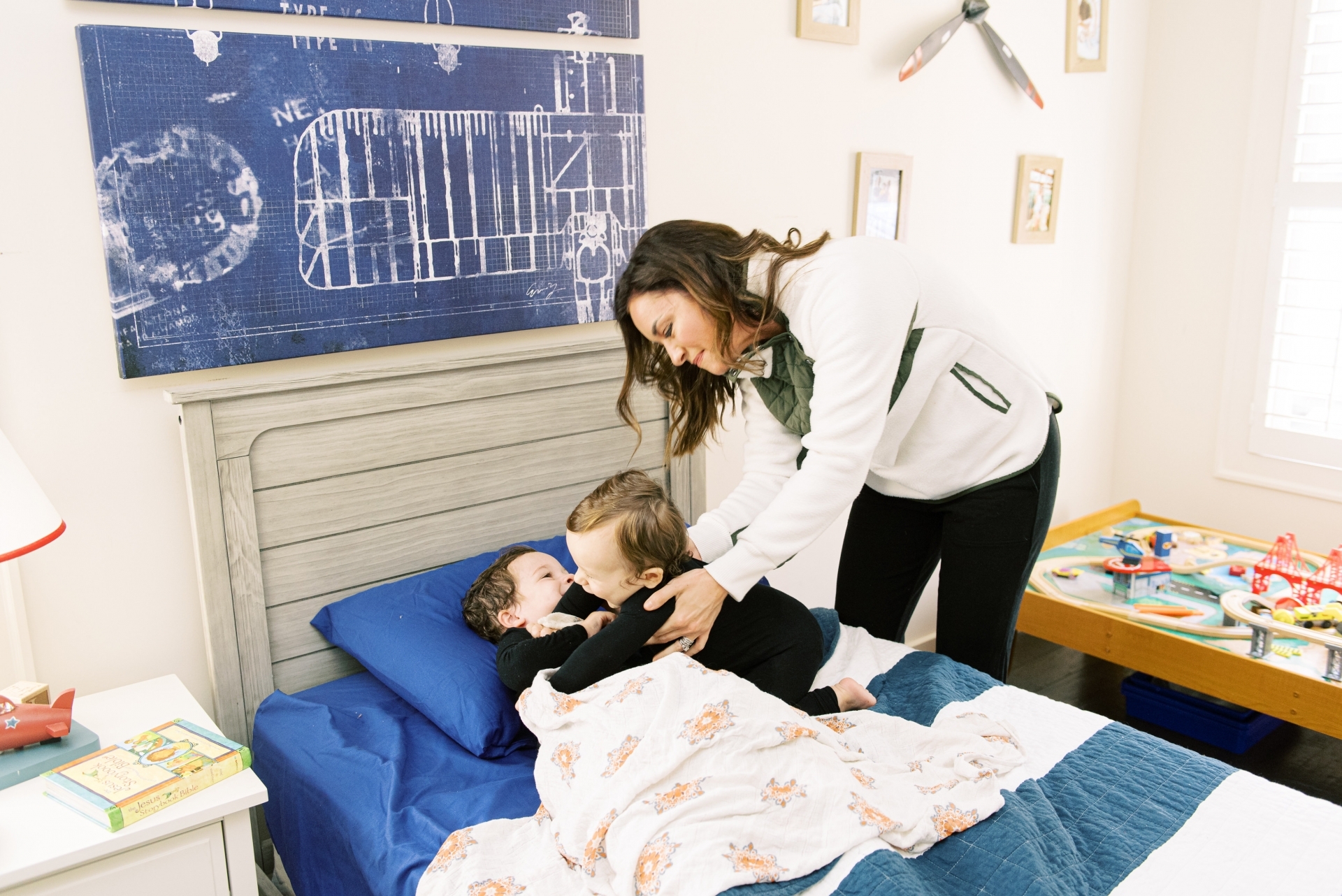 For Finn, his routine is very similar. I turn on his
sound machine
, we sing Jesus Loves Me, and typically read 1 or 2 books. You can read more about Finn's sleep schedule and routine in our post about
Moms On Call
! A lot of our bedtime routines abide by the
MOC
methods as that is what we have used to sleep train our boys!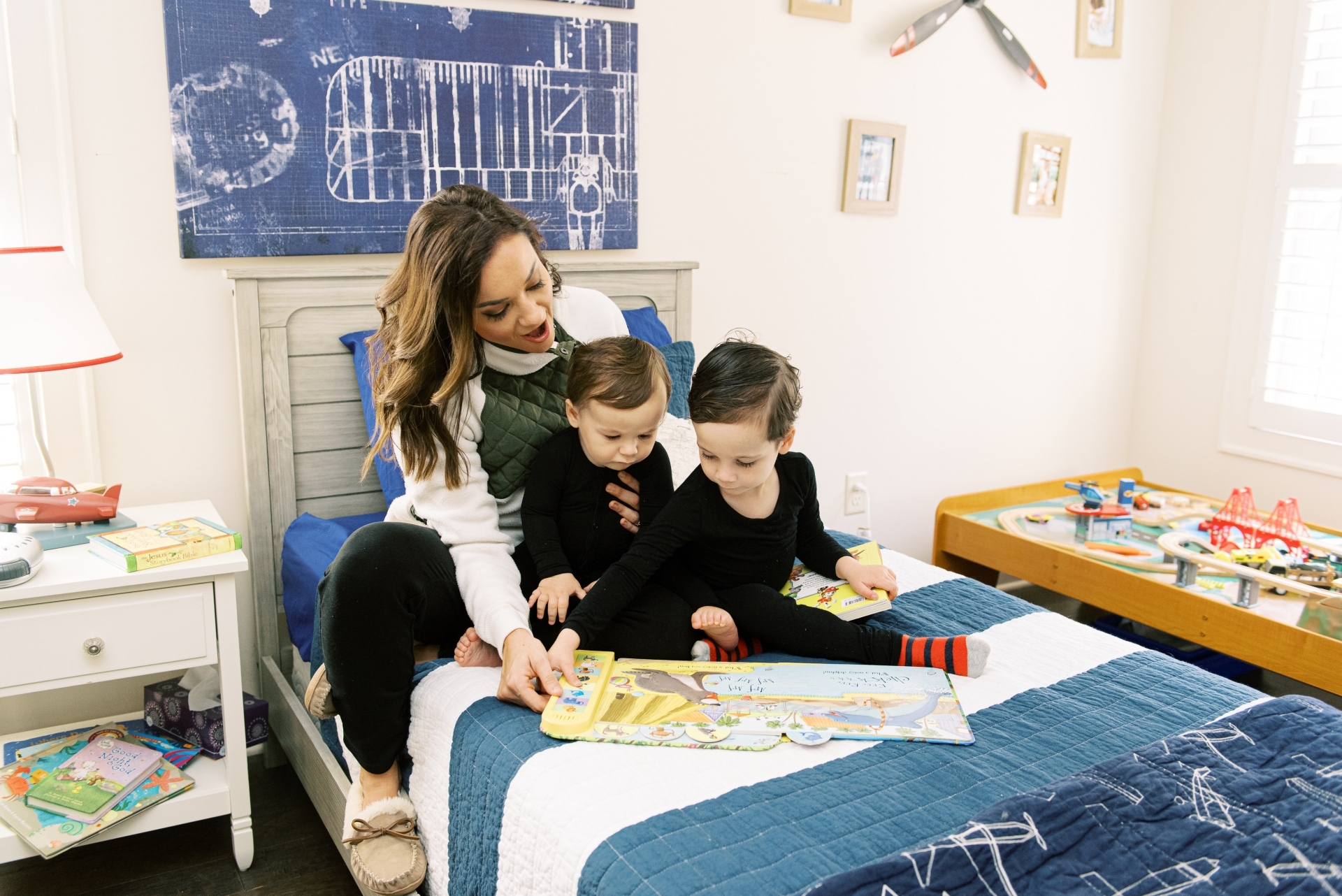 About 1 night a week we all read books together in Leyton's bed and it is a super special and sweet time as a family!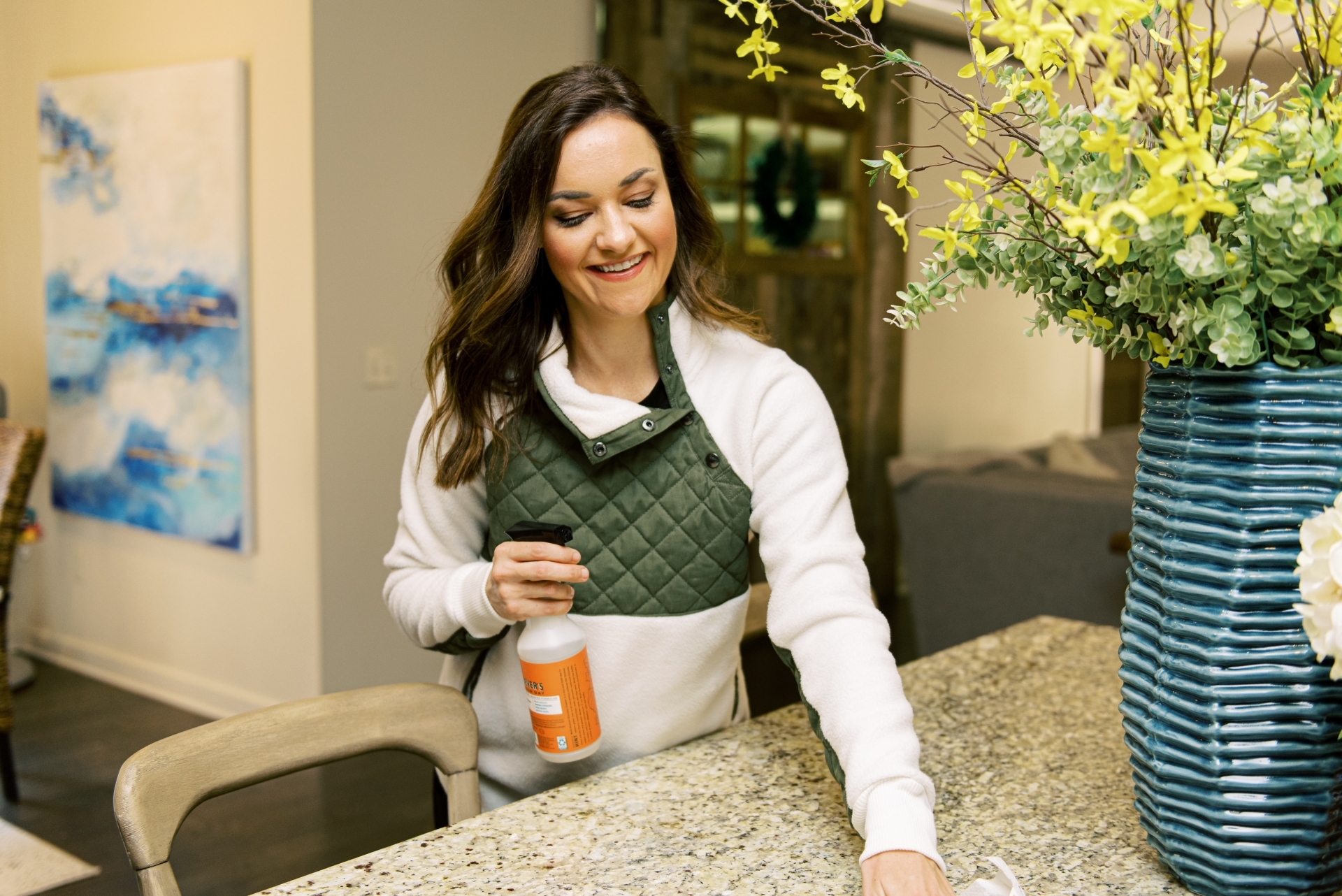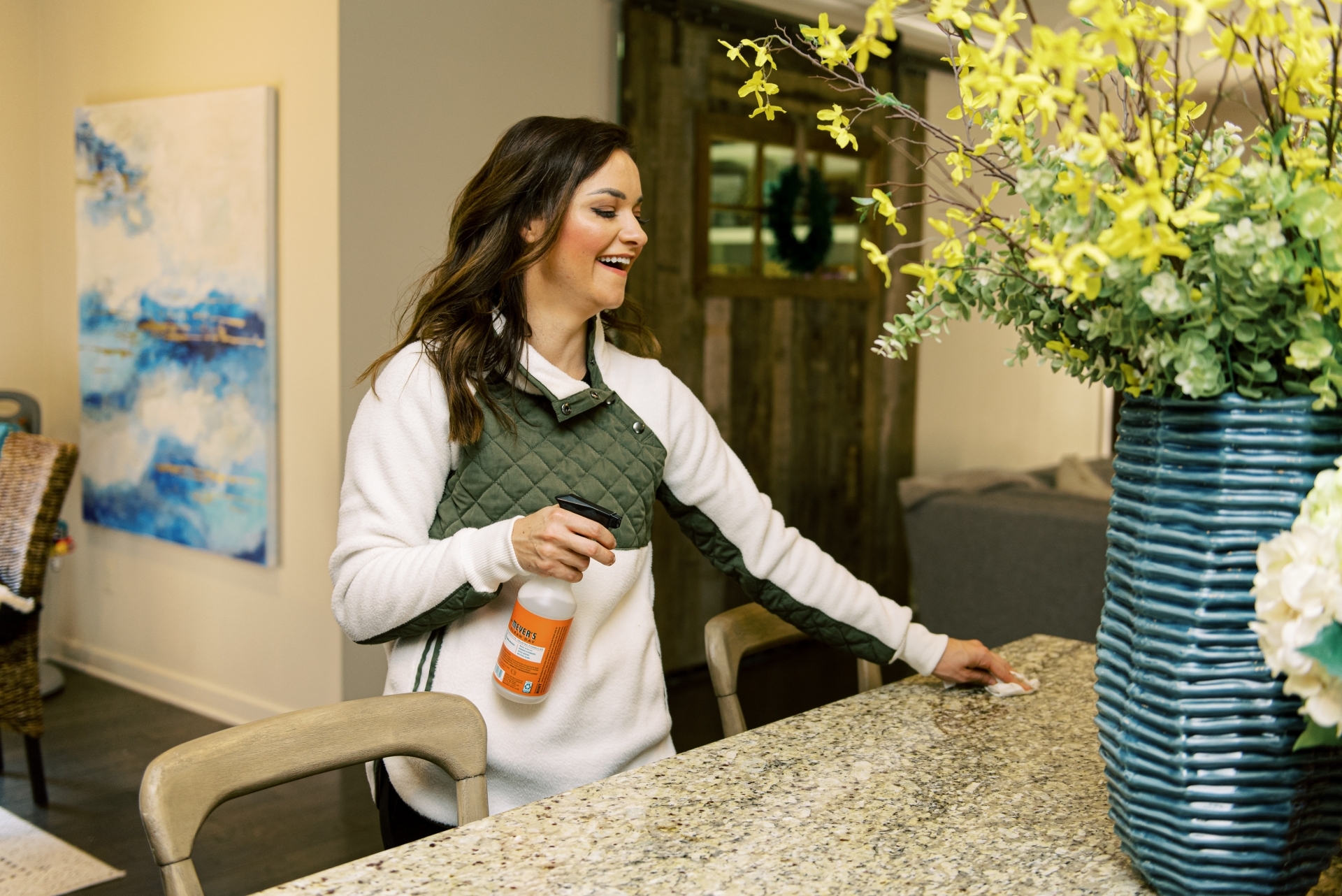 8:00 PM –
Once both boys are asleep, Eric and I head to the living room to do a quick
clean-up
after dinner! Typically this is when Eric and I will watch a show or I will tuck away to work on the website for awhile.
My evening work time ranges from posting to my
Instagram feed
, linking up photos in
LIKEtoKNOW.it
, answering DMs and comments from y'all, finding a
Deal Of The Day
for the next day, texting with team members to be sure everything is ready to go for the week, proofing or writing content, etc!
10:00 PM – Eric typically goes to bed around 10 PM or 11 PM and I try to go to bed with him when I can (aka when work isn't crazy!). Isn't it something how men get ready for bed and it takes all of 2 minutes?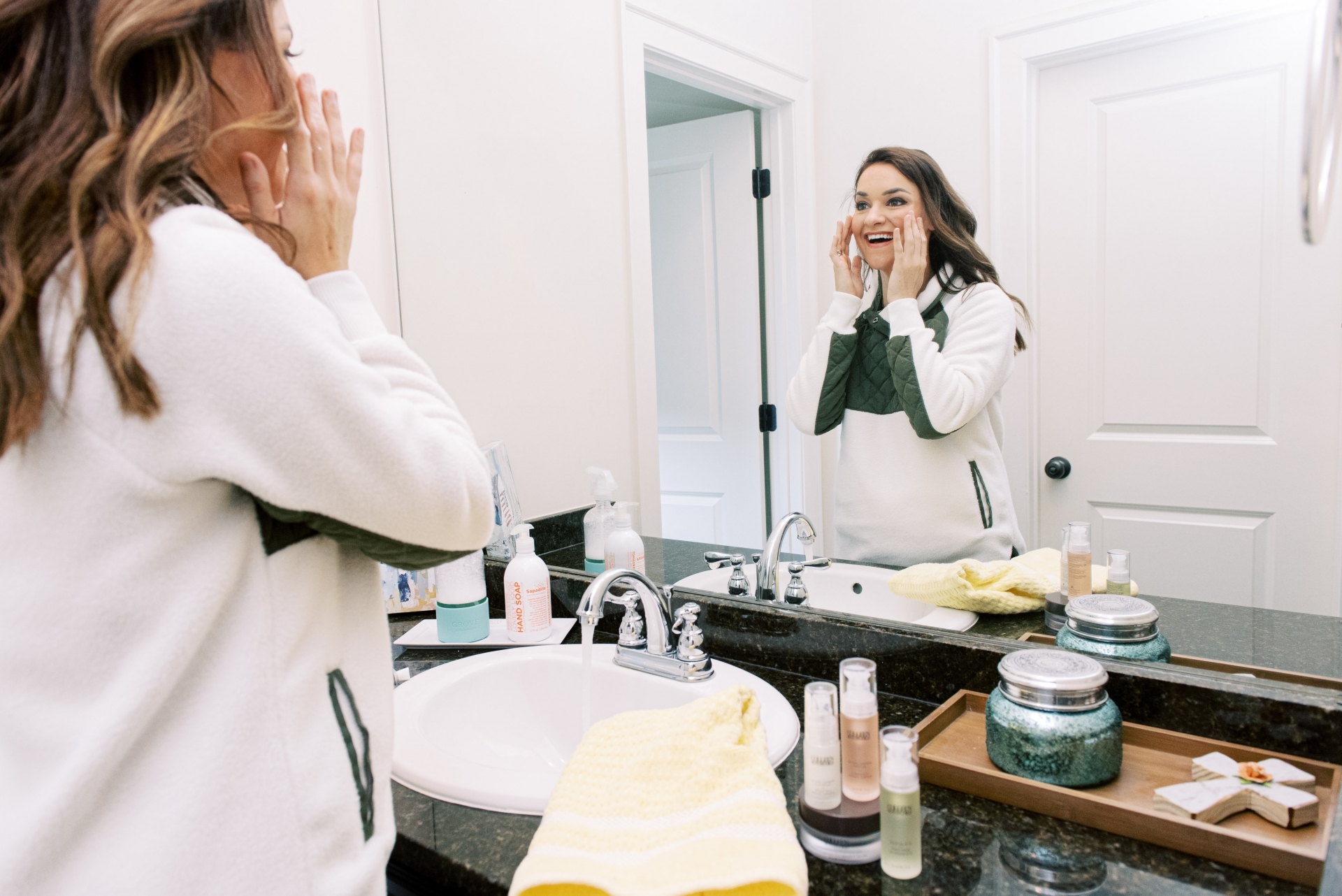 On the contrary, our process OF COURSE takes no less than 1 hour because as we are trying to get ready for bed we remember the form for the teacher we were supposed to sign, the pot in the sink we were supposed to finish washing, the wet laundry in the washer that needs to be switched over to the dryer! Motherhood!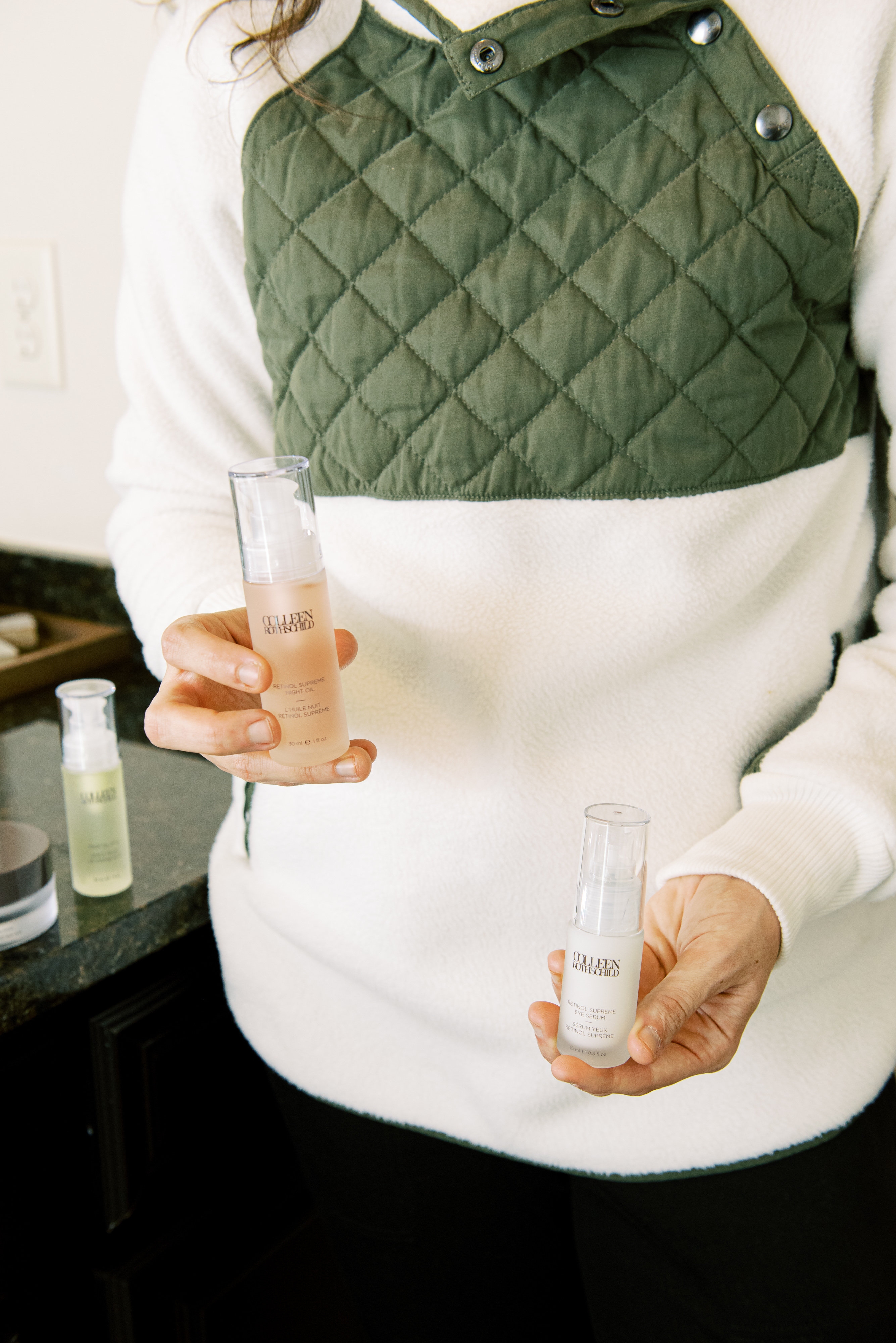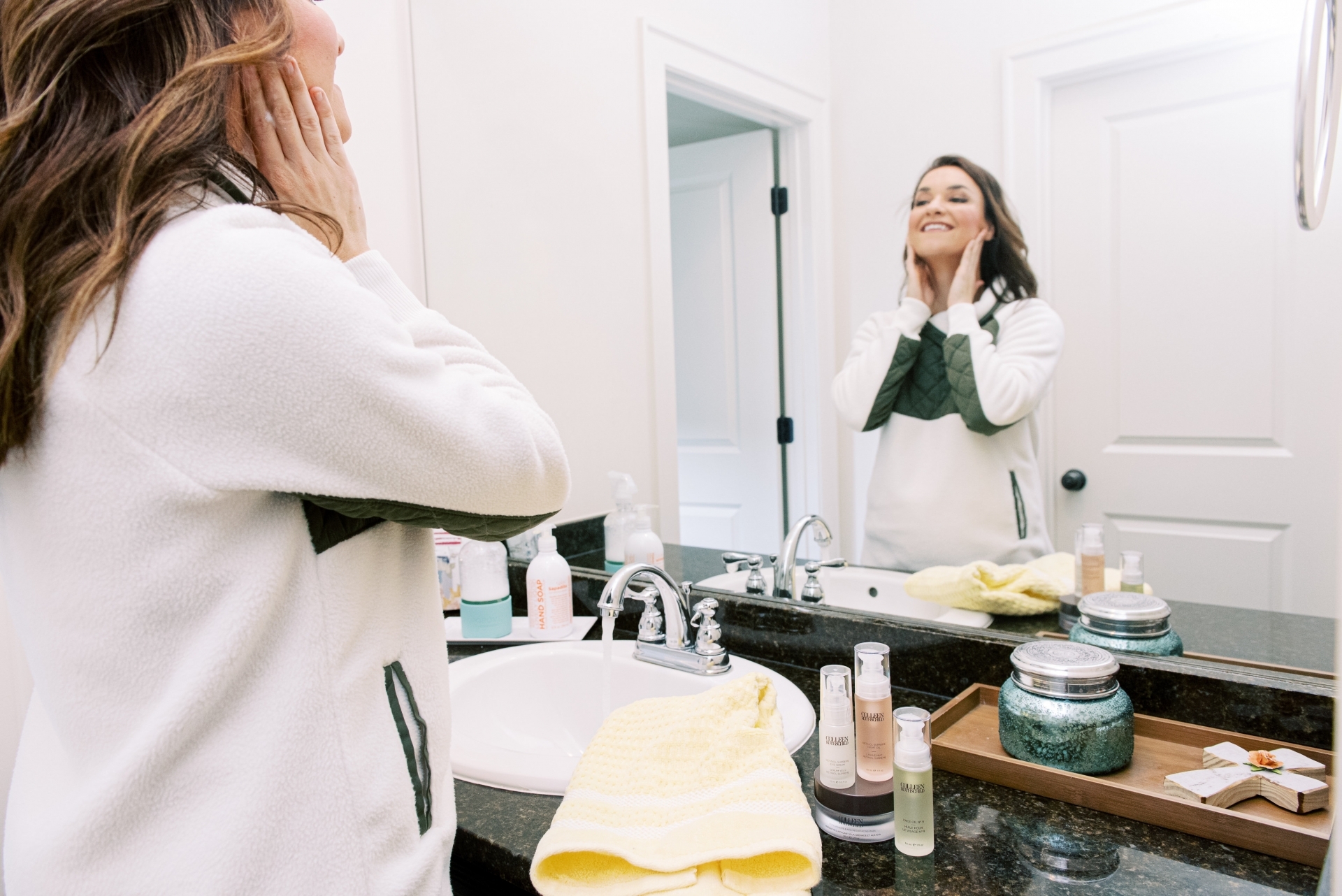 12:00 AM –
Depending on the season, I sometimes go to bed as late as 1:00 AM or 2:00 AM because many times, the wee hours of the morning are my
only
uninterrupted time to work on the website. When I do start preparing for bed, I
brush my teeth
and do my
Colleen Rothschild nighttime routine.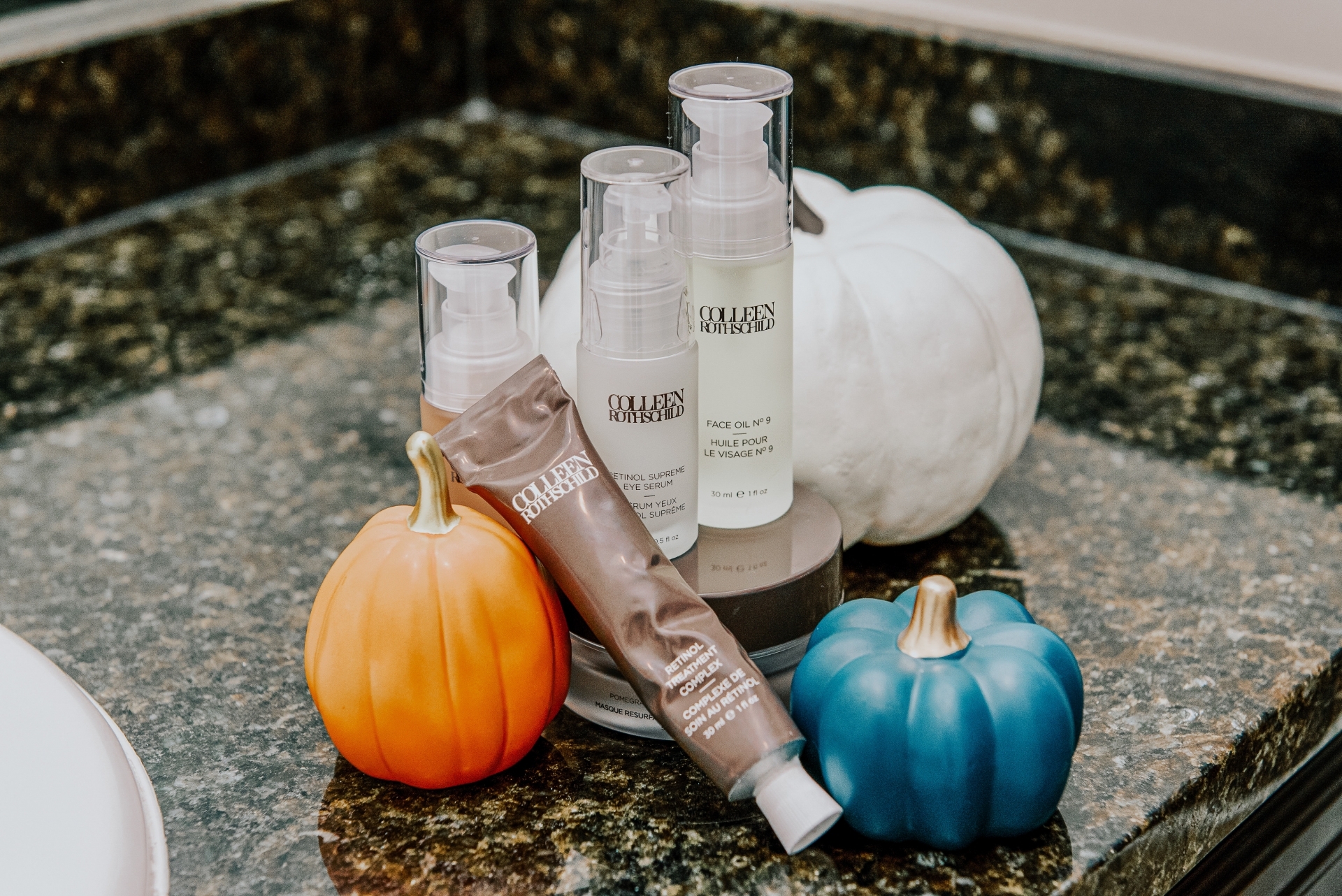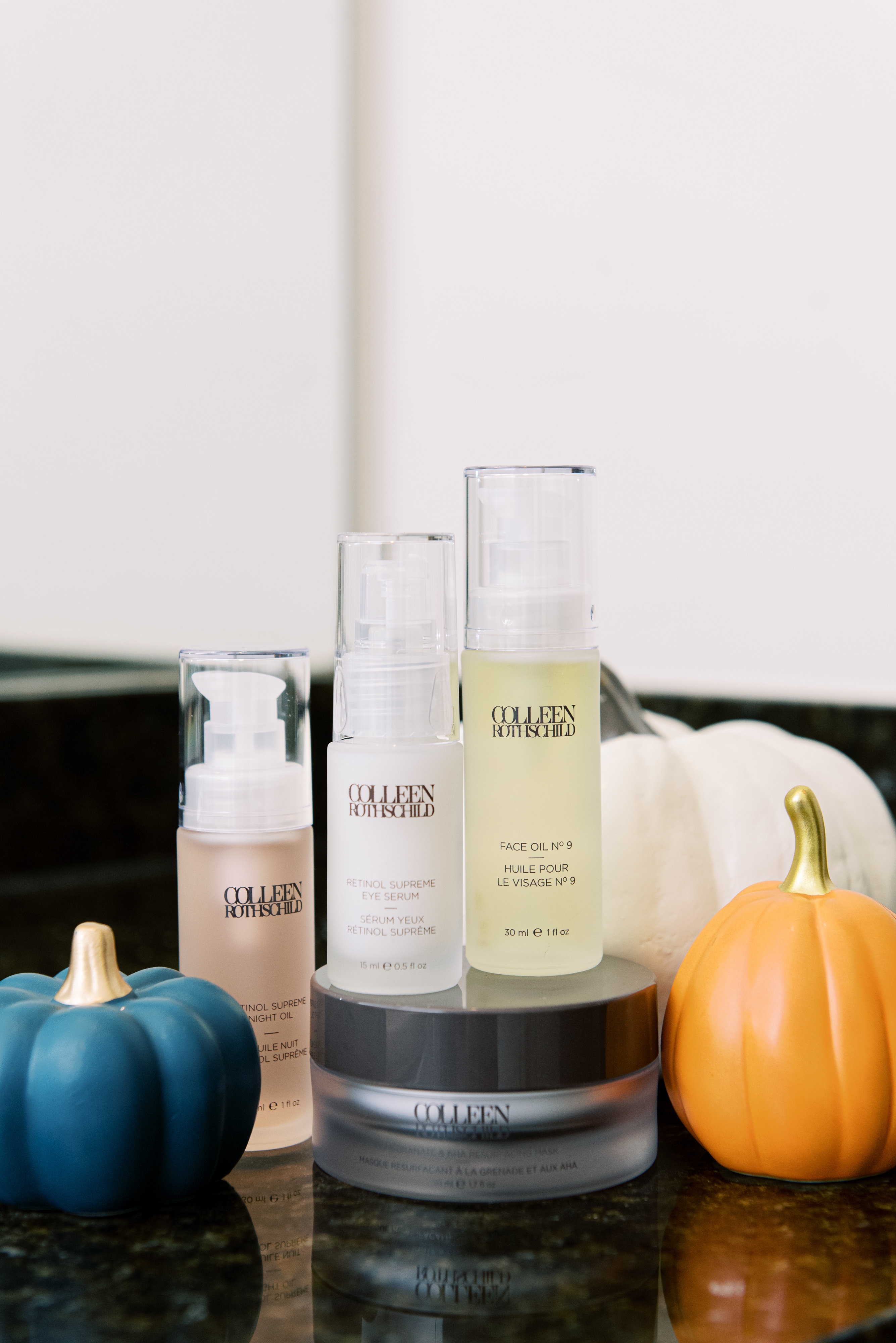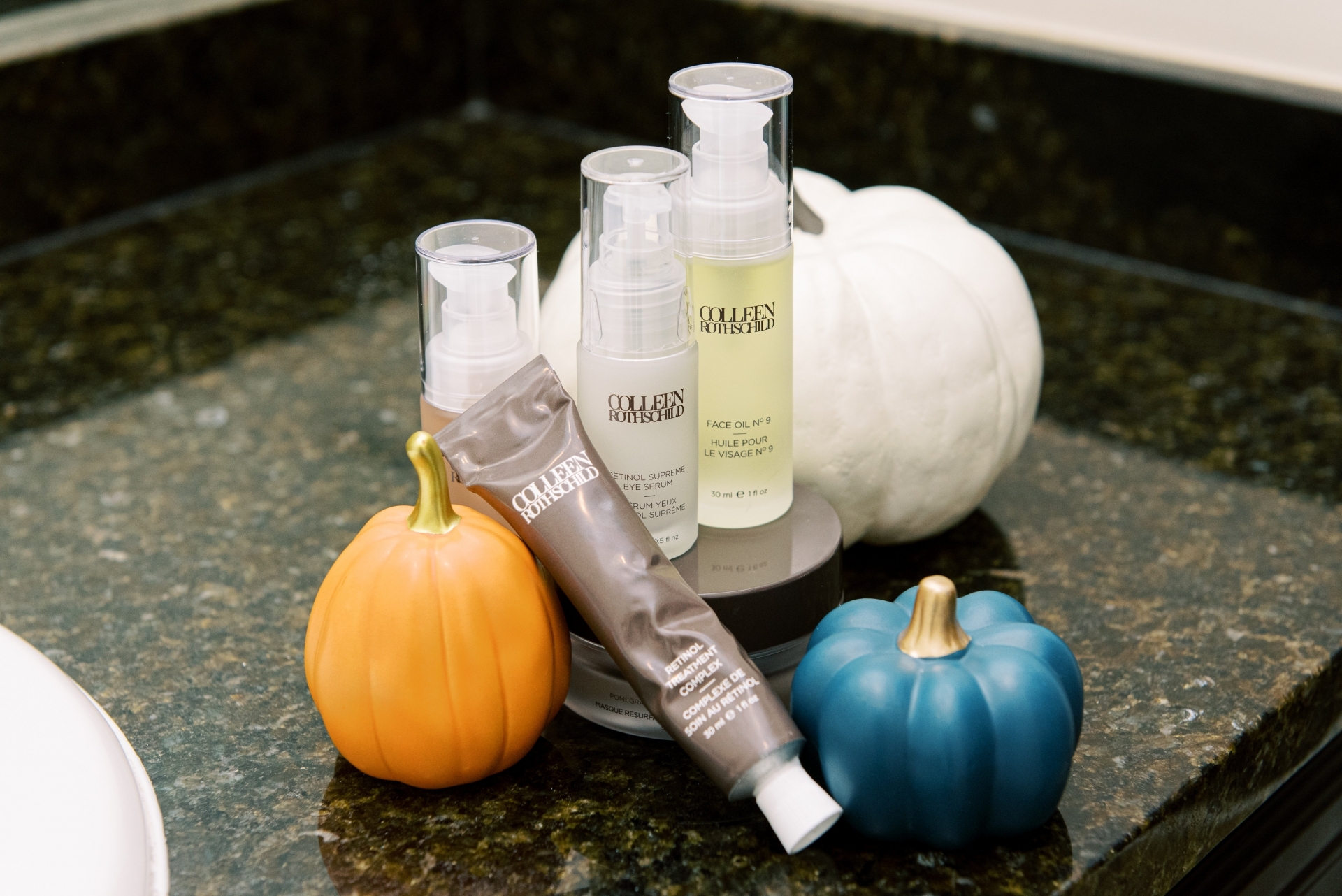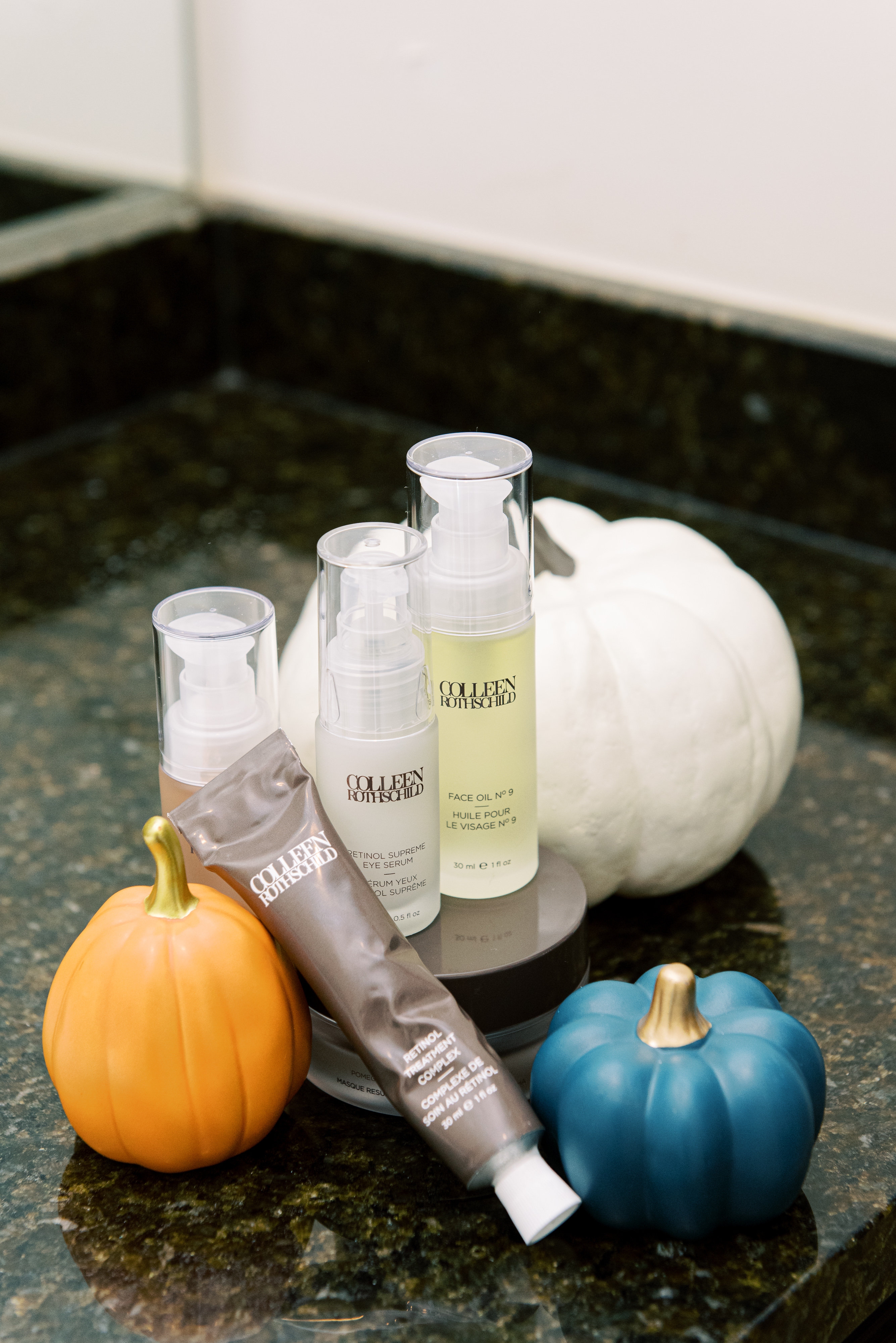 Y'all know I am all about finding a good mix of products + treatment that work for your skin. Right now, I really feel like I am seeing a big difference with
Colleen Rothschild's Products
+ my
Custom DOSE
+ my appointments for various treatments at
Village Dermatology
! With my birthday right around the corner, I'm trying all the things to keep my skin looking youthful, hydrated, and radiant!
What is your bedtime routine like? Do you have a tip or trick I need to know to make the transition to bedtime smoother for the family? Leave a comment below to let me know!
SHOP Our Family Night Routine Post HERE

PIN Our Family Night Routine Post For Later!