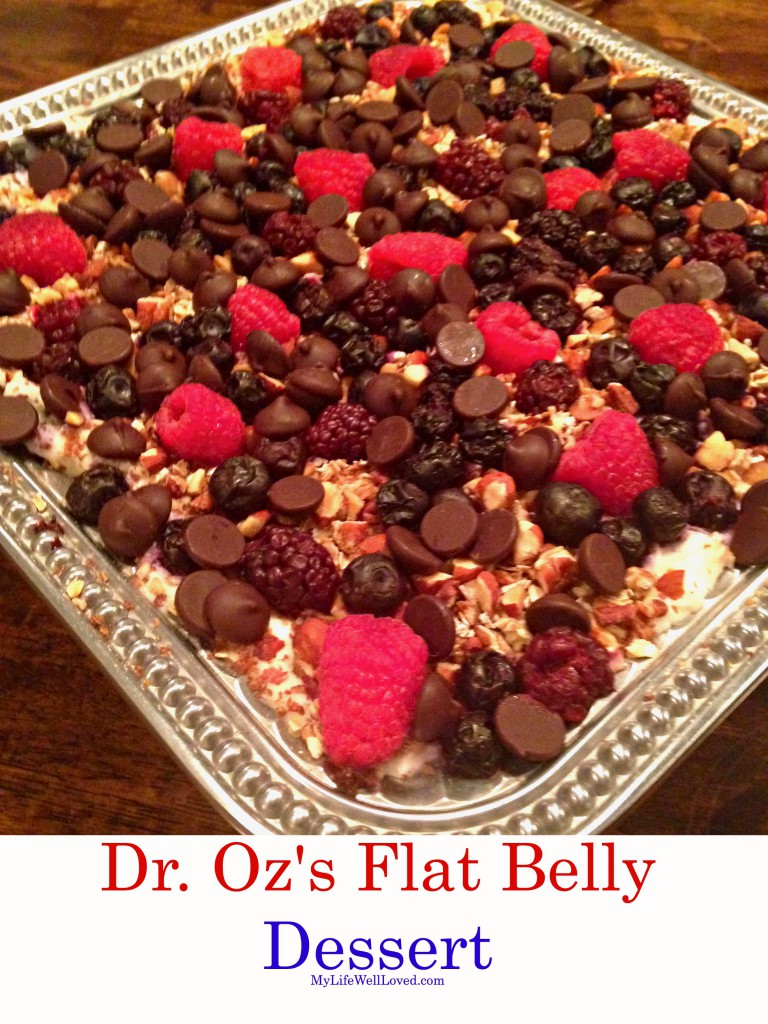 Skinny sweets are always a win. I love an indulgence that doesn't feel too naughty! The Dr. Oz Flat Belly Dessert has been circulating the internet now for a while and I was pleasantly surprised when I tried it a few months back! A dear friend brought this recipe to a party and despite the ingredients, I really enjoyed it. I don't like dark chocolate or ricotta and both are in this recipe. Much to my surprise, this dessert tickled my taste bud's fancy and I want to make it again to enjoy!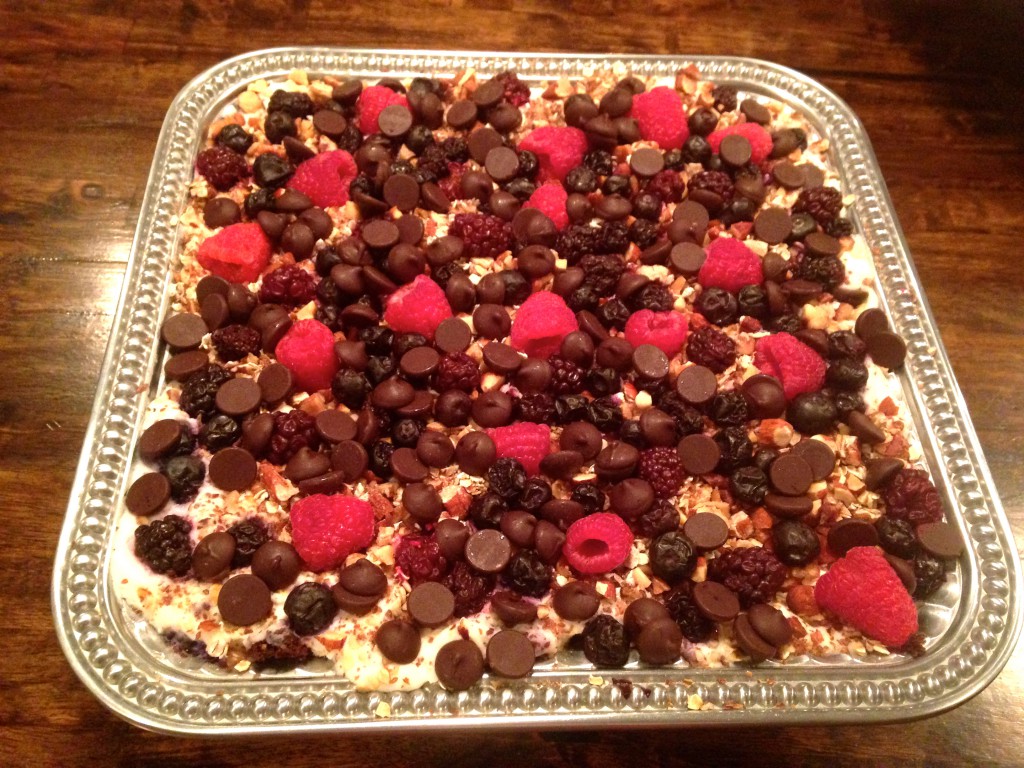 I wanted to share this recipe leading up to July 4th because it's also red, white, and blue and can be made into a Patriotic dessert!  The Dr. Oz Flat Belly Dessert makes a nice presentation with all the bright berries, dark chocolate, and the white creamy layer. Get ready for a treat that feels like an indulgence, but isn't!

Dr. Oz's Flat Belly Dessert
Ingredients
1 box Devil's food cake mix
1 cup nonfat Greek yogurt
1 cup water
4 cups fat-free ricotta
1 cup coconut milk
1 cup shredded, toasted sweetened coconut
4 tbsp agave syrup
½ cup toasted oats
½ cup ground flaxseed
½ cup finely chopped walnuts
4 cups fresh well washed berries
2 oz Dark Chocolate
Instructions
Prepare two 9-inch round cake pans with nonstick spray or butter and lightly flour each pan.
(Layer 1) In a large mixing bowl or stand mixer, combine the cake mix, yogurt, and water and mix well until no lumps remain. Divide batter evenly into prepared cake pans and bake for 30 to 35 minutes, or until a toothpick inserted in the center of the cake emerges cleanly. Allow the cakes to cool completely in the pans.
Meanwhile, in a medium mixing bowl, mix the ricotta, coconut milk, shredded coconut and agave. With a rubber spatula, gently fold them together to fully combine. Remove the cake from its pan and place in desired glass dish with high sides. Evenly spread half of the whipped topping mixture on top of the cake (Layer 2).
In a large resealable bag, combine the oats, flaxseeds and walnuts. Seal the bag and shake well. Sprinkle half of the mixture evenly over the ricotta (Layer 3), then top with the berries to cover the whole cake surface (Layer 4).
Repeat all 4 layers with the other half of the ingredients. Using a vegetable peeler, shave the bittersweet chocolate decoratively over the top (Layer 5). Serve dessert by scooping portions of the cake and all its layers into shallow bowls.
The way my friend Alyssa prepared this was with dark chocolate morsels on each layer instead of just the shavings on the top. Whip up this pretty dessert if you're in a pinch for a July 4th treat and let me know what you think!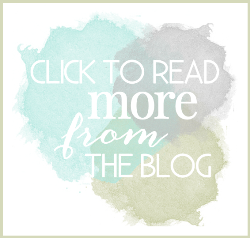 Free Pantry Staples List
Get the FREE Clean Eating Pantry Staples Printable List plus healthy living lifestyle tips from MyLifeWellLoved.com!