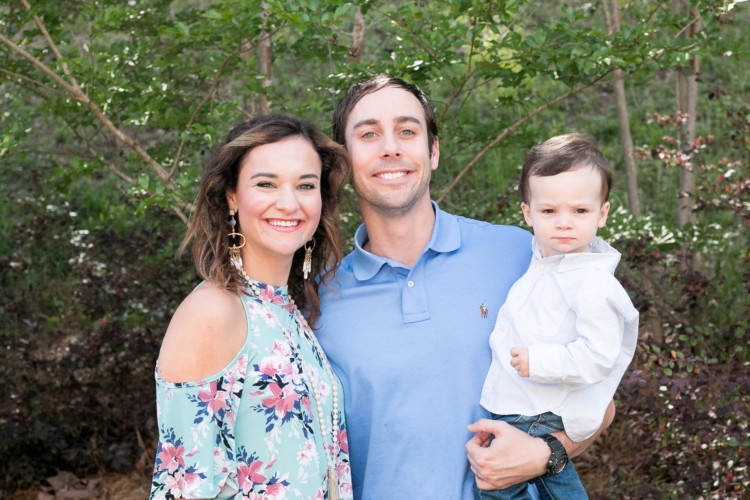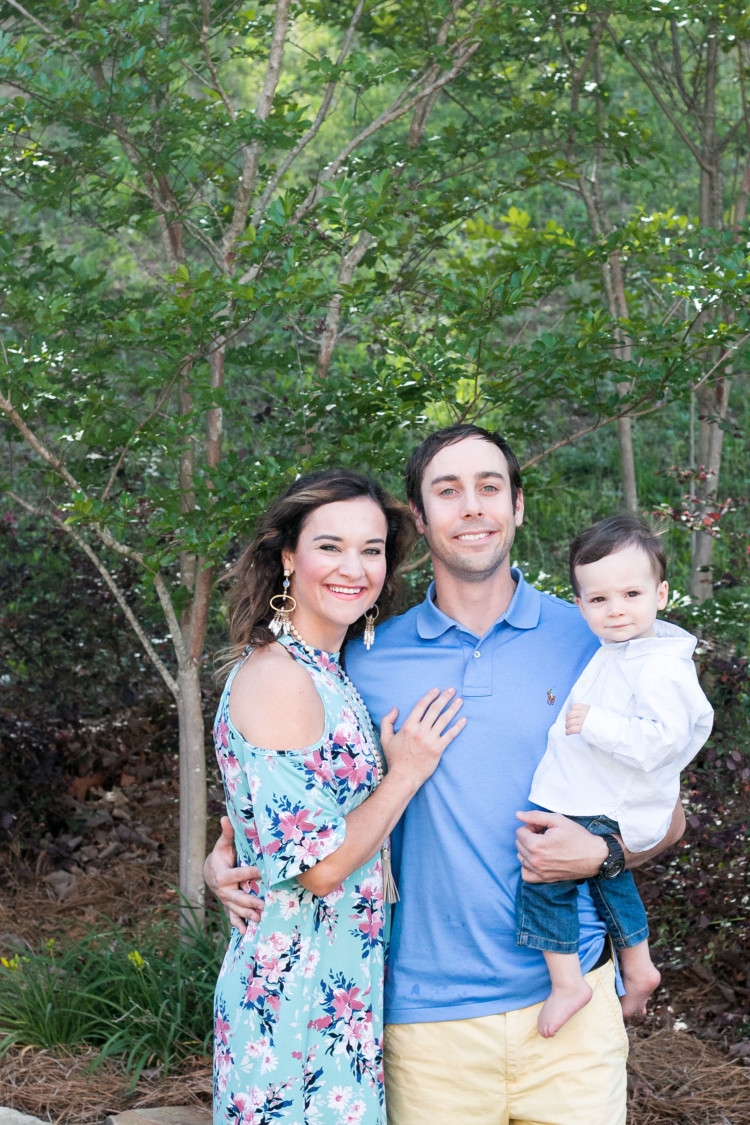 How was your Easter, lovelies?! We had such a wonderful Easter weekend spent with friends and family and truly enjoyed a celebratory weekend. I wanted to share some of my Birmingham blogger life with you since lots of you requested some more personal posts and I thought this Monday after Easter would be a perfect opportunity. First things first, tons of you have asked about my Easter dress. I did a whole post about my favorite spring dresses and shared it with you a few weeks back so you can get your shop on!
Our weekend started out with a Good Friday service that was sobering and inspired. It was all acoustic music at our church with candlelight and a stage with strung lights as the only lights in the room. I teared up at the lyrics to the song Jerusalem that are sung, "And He stood before the wrath of God shielding sinners with His blood." Such an amazing testament and imagery of our Savior's death to purchase us from the power of death and sin and shame.
After church, we hung out with some of our favorite couple friends and let Leyton run around for a bit in a delirious state with their kids before we put him to bed with his giraffe that he can't get enough of these days! His giraffe is a lovey that my sister, his Aunt Holly got him when he was first born. He's shown no interest in it until I got it out about a month ago and now it has joined the ranks of importance with his "kit," more commonly called a blanket. Ha!
We had a fun game night and Eric made Moscow Mules with his new cups I got him for Valentine's Day. He has used the heck out of those things and loves them. Score for a good wife purchasing decision. 😉 On Saturday morning, we got to have a pretty low key morning except for Eric doing our taxes. I spent some time shopping the amazing SHOPBOP, Abercrombie and LOFT sales I told y'all about. I ended up getting these pants (still on sale!) and this top. After my online shopping, I headed to Pure Barre to teach the noon class and then Eric and I took Leyton with us to get gardening gloves and new flowers for our front porch. YAY! I LOVE having cheery flowers to greet us by the door.
When we got home, we weeded, planted, and cleaned up the yard for about 2 hours. Whew, I forget how tiring that can be in the hot Alabama sun! On Saturday night, we had a chill night in with Leyton enjoying pizza on the patio and watching some playoff hockey. Go Preds!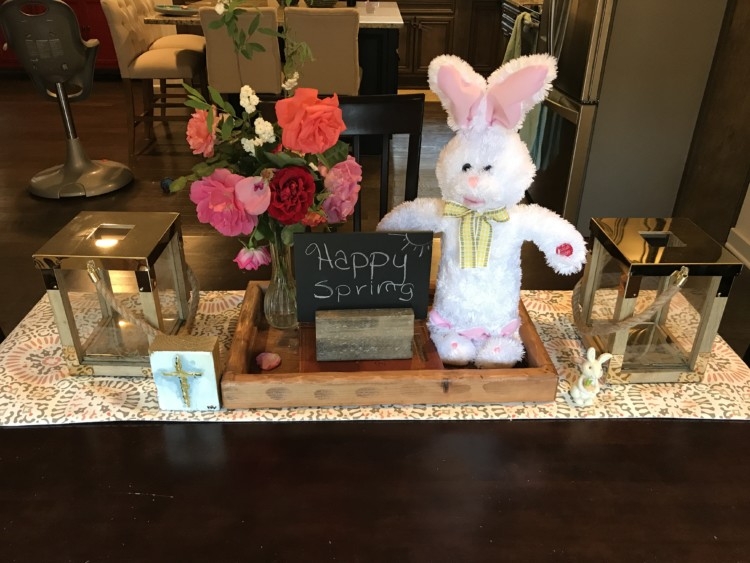 On Easter, we got up and went to Christ Fellowship Church where we've been members since the week Leyton was born. Yes, literally! Kinda crazy, huh? Our message was really overwhelming as it always is on Easter Sunday. So many emotions to experience and see how our Savior suffered for us. Here's a few key points I have to share with you.
Our pastor, Bart Box, from Christ Fellowship Church started off with a quote I'd heard before but thought was too good not to share.
"If Jesus rose from the dead, then you have to accept all that he said; if he didn't rise from the dead, then why worry about any of what he said? The issue on which everything hangs is not whether or not you like his teaching but whether or not he rose from the dead." -Tim Keller
The good news of the gospel is that Jesus purchased our life. We don't have what it takes to save ourselves. But Jesus does. Just because you or I grew up in a Christian culture doesn't mean we're Christians.I thought another interesting way that Bart mentioned the gospel in a way I hadn't thought about before is that it's not like we have a societal compact to judge. The idea that there is right and wrong is in us from creation. It's not like judgement is something that's an "old, outdated" notion. We judge people every day whether it be our neighbors for their loud dogs or someone in traffic cutting us off. But, at the same time we don't want judgement at the same time on ourselves because we are sinners and will certainly mess up.
It's a beautiful thing that Christ died for us and his resurrection secures our ETERNAL JOY. All that's left for us to do is acknowledge He's LORD! If you've never done that or have questions about it, always feel free to message me. That's the most important thing about me…I'm a born again Christian who was in need of a redeemer. I LOVE people and love life, so I'd love to chat with you about any of this. I'm so grateful our Savior died for me and I want you to have that gift too. 🙂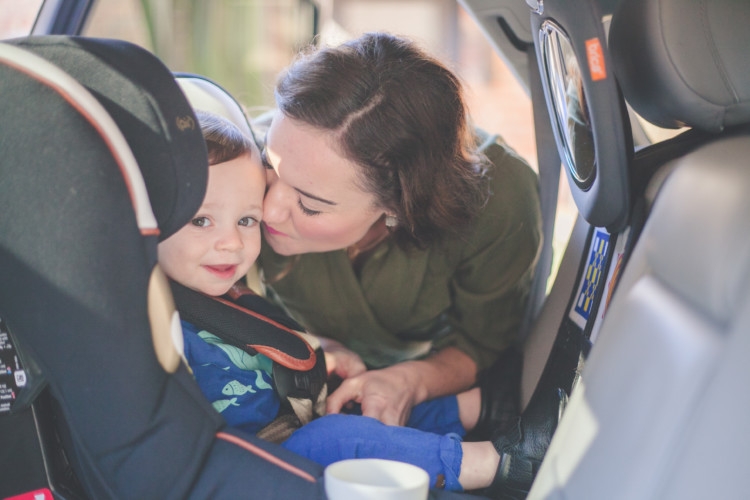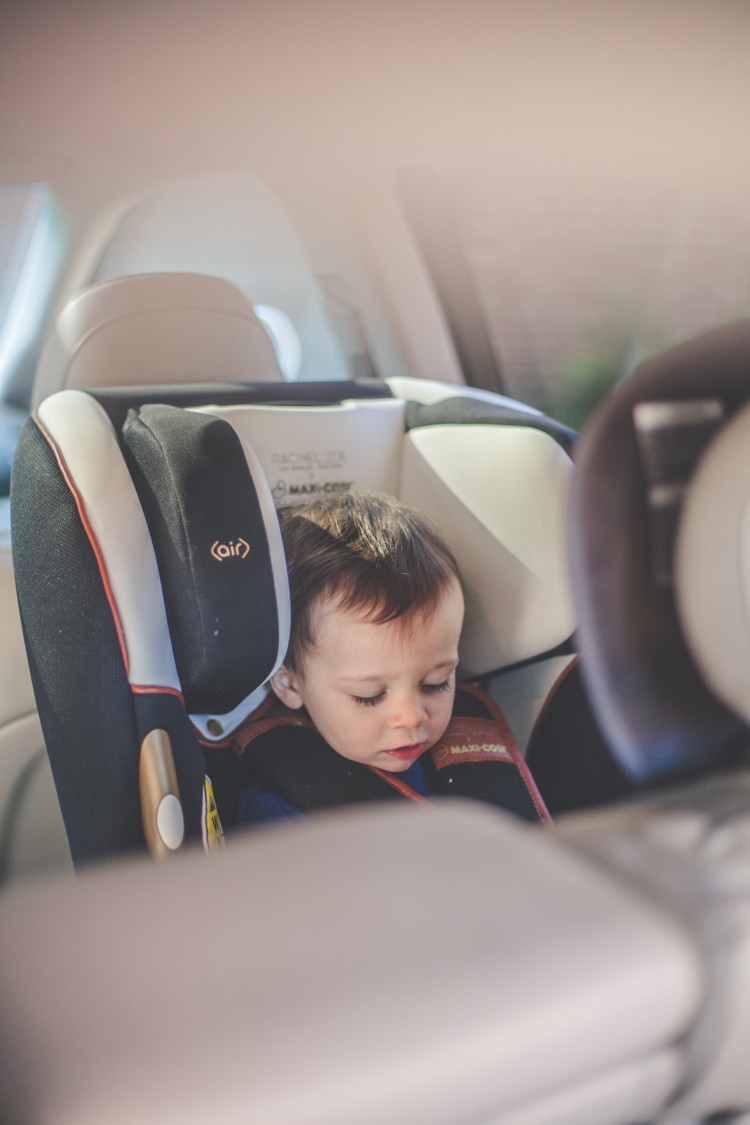 OK, now that I've shared a little bit of my heart, back to our Easter Sunday. When we got home from church, Leyton was DONE. That sweet little boy was so tired and it took all he had in him not to fall asleep in his car seat. I know I mentioned briefly in this post that he got a new car seat but since we haven't done a life update post in a while and I know you guys like those, I'll share a little bit more here about those things below. Easter afternoon was WONDERFUL with my whole family coming over to our house and I even did a Facebook LIVE with you guys making my Dreamland Banana Pudding copycat recipe.
As far as other updates, our new Rachel Zoe x Maxi-Cosi Pria 85 has become a huge hit not only with us but Leyton as well. Before I ever bought a car seat, I had several friends recommend this one to me. I love the style it has (duh, Rachel Zoe is involved) with the white and black and the leather details! This little baby buddy is riding in high style, guys. He thinks the cup holder is meant not only for his sippy cups but also his little stuffed dog, his giraffe, cars and anything else he can think of. Way too cute!
We are getting excited for some upcoming trips on the horizon as well! Next month, we are headed to Tampa to visit my in-laws for a week AND I'm SO excited that Eric just booked us a trip to Mexico at an all-inclusive for our anniversary! He found a great deal on Bookit that he thought was too good to turn down and I've wanted to do this for years, so I was SO excited!
In case you want to see some of the best deals they have going on now, valid through 4/30:
Finally, I'm excited to announce in my Birmingham blogger life that Molly and I will be doing a new mom series next month! As I've been feeling out my new full-time blogger role, I've loved getting to collaborate more with other bloggers including my recent Atlanta trip. As y'all know, Molly from Stilettos and Diapers is one of my blogging besties so I'm excited she's teaming up with me for this fun new project.
Every Tuesday during May we'll be doing a Facebook Live with you guys about a mom topic. We'd love to hear what you want to chat about so feel free to leave a comment or message us and let us know! AND, if you or someone you know would like to sponsor this 4 week long series, let us know!
Shop the Birmingham Blogger & Easter Recap Post:

How was your Easter? What was your favorite thing you ate? Got any mom series questions for us?
PS Express is having a 40% off sale right now including Eric's shorts he's wearing in this post! And in fact, so is Polo so his whole outfit and Leyton's shirt are on sale!
PPS Sam Edelman is having a FLASH SALE! These are some of my favorite shoes ever and I can usually find them on sale and when I do, I go bananas. 🙂 I am in LOVE with the ones that I own! Hurry before they sell out. Some of my picks are already sold out.
Heather Brown helps busy mamas of young littles who are caught in the hustle to find encouragement in their journey to true health, from the inside out, starting with the heart. Read her journey of learning to live a life well-loved
HERE!