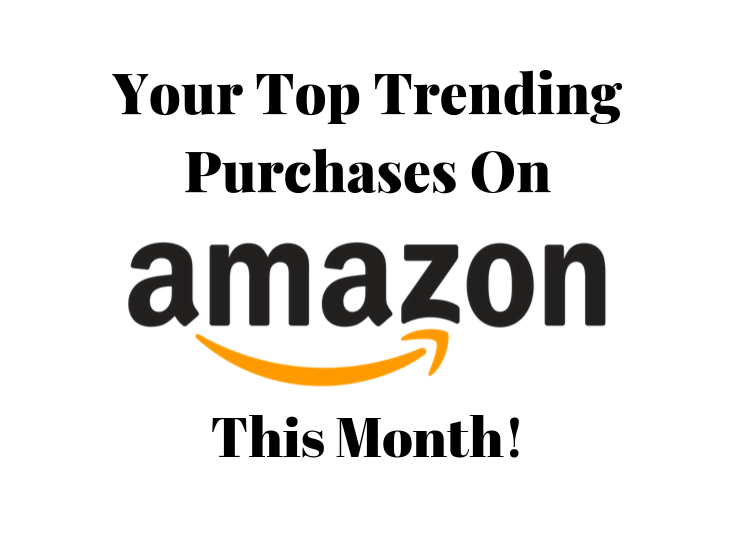 Amazon favorites are here! We are rounding up the best selling items from the MLWL community in August so you what's hottest on Amazon! There is always such a wide variety in the top sellers from month-to-month and I love to see what you guys are buying!
Amazon is the absolute best for just about everything – from clothes to essentials, and just about everything in between! I hope you enjoy seeing and shopping the best selling items from August on Amazon below! Please remember that any time you make an Amazon purchase, if you click one of my Amazon links to anything (even your Christmas gifts!) and check out within 24 hours it gives me credit. I'm forever grateful for your support!
*****Sadly I do NOT receive credit through Amazon App purchases. If you would like to give me credit, please purchase through the Amazon website. THANK YOU!
The Top 10 Best Selling Items From August On Amazon!
#10 Active Leggings // These high waist tummy control power flex leggings are the affordable yoga pants, whether you are working out in the gym or lounging at home. They come in several colors and materials & this brand is IG famous for their crazy quality for the price. They even have a hidden pocket!
#9 Elderberry Gummies // Immune support for the whole family. Free from gluten, artificial colors and sweeteners. We take elderberry regularly during cold and flu season and I'm so glad so many of you are too! Too bad I didn't get on the train early enough this year with the dumb flu taking me out in AUGUST! Ugh.

#8 Kinetic Sand // This sand is amazing for kids. It sticks to itself and not to you! It is different from classic Kinetic Sand, because it is made with larger grains of natural sand. This cool sand feels like wet beach sand but does not stick! Great sensory "tivity" in a simple Sterilite container. Just add a few rakes, shapes, letters, numbers & scoops!
#7 Lunchbots // These lunch boxes are great for travel and easy to clean. They are also dishwasher safe but only use with dry foods because it does not have airtight lids.
#6 NYX Butter Gloss // Staple in my car, travel bag, purse and diaper bag. You won't catch me without this stuff! I use the shade creme brulee or vanilla cream pie! Grab for under $4. Great for everyday use.
#5 Mom's On Call // This book is a life saver. Two pediatric nurse moms with over 20 years of experience give advice from everything that parents need to know about caring for babies in the first 6 months, including: step by step guidelines for getting babies on a routine hour by hour schedule at a glance; feeding instructions for breast, bottle, or both; what symptoms warrant a trip to the emergency room; how to get your baby to sleep all night so you can too; plus much more. To see how we implement Moms on Call, go HERE! Grab for under $20
#4 Stain Remover // A spot cleaning stain remover spray specifically designed to quickly and safely treat the inevitable stains made by the professional mess makers we love and care for! This stuff works and has become a household staple for us! It is safe for kids because it has no peroxide, no chlorine bleach and no phosphates.

#3 Devotional // You guys I still cannot believe this hard cover beautiful book is still on sale for under $10. It makes a beautiful gift. Lysa Terkeurst resonates with women in all stages of life by giving them a godly perspective on the issues they face each day. Easy read and short two page daily devotions for all of us mamas that barely have time to pee!
#2 Travel Makeup Case // This makeup case is amazing because it is ideal for travel. It is very useful and compact therefore it fits well in a suitcase, holds plenty, and can hang in all sorts of places. It has adjustable padded dividers for all sized makeup and brushes. Best thing its is waterproof! Easy to clean!

#1 Devotional // So happy this devotional is the #1 best seller! So many of you guys recommended this one and man, is it a good one! Grab it now for everyone on your Christmas list! Love this description on Amazon. "Mornings can be tough. Sometimes, a hearty breakfast and strong cup of coffee just are not enough. Offering more than a rush of caffeine, best-selling author Paul David Tripp wants to energize you with the most potent encouragement imaginable: the gospel."
Reg. $30 On Sale for $10
Other Popular Amazon Posts: