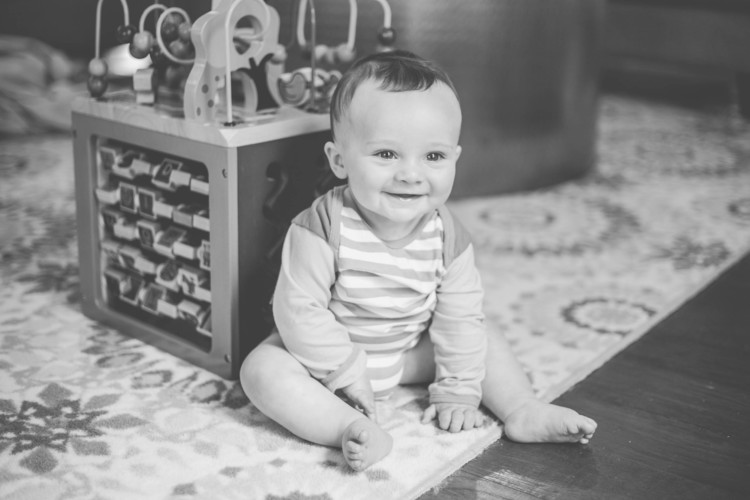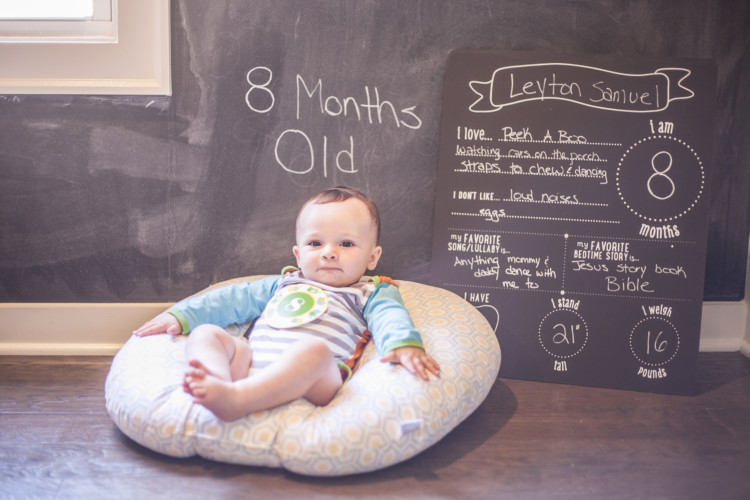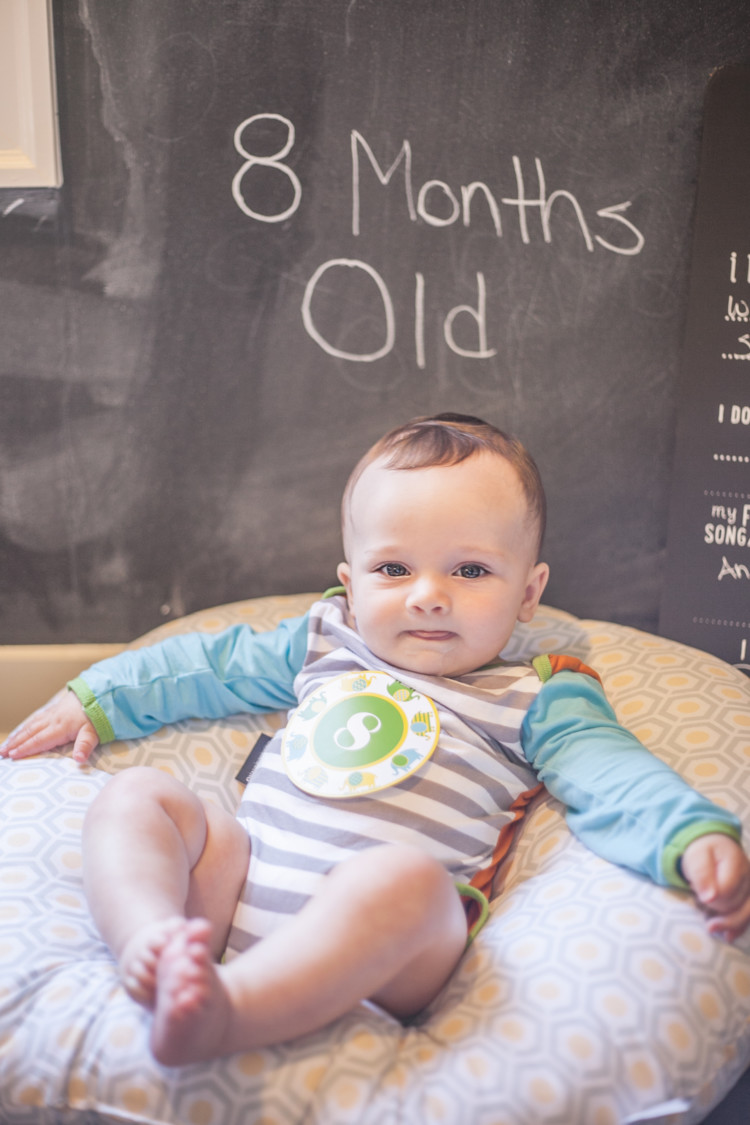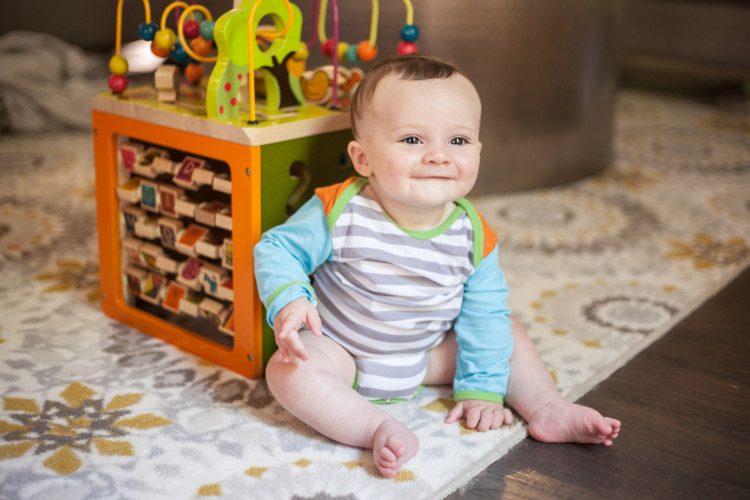 Buddy,
You have REALLY come to life in a whole new way at 8 months old. We are watching your little eyes and brain start to process things in a way we haven't seen before. These past few weeks, you've started waving at us, you still high five (when you feel like it), and you have giggle/play/bubble spewing fits like crazy!
Some of my favorite times with you are right after your bath. We lay you down on the changing table and you kick your feet while I call you my little thumper and we play peek-a-boo…you squeal with delight every time I pop my head back up where you can see it above the changing table. I blow raspberries on your belly and nuzzle your neck and you can hardly contain the giggle fits that come over your whole body! You also love for me to put your towel or clothes over your face and say, "Where's Leyton?" Then when you rip the towel of shirt from your face, you wait for my huge arms up in the air reaction of, "There he is!!!"
The wooden activity block you are sitting by in these pictures is one of your favorite toys. You also love grabbing Ducky Long Legs (a yellow duck with super long legs that your great grandma Jo got you), studying your car seat toy and hitting it like a wild man, and rolling to and from all over your play mat, off your play mat and around it. We can't believe how much area you can cover just by rolling to and from. You aren't quite crawling yet but you pop up way high on those hands with your elbows off the ground and sometimes start to lift your booty up in the air and we know it's coming faster than we think!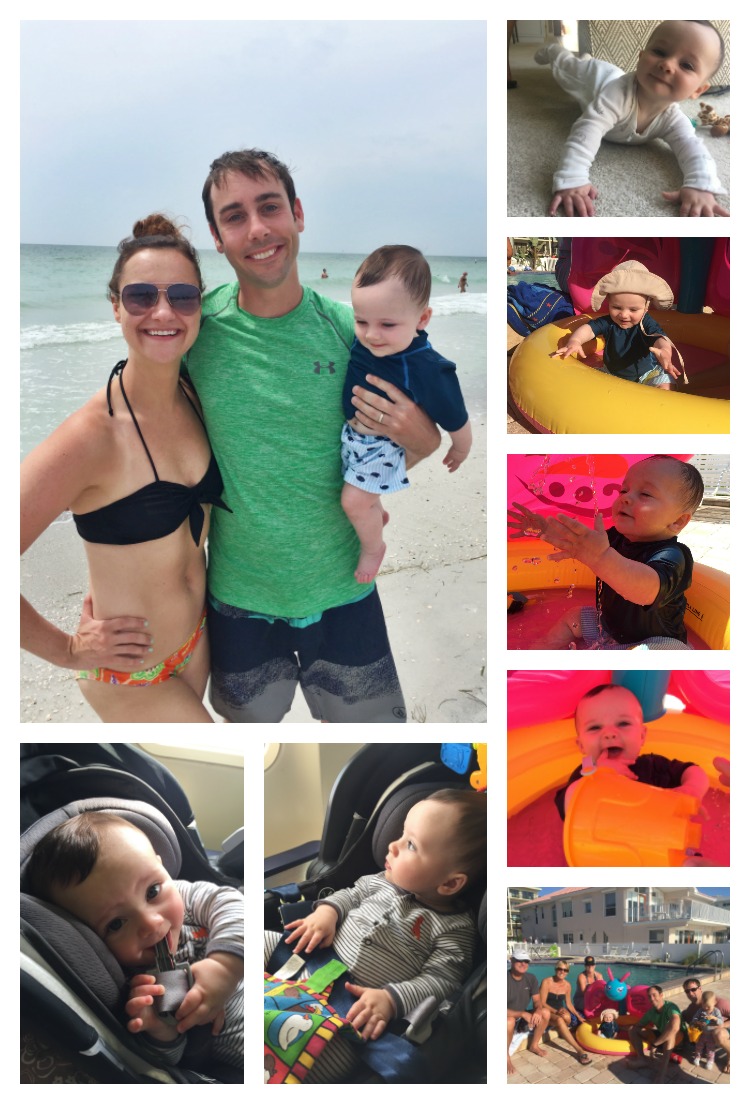 You also went on your first big week-long vacation and plane ride down to Tampa to visit your Aunt Janelle, Uncle Kyle & Aunt Aron, Cousin Ava, and of course, Grandpa Curt & Grandma Sue! You did SO well on your first flight. You cried a little bit in the airport but only napped for about 30 minutes and otherwise were up for about 6 hours without much griping. We were so impressed since you normally nap every 2-3 hours. You thought the peanuts wrapper on the plane was the most entertaining thing you saw all day. 🙂 Your grandparents got you a baby pool with a big shade so you could have a place to play since babies in diapers weren't allowed in the big pool.
We took you in the ocean and you made your worried sounds like you did in the big pool at home, but once we got past the breakers you calmed down. You are starting to look more like a little toddler and less like a baby. It's hard to believe you've almost been out of the womb, as long as you were in it!
I love you, nugget, and am excited to see what comes next!
At 8 Months:
You still want to eat after about 3-3.5 hours. You typically eat about half a container of baby food at a time and still love broccoli. You impatiently oooooh when you want more food and we are trying to teach you sign language for more. When we go on walks and I offer you water, you pop your mouth open expectantly waiting as soon as I bring it close to you.
Naps: Holy cow, buddy, you still love to sleep! We are trying to force you to stay awake a little longer in between naps now but you start to get tired still after about an hour and 15 mins after you woke up last. We can typically stretch you out to about 2 hours but when we're out an about you'll go up to 3 hours and do pretty well. You take a morning and afternoon nap and a little cat nap around 5ish.
Loves: "Kissing" mommy and daddy's faces aka gnawing on our chins, slobbering. It is SO stinking cute. Taking in everything, you are so easily distracted! Rolling everywhere. Straps on anything! Block Toy. Dancing with Mommy and Giddy Up Horsey with Daddy. Having us throw you in the air. Blowing bubbles and making clicking noises that your Momma Mackey got you started on.
You are still nursing and typically eat food from us or baby food twice a week. We need to do it more often though!
Weight: 16 lbs 9 oz Diapers: Size 3 Clothes: 6 months
SHOP THE POST: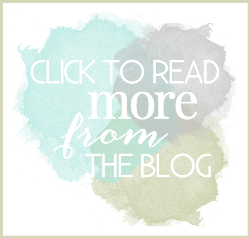 Free Pantry Staples List
Get the FREE Clean Eating Pantry Staples Printable List plus healthy living lifestyle tips from MyLifeWellLoved.com!